Partners and funders applaud CUT's CRPM for making an impact in the lives of ordinary people
CUT News CRPM Research and Innovation Alumni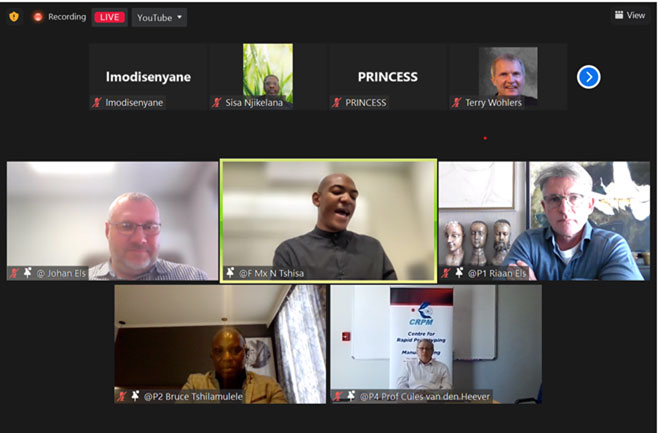 The Centre for Rapid Prototyping and Manufacturing (CRPM) at the Central University of Technology is making great strides in changing the lives of ordinary people and bringing hope to the hopeless. Through Additive Manufacturing (AM), CRPM has saved lives, and restored the dignity and quality of life to numerous patients scarred by cancer or traumatic incidents, in both public and private health facilities, by providing prosthetics or reconstructive surgery, using modern technology.
On 30 August 2022, the CUT Alumni Office and CRPM held a webinar to create awareness of the valuable and excellent work that the centre is doing. The webinar also aims to ensure that CRPM is recognised and acknowledged for the excellent work it does and receives the necessary support to continue making a long-lasting impact in people's lives.
In his welcome address, Prof. Alfred Ngowi, acting Vice-Chancellor and Principal, mentioned that the webinar is an essential platform for the institution to share the good that is being done in the sector. "This webinar is a culmination of engagements and consultations that we've had with various stakeholders intended to seek ways of supporting CRPM programmes. In the past, we made great strides in some of the commitments made to the communities that we live in. We are extremely proud of CRPM, our flagship centre for AM and rapid prototyping. We are not only using this platform to present the great work that we do but we also want to reconnect with our alumni through its association with CUT like any other university. I call upon you to join hands and work with us to bring life to the socio-economic development agenda of our university in the central region of South Africa."
Panel discussions included various speakers, partners and funders, who spoke volumes about the centre and who have contributed to the CRPM growth, success, and sustainability. The speakers are Prof. Cules van den Heever, Maxillofacial Prosthetics who has been working with CRPM over the years; Princess Moshoane, facial reconstruction beneficiary; Dr Riaan Els, Chief Executive Officer of The Carl & Emily Fuchs Foundation and funders of the CRPM programmes. Mr Johan Els, CRPM Operations Manager and Mr Bruce Tshilamulele, Biotechnology and Health Innovation at Department of Science and Innovation, are also funders. Dr Riaan Els encouraged CRPM to continue leading the way and making an impact in the lives of ordinary people. He mentioned that some of the reasons why the Foundation selected CRPM to be one of their beneficiaries is because the centre had clear outcomes with the most measurable budget. "The centre has proven credibility and projected measurable impact in the real lives of patients. Their application followed the guidelines and requirements, their credibility and reporting capability is remarkable, their track record and experience also played a huge role."
Mr Tshilamulele said the immediate impact of changing people's lives is what attracted them to support the CRPM. "The impact that Additive Manufacturing continues to make in changing people's lives is enormous. What is important is that the development of the medical device industry as well as AM as a key technology to advance the South African manufacturing industry is listed as a priority in several government strategic initiatives. Through the project, the lives of many people have been changed for the better. This is a positive outcome, and we are very proud to be associated with this centre."
Princess Moshoane, one of the beneficiaries of CRPM projects, express her gratitude to CUT and everyone involved in transforming her life. Princess, who was shot in the face and lost her teeth, smile and confidence due to a car hijacking incidence, said she has since regained her life, smile and confidence.
"I stand proud today because of this centre, and I hope that what CRPM has done for me doesn't end with me but continues to others. I am sure there are a lot of people who are in dire need of this kind of assistance, who also don't have funds just like me. I am happy to be alive in a time when technology plays a big role in impacting people's lives. If it wasn't for CRPM and this advanced technology, I wouldn't be here today. I have regained my confidence and I can smile again," said Ms Moshoane.
Mr Johan Els said that as a centre, they are looking forward to taking CUT and CRPM to greater heights. "CUT through CRPM is able to provide solutions using state-of-the-art technology backed up by years of research. With the help of our stakeholders, partners, and role players, we are able to provide our products and services with confidence. I believe that one thing that is unique about us is a passionate team behind this success that makes it all possible."
Prof. Cules Van den Heever stated that there is a huge need for disadvantaged patients in the country, and unfortunately, the healthcare system can't accommodate all of them due to a lack of resources. "Many of these patients can't be helped, they have to wait, and sometimes they become socially unacceptable, and they end up losing their lives because they don't have the financial means to pay for the treatment. My wish is to help many more of these unfortunate patients and restore their lives," he concluded.
Uploaded: 06 September 2022