Newly minted PhD graduate sing praises of partners, the Central University of Technology and Maccauvlei Learning Academy
Management Sciences CUT News Alumni Research and Innovation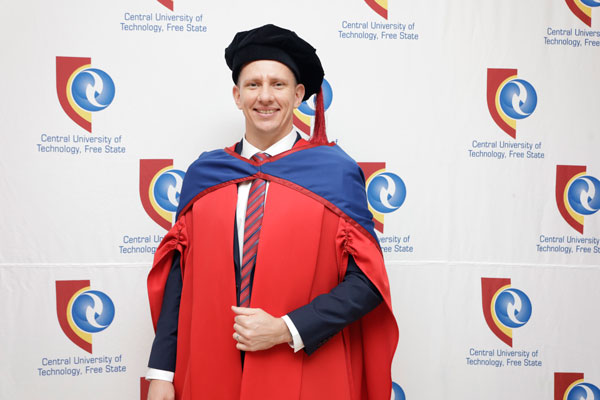 The recently capped Doctor of Human Resources Management, Dr Thomas Frederick Dreyer, wrote a letter to the CUT's Department of Business Management and Maccauvlei Learning Academy, singing praises and dedicating his success to them as they afforded him the opportunity and support he needed to be where he is. Dr Dreyer's doctoral research focuses on "mentor competencies and psychological mindset in the context of a multinational corporation: An intervention-based study."
In the letter, he wrote:
Dear esteemed members of Central University of Technology, Free State and Maccauvlei Learning Academy,
I humbly pen down the extraordinary journey with you that commenced over a decade ago. This journey of twelve years has not only shaped me professionally but has personally redefined who I am.
2010, I embarked on this expedition with a simple Certificate in Occupational Directed Education Training and Development practices with Maccauvlei. This step in my journey lit the initial spark, leading to a Diploma and ultimately paving the way for my future in training and development. The solid foundation I received during this initial phase ignited a flame of continuous professional development within me.
When the beautiful alliance between CUT and Maccauvlei was established, I was privileged to capitalise on it. I pursued a B-Tech in Human Resources Management (HRM), which I completed with pride and honour in 2013. It was an achievement to graduate Cum Laude. Still, the credit goes to the dedicated faculty members - Mrs N Macpherson, Prof. MN Naong, Dr. E Palmer, Prof. D Kokt, and Dr C Chipunza, whose unwavering dedication and passion significantly contributed to my success.
The Vice-Chancellor's Prestige Award 2014 was another milestone that motivated me to enrol for my master's degree in HRM. Simultaneously, a golden career opportunity in Abu Dhabi knocked on my door, which I attribute directly to the knowledge I acquired from my initial academic achievements.
Indeed, life was changing rapidly, and I initially hesitated to embark on the master's degree journey until a guiding light, Prof. Deseré Kokt, entered my life. Her dedication, guidance, and support steered me through this course till I triumphantly completed my master's degree in 2018. Today, as we celebrate my Doctorate in HRM, I extend my heartfelt gratitude to Prof. Kokt. This achievement has been a true testament to dedication and perseverance, completed entirely virtually, given my residence in Abu Dhabi since 2014.
My relationship with CUT does not end there; I currently serve as a member of the Human Resource programme's business advisory board (BAB). I am grateful to the Department of Business Management as this engagement allows me to contribute and learn.
From a humble field operator in 2010, today, I am honoured to hold several esteemed positions, including being a Senior Specialist for Leadership and Executive Development for a large international company a credentialed Coach, Public Speaker, Author, and CEO of a financial institution. I owe these accomplishments to the formative journey with Maccauvlei and CUT, Free State, which transformed my dreams into reality.
However, my journey with CUT doesn't end here. I am passionate about giving back and helping others reach their potential. Hence, I continue to partner with CUT and various international learning institutions. In the spirit of sharing knowledge, I am delighted to offer a copy of my upcoming book, "Leadership Blueprints: 10 Golden Stars to Excellence" to all CUT family members upon its publication. You can visit my website https://drtomdreyer.com/ to request your free copy.
As I close, I want to emphasise that every step you take towards your self-development matters, and the fruits of your dedication will be plentiful. Remember, your journey of learning is your voyage to success. Let's strive to learn, dream, and become more each new day. In pursuing knowledge, there's no finish line—only new beginnings.
Yours sincerely,
Dr Tom Dreyer
Uploaded: 07 September 2023