International leader unpacks the importance of culture of inclusion and diversity within higher education at CUT's intercultural leadership seminar
CUT News Partnerships International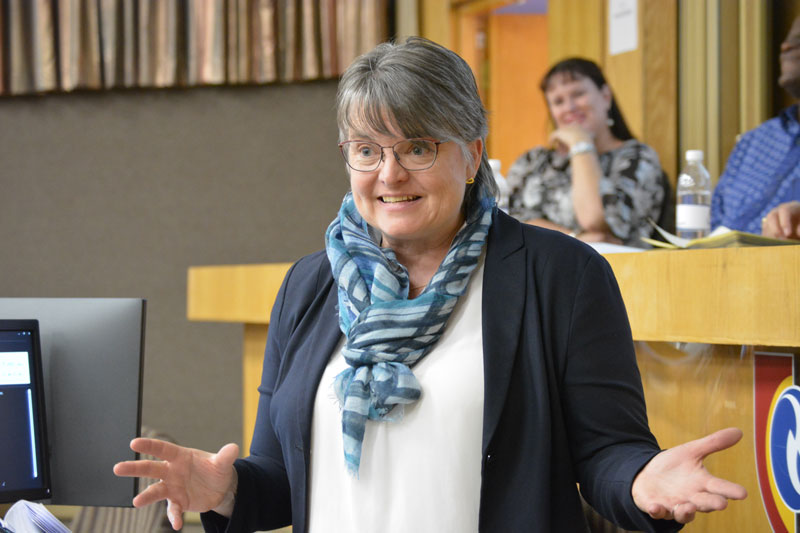 Photo: Prof. Jillaine Farrar, Lecturer, Head Exchange Program, Co-Head CAS Leading Global Teams, and Projects & Co-Head MAS International Management - Lucerne University of Applied Science, Switzerland
On 18 April 2023, the Central University of Technology held the Intercultural Leadership Seminar under the theme, 'Navigating Diversity: Building Leadership Skills for inclusive Higher Education Organisations.'
The seminar focused on the importance of cultivating a culture of inclusion and diversity within higher education, exploring strategies for managing diverse teams, fostering intercultural communication, and promoting equity and inclusivity.
Cultivating a culture of inclusion and diversity within higher education is crucial for promoting equity and creating an environment where all students, faculty, and staff can thrive. This includes creating policies and practices that support diversity, equity, and inclusion, recruiting and retaining diverse faculty and staff, and fostering intercultural communication and understanding.
Keynote Speaker, Prof. Jillaine Farrar focused her presentation on higher education, and new trends in the intercultural world.
She mentioned that it is essential to be aware that cross-cultural communication talks about similarities and differences in culture. "For me, it is the first step to helping students and leaders become more competent communicators locally, globally, and virtually. Humans have largely overlapped biology and many live in fairly similar situations around the world, which creates a lot of similarities with different frameworks of culture."
She said that culture is learned, and ethnic groups can be used interchangeably with culture. "We also have the term subculture and in the intercultural world, subculture is looked down upon. By using the word subculture, you create this idea that one of the cultures is better than the other. Intercultural sensitivity is one of the most influential fields in intercultural communication, equity, and inclusion."
Prof. Jillaine Farrar has been teaching intercultural leadership and English for Business for over two decades to adults in Switzerland and internationally, both in higher education and corporate settings. Her education, research, and experiences have contributed to her belief in the importance of facilitating cooperative actions aimed toward intercultural growth, inclusion, and leadership development. Intercultural is an important part of her life, both privately and professionally.
Uploaded: 25 April 2023