FNB CUT Ixias are victorious in away game against the Orange Army (FNB UJ) in the fourth Varsity Cup match
CUT News Sport Students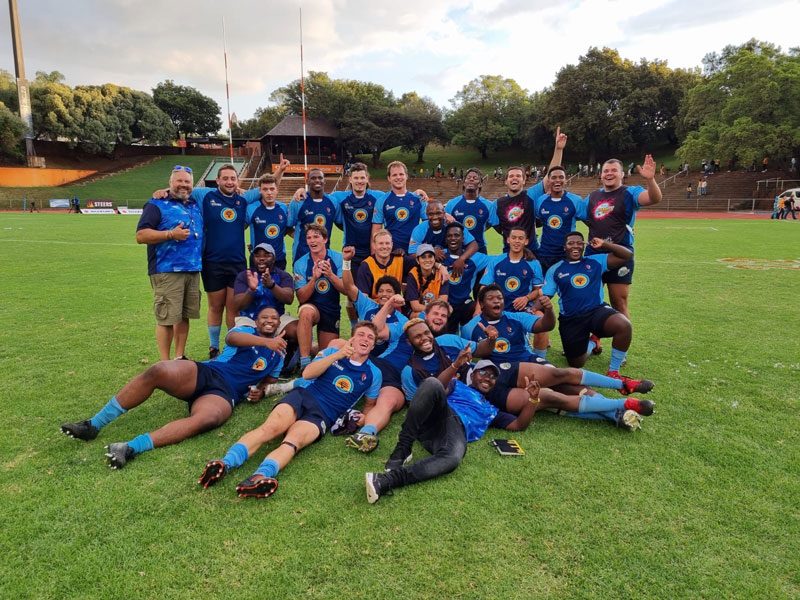 After a competitive first half, FNB CUT Ixias kicked into higher gear for a comprehensive 54 -12 victory over FNB University of Johannesburg (UJ) in Johannesburg.
It was the Orange Army who scored the first try of the game through Peter Polhmann, who was set up brilliantly by his teammates. Jonathan Viljoen made no mistake with the conversion, giving UJ an early 7-0 lead.
CUT however fought back strongly and managed to score three tries before the end of the first half. Zachary Bester was the star of the show for the visitors, scoring two brilliant tries from long range. Ricoman Titus also got on the scoresheet with a team effort, giving the visitors a 30-12 lead at halftime.
The second half started similarly, with CUT extending their lead through a penalty. And then the tries started raining, first Matthew Sekele, followed by Jacobus Cloete and Titus who dotted down for his hat trick.
It was a disappointing result for UJ, who will need to regroup and work on their defence ahead of their next game. For CUT, it was an excellent performance and a valuable win on the road.
FNB UJ: 12 (12) – Tries: Peter Polhmann, Prince Nkabinde. Conversions: Jonathan Viljoen (1).
FNB CUT: 54 (30) – Tries: Zachary Bester (2), Ricoman Titus (3), Jacobus Cloete, Matthew Sekele. Conversions: Tyler Sefoor (6). Penalties: Sefoor (1).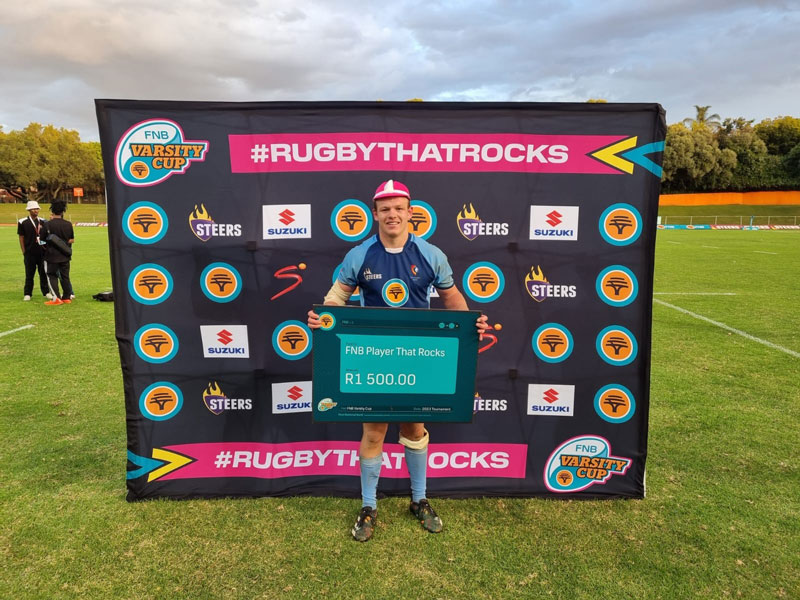 Photo: FNB Player That Rocks: Jacobus Johannes Cloete (CUT).
FNB UJ: 15 Malgas Rowan Hafeni, 14 Nkabinde Prince, 13 Radebe Nkondlokamthimkhulu, 12 TyedaIndiphile, 11 Tengimgene Likhaya, 10 Viljoen Jonathan Joshua, 9 Kubheka Mpho Vincent, 8 Qaba Buhlebenkosi, 7Pretorius Francois Christiaan, 6 Kanenungo Kelvin, 5 Apea-Adu Philip, 4 Bali Sinovuyo Sibabalwe, 3 Pohlmann Heiko Peter Eugene, 2 Osuagwu Darnell Jerry-Fred, 1 Kiewit Kayden Nicklo.
FNB CUT: 15 Titus Ricoman, 14 Gouveia Adielson Gouveia, 13 Botha Lesley, 12 de Beer Jandré, 11 Malumane TsepoSiphosethu, 10 Sefoor Tyler, 9 Swartbooi Xavier Alister, 8 Bester Francois Johannes, 7 Stander Ulrich Stephan, 6 Cloete Jacobus Johannes, 5 Sekele Matthew M. Maboe, 4 Marubelela Asekho Phindile, 3 Augustyn Zéan, 2 Drotske Tiaan, 1 Venter Albertus Bernard Human.
CUT has moved up to the second position on the fixture log.
Source: Varsity Cup
Uploaded: 14 March 2023