Enactus CUT Deputy President scoops the 2023 WV de Wet Student Leader Excellence Award
CUT News Students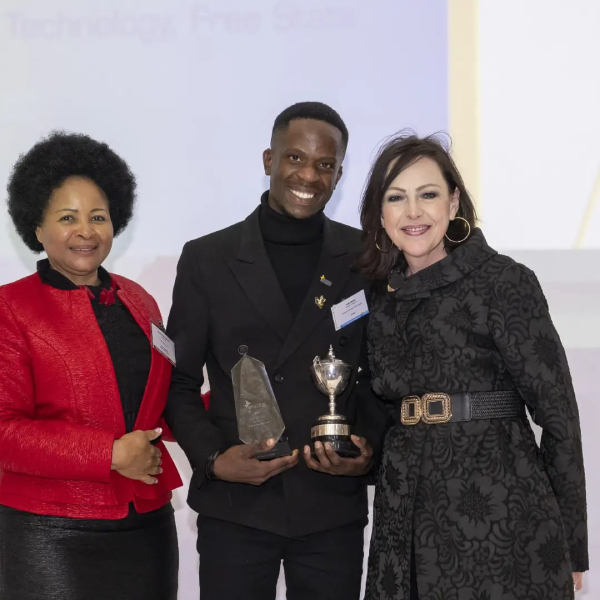 Photo: Mr Taelo Matlala (middle), Enactus CUT Deputy President and third-year Mechanical Engineering student, scooped the 2023 WV de Wet Student Leader Excellence Award at the Enactus South Africa National Competition. He is seen here with Mrs Kusile Mtunzi-Hairwadz (left), Enactus South Africa Board of Directors' Chairperson and Mrs Letitia De Wet (right), Chief Executive Officer and Director: Enactus South Africa.
Mr Taelo Matlala, Enactus CUT Deputy President and third-year Mechanical Engineering student, scooped the 2023 WV de Wet Student Leader Excellence Award at Enactus South Africa National Competitions.
Taelo's recognition highlights his exceptional dedication, and his journey is a testimony to Enactus CUT's transformative power and unparalleled commitment to nurturing leaders making waves on the national level and beyond.
Hailing from Limpopo, he joined Enactus to create meaningful change in communities with the guidance of Enactus Faculty Advisors. Ms Maraka Lefera, Professors Crispen Chipunza and Patient Rambe, and the collaborative spirit of his fellow members, Taelo embarked on a mission to address societal challenges through entrepreneurial action. Under his leadership, the team worked on a Vermiculture Enterprise called Vermivillage. The enterprise's activities are centred around sustainable agriculture and Vermitechnology. At the heart of this enterprise lies the vision of empowering farmers, communities, schools, and churches to be skilled worm farmers, fostering a community of environmentally conscious entrepreneurs.
"This project resulted in community members developing the skills and knowledge necessary to be successful worm farmers. In addition, the project resulted in introducing worm farming growers in the central region. The enterprise stands as an inspiring model for us as Enactus. Furthermore, he said it addresses the pressing environmental issues while fostering economic growth, social empowerment, and some of the United Nations' Sustainable Goals.
However, Taelo's story is not isolated, as Enactus CUT has consistently fostered a culture of leadership, innovation, and social responsibility. It has become a cradle for young visionaries, shaping them into leaders recognised within the university, on a national platform, and beyond. The past leaders recognised at the national level include Thembisile Tyopo, 2019 Project Manager and Yanelisa Giyose, 2022 Enactus CUT President.
This remarkable achievement marks the second consecutive year that Enactus CUT has produced a recipient of this prestigious leadership award. This feat demonstrates Enactus CUT's unwavering commitment to grooming students who excel academically and as agents of change in their respective communities.
Ms Maraka said Enactus CUT's success lies in its unique approach to experiential learning. "In the changing higher education space, Enactus CUT serves as a beacon of inspiration, proving that students can achieve remarkably and make a long-lasting impact on society with the right guidance, support, and determination. Through hands-on projects, students like Taelo gain practical experience in entrepreneurship, project management, and teamwork. These experiences enable them to develop critical leadership skills that set them apart from the world. As Enactus CUT continues to grow and shine, its legacy of leadership remains an enduring source of pride for the university and its students alike," she said.
Uploaded: 07 September 2023