CUT's Prof. Pierre Hertzog highlights the joy of teaching and exploring through engineering during his professorial inauguration
Engineering, Built Environment and Information Technology CUT News Teaching and Learning Research and Innovation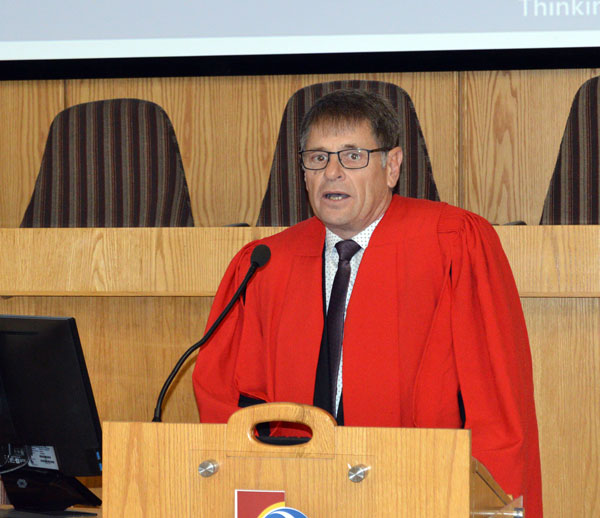 Photo: Professor Pierre Hertzog, a full Electrical Engineering, delivering his Professorial Inaugural address at CUT).
Professor Pierre Hertzog, a full Electrical Engineering Professor specialising in renewable energy and engineering education, delivered his Professorial Inaugural address at the Central University of Technology titled: A journey of lessons learned in the application of Arduino in research and teaching.
A highly experienced lecturer with 28 years of lecturing, Prof. Hertzog took the audience down memory lane, unlocking where his love for engineering began. "I want to take you back to when I was ten. In my room, there were radios that I had opened and a little electrical cable car. In those days, we didn't have YouTube, the only way to learn was to open stuff up to see what was happening inside. We had a few magazines about electronics, and we could go to the library. That was our source of information," said Hertzog.
As he began high school at Louis Botha, a technical high school, he was excited about finally getting the opportunity to learn about electronics. "I was quite shy and never really asked a lot of questions in class, but one day, I asked a question, and maybe I pronounced something wrong, and the teacher made fun of me in front of the class. And that day, I decided if I ever get to stand in front of a class, I will never do that." A testament to this was a hall filled with his students celebrating this career milestone with him.
He began his career in 1993 as a lecturer in Electrical Engineering at CUT and has more than 60 research outputs published in peer-reviewed conference proceedings and scientific journals. Throughout his career, Hertzog has lectured a variety of courses, including Projects II, Project I, Design Project III, Project III, Industrial Projects IV, Radio III, TV III, Electronic Communication II, Electronics I, Electrical Engineering I, Digital Systems I, Digital signal processing IV, and more.
In his lecture, he elaborated on how Arduino has positively impacted his personal life, research, and teaching. He demonstrated how this technology has revolutionised his work with microcontrollers, making exploring new possibilities and pushing boundaries easier. He highlighted how Arduino has the potential to empower entrepreneurs to make a positive impact on the world by providing them with a powerful tool that can help them bring their ideas to life.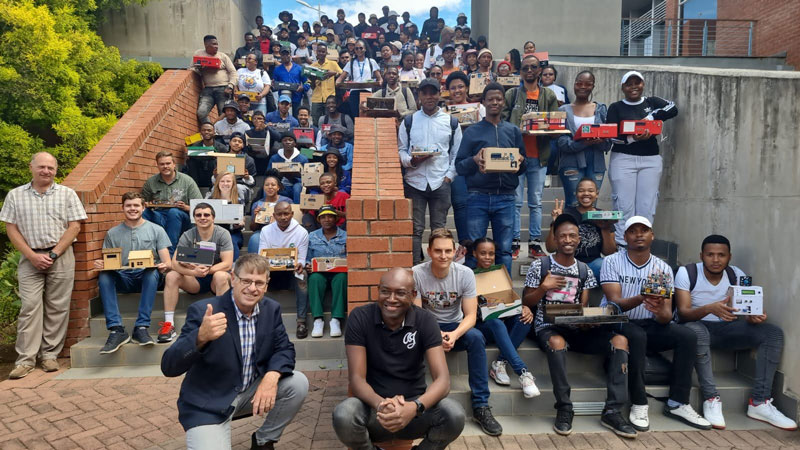 Photo: Professor Pierre Hertzog and his students with their design projects.
Another added value of using Arduino in class was the significant pass rate increase amongst his students, as they better understood how it works and how they could use it for their projects.
Prof. Hertzog strongly emphasises community engagement and has developed several courses on renewable energy and Arduino microcontrollers. These courses have been offered to individuals from various backgrounds, including educators from TVET colleges. Additionally, he maintains a YouTube channel where he produces informative content on Arduino microcontrollers for the benefit of the community. "I started a YouTube channel where I've started uploading stuff for guys like me who are ten years old or were once ten years old and inquisitive."
Uploaded: 06 September 2023