CUT scholar brings hope to cancer patients with her groundbreaking doctoral research
Faculty of Health and Environmental Sciences CUT News Research and Innovation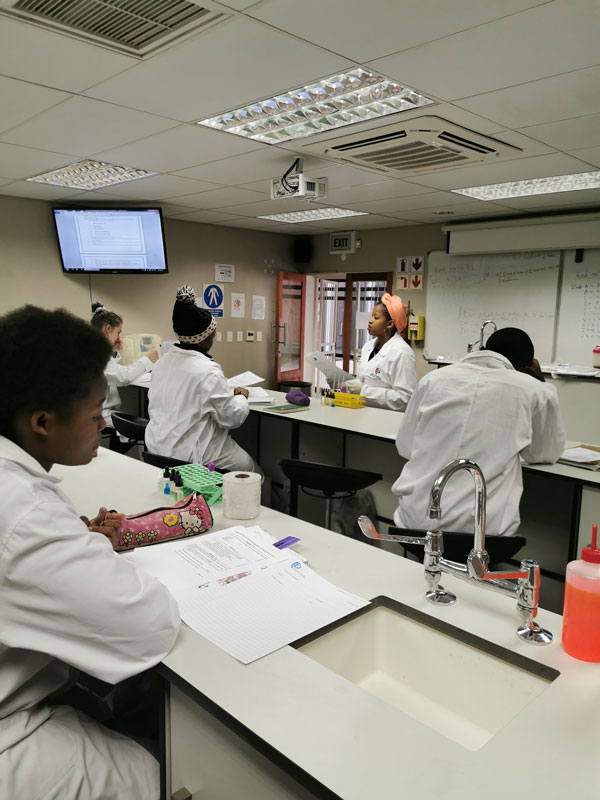 Dr Mfengwana in a laboratory class teaching students in Biomedical Technology at CUT.
As we march towards 2020, CUT researchers continue to lead the way in finding solutions that will sustain the lives threatened by dreaded diseases.
The efforts and achievements to demonstrate CUT's strong sense and focus on our vision and a powerful determination to succeed and excel in teaching and learning, has been eminent in the quality of graduates, scientists and researchers produced as we stand forever ready to deliver on the promise made to be an engaged university that focuses on producing quality social and technological innovations in socio-economic development, primarily in the Central region of South Africa.
In the 2019 Sping graduation ceremony,  seven doctoral candidates were hooded and amongst them, a 28 years old passionate researcher, mentor and lecturer from a rural town, Aliwal-North in the Eastern Cape, Dr Polo-Ma-Abiele Hildah Mfengwana, received a qualification as Doctor of Health Sciences in Biomedical Technology for her groundbreaking research work that is envisaged to bring hope to cancer patients and have a significant impact on the pharmaceutical industry.  
Cancer is a dreaded disease known for abnormal growth of cells that tends to flourish in an uncontrolled way and spread to destroy. Researchers continue to find solutions to cure cancer as was the case with Dr Mfengwana,  whose choice of study was motivated and informed by the need for alternative anticancer drugs since the current cancer treatments have bad side effects that destroy both normal and abnormal cells.
In her research entitled 'Evaluation of pharmacological properties of traditional medicinal plants used for the treatment of cancer by South African and Lesotho communities', Dr Mfengwana evaluated the pharmacological properties of Asparagus laricinus, Gunnera perpensa and Senecio asperulus, a medicinal plant claimed to cure cancer by traditional healers in Lesotho and Limpopo for the treatment of prostate and breast cancer.
The magical plant: Asaparagus laricinus leaves, a potential future breast cancer drug that is safe to normal cells.
Her study provides an insight into the antibacterial and anti-inflammatory activities of these plant extracts, and demonstrated their safety using current and classical cell biology techniques. She also discovered that Asparagus laricinus is a suitable aspirant for future breast cancer chemotherapeutic drug development, due to the selective cytotoxicity thereof on cancer cells and safety on normal cells. "The safety of this plant was proven at a genetical level through the comet assay (a test used to assess if the drug can cause DNA damage when exposed to cells). Upon assessment on kidneys as well as on liver cells with and without the presence of S9 (liver enzyme that mimics the metabolism of the administered drug by the liver), Asparagus laricinus further showed to have 28 unknown active compounds, which still need to be isolated and studied further before the in vivo investigations and clinical studies can be conducted. It is envisaged that my work will have a significant impact on the pharmaceutical industry."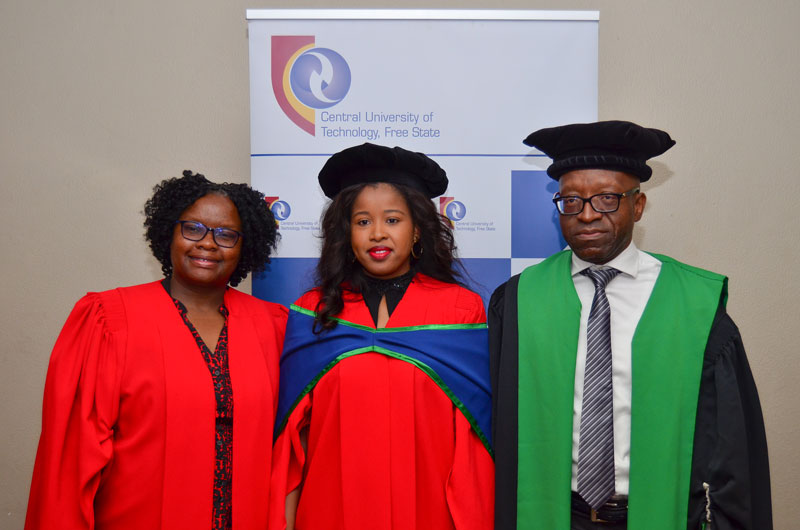 The Recently hooded Dr Polo-Ma-Abiele Mfengwana (middle) with her promoter, Prof. Samson Mashele (right), Dean of Health Sciences. Her doctoral research was supervised by both Prof. Mashele and Dr Idah Manduna (left), Senior Researcher in Health Sciences. She is currently a New Generation of Academics Programme (nGAP) Lecturer in Biomedical Technology at CUT.
Asked if she was the first researcher to discover the magical powers of this medicinal plant, Mfengwana said "yes, this was the first discovery, more especially from the part of the plant that I used (leaves), as in most researches, roots are used. My research findings are novel and very promising thus will definitely lead to drug development after the drug is tested on rats and clinical trials from Asparagus laricinus active ingredients. Pharmaceutical industries will be able to develop a new breast cancer drug that won't have bad side effects due to the selectivity of my plant."
Her research findings were presented at national and international conferences, and two articles were published in accredited journals. She has also published six articles, a book chapter and her research presentations have further won a couple of awards.
"The responses I got so far have been positive and have opened doors for me. I now receive invitations to be a reviewer for some international journals, requested to deliver keynote addresses and have since established collaborations with other South African universities as Nobel researchers are now aware of my work and have shown enormous interest to work with me," she said.
Uploaded: 18 September 2019