CUT in partnership with Eskom Expo for Young Scientists hosts workshop to inspire learners to participate in STEM fields
CUT News Partnerships Community Engagement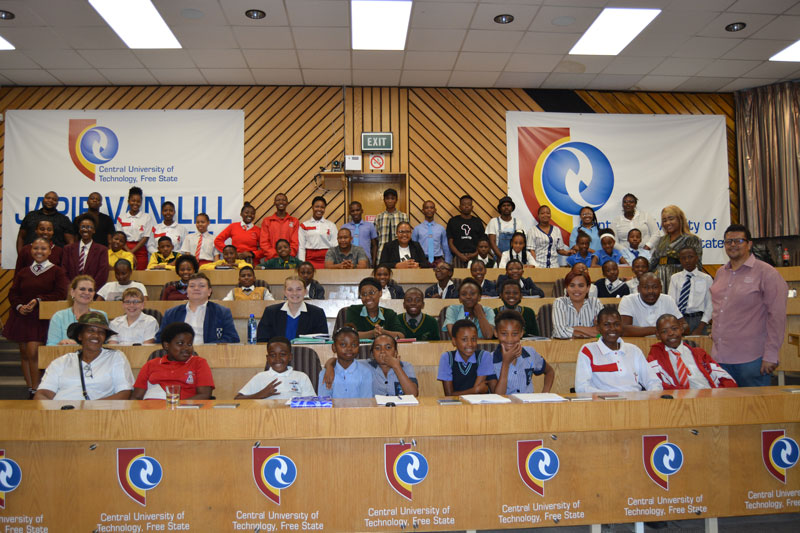 Photo: At the Japie Van Lil Auditorium, learners accompanied by their teachers from 13 local schools participated in the ESKOM Science Expo workshop. Participating schools included Tsholetsang Primary School, Madikgetla Primary School, Fauna Primary School, Sebabatso Primary School, ST Benedicts School. Sechaba Se Maketse Secondary School, St Michaels School, Martie du plesis School, Tsoseletso Secondary School, Pontsheng Primary School, Grassland Primary School, Senakakgwedi Secondary School and Welgehof Primary School.
Eskom Science expo is an exposition science fair where learners are afforded a platform to showcase their projects about their own scientific investigations. The expo provides learners with an opportunity to develop their scientific knowledge in areas they are interested in.
On 15 March 2023, the Central University of Technology, Free State (CUT) in collaboration with Eskom Expo for Young Scientists hosted a Science Expo workshop to inspire learners to become interested in STEM subjects.
13 schools from the Free State Region participated in the fair and were guided by mentors on how to come up with a research problem. The aim is to teach them how they can identify problems within their communities and come up with innovative solutions to those problems. The workshop is preparation and mentorship towards the real Eskom Science expo competition that will be taking place at the Boet Troskie Hall on 3 and 4 August 2023. Subject experts/mentors will be appointed to assist learners on their chosen topics to conduct their research. The categories to choose from are Science, Technology, Engineering and Mathematics (STEM).
Sister Mapiyeye, Manger: CUT Community Engagement, said the STEM Academy is a project under the Research, Innovation and Engagement division." Our role as CUT is to provide mentorship to the learners and enhance the teaching and learning of STEM subjects in schools through learner and teacher focused projects from grades R - 12. The project will also be assessed by a panel of experienced judges who are experts in the field," Mapiyeye said. "Gold medal winners will represent the region at the Eskom International Science Fair in Johannesburg," she added.
Uploaded: 17 March 2023