CUT confers PhD on Maccauvlei Academy graduate
Management Sciences CUT News Alumni Research and Innovation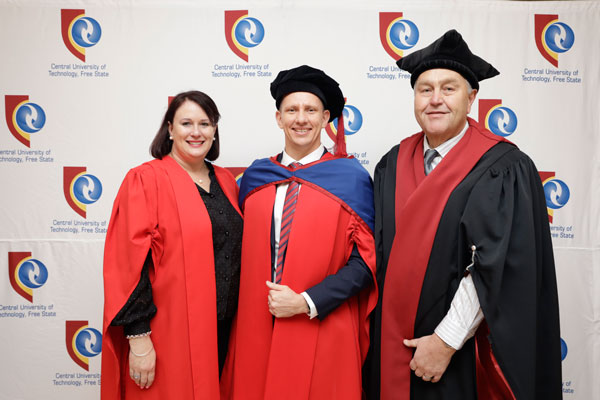 Photo: From left: Prof. Desere Kokt, Professor of Human Resource Management; Dr Thomas 'Tom' Frederick Dreyer, CUT's first Maccauvlei Learning Academy PhD graduate; and Prof. Albert Strydom, Dean of the Faculty of Management Sciences.
The Central University of Technology's Department of Business Management has, through their Maccauvlei project, graduated their first doctoral candidate, Dr Tom Dreyer, on 1 September 2023. The Maccauvlei project caters for learners in business and industry who study part-time. This makes obtaining the highest academic qualification an outstanding achievement. Dr Dryer is a Senior Talent Management Specialist at Abu Dhabi National Oil Company (ADNOC) in the United Arab Emirates (UAE). Dr Dryer also serves as a member of the Advisory Board of the Human Resources Management programme at CUT.
In 2018, Dr Thomas Frederick Dreyer was among thirteen master's degree graduates. He graduated Cum Laude with his Master's in Human Resource Management through distance learning. His research topic was "An expatriate mentoring plan for Abu Dhabi Oil and Gas Industries (GASCO)."
CUT offers accredited academic programmes by highly respected accredited bodies, such as SAIPA, SABPP, and ECSA and has strong affiliations with several Sector Education and Training Authority (SETAs). CUT programmes are internationally recognised.
Uploaded: 07 September 2023