CUT collaborates with UK Universities to improve wheelchair design and manufacture in Africa
CUT News CRPM PDTS Research and Innovation Partnerships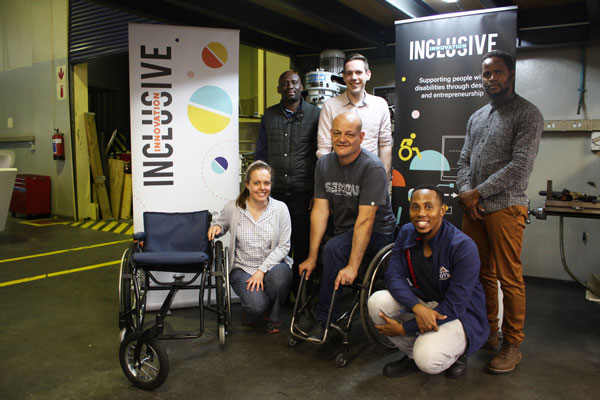 The Central University of Technology is collaborating with Aston and Loughborough Universities in the UK in a scheme which aims to improve Africa's entrepreneurial and technical skills. The three institutions are working with the university and two South African wheelchair manufacturers to improve their products and business operations.
Wheelchair design is being improved, and African entrepreneurs with disability are getting support from Aston University product design experts and CUT engineers. Senior lecturer in product design, mechanical, biomedical & design engineering, Dr Timothy Whitehead, is leading a team to apply their expertise under the Innovation for African Universities project with the Central University of Technology, Free State (CUT) in Bloemfontein, South Africa.
To launch the collaboration, these universities are working with two South African wheelchair manufacturers to take their products to the next level. One of these is Able Manufacturers, which has created a three-in-one chair with adaptable wheels for off-roading in the many rural areas with limited paved roads. A standard wheelchair can't cope with mud, holes and overgrown vegetation, but the removable third wheel helps users overcome rough terrain. As a result, people with disability can travel to previously inaccessible areas, increasing opportunities for and access to potential employment.
"CUT's collective AM capabilities in the design and manufacture of patient-specific implants and other assistive devices have undergone impressive strides and our goal is to widen the scope of research in this arena significantly, forming deeper alliances with medical professionals and institutions", said Prof. Deon de Beer, Chair of DSI/merSETA in Innovation and Commercialisation of Additive Manufacturing at CUT.
A core part of the project will be to use Aston University's expertise in design for manufacture and industrial design to help Able Manufacturers improve its current chair. Company owner Schalk van de Merwe said: "It is fantastic to work with the universities on this project. These chairs are a lifeline for many people living in rural communities – if we can iron out the issues, they will be even better."
The second project is to support the development of a new, more affordable rugby wheelchair to encourage more athletes with disability and children into the sport. Currently, it is costly to import these chairs to Africa, resulting in an automatic barrier to a sport which can support physical and mental health and rehabilitation. Real Steel Wheelchairs was started by Jared McIntyre, a rugby player in a wheelchair to work with skills providers to train differently-abled people to make the chairs and offer them valuable employment.
Dr Whitehead and design research assistant, Rebecca Leatherland are based within Aston University's College of Engineering and Physical Sciences. They visited the two wheelchair manufacturers to understand their issues and barriers to business development. Interviews, group workshops and observations were conducted to gain knowledge and understanding of local issues.
Dr Whitehead said: "We are delighted to share Aston University knowledge, experience and research with African entrepreneurs. This project will help improve life for African people who use wheelchairs and help boost employment opportunities for them. We are supporting two upcoming wheelchair manufacturers to improve their designs and creating educational and workshop materials for future differently-abled entrepreneurs. During our trip, we had the opportunity to meet these business owners in person and learn first-hand about the challenges they face, which we aim to help them overcome."
In addition to supporting the two enterprises, the team will be providing advice on upskilling and offering business and technical opportunities to the wider disabled community in South Africa, Kenya, Ghana and Nigeria. The project has been funded through the British Council's Innovation for African University scheme. It also includes Loughborough University, which aims to improve Africa's product development and entrepreneurial skills by following a user-centred approach. This implies that locally available skills and technology platforms within the TIA-funded Product Development Technology Station (PDTS) and Centre for Rapid Prototyping and Manufacturing (CRPM) will join forces with the UK partners to support local needs.
Caption
Back row, from left: Dr Thywill Cephas Dzogbewu, Research fellow at CUT, Dr Timothy Whitehead, Head of Product Design at Aston University, Mr Mzwake Moqhaisa, PDTS Engineer & Project manager.
Front row, from left: Ms Rebecca Leatherland, Research Associate at Aston University, Mr Schalk Van Der Merwe, creator of Able Manufacturers and Mr Makgeledisa Katlego, PDTS Engineer & Project manager.
Uploaded: 24 May 2022