CUT celebrates World IP Day at the Welkom Campus
CUT News Research and Innovation Welkom Campus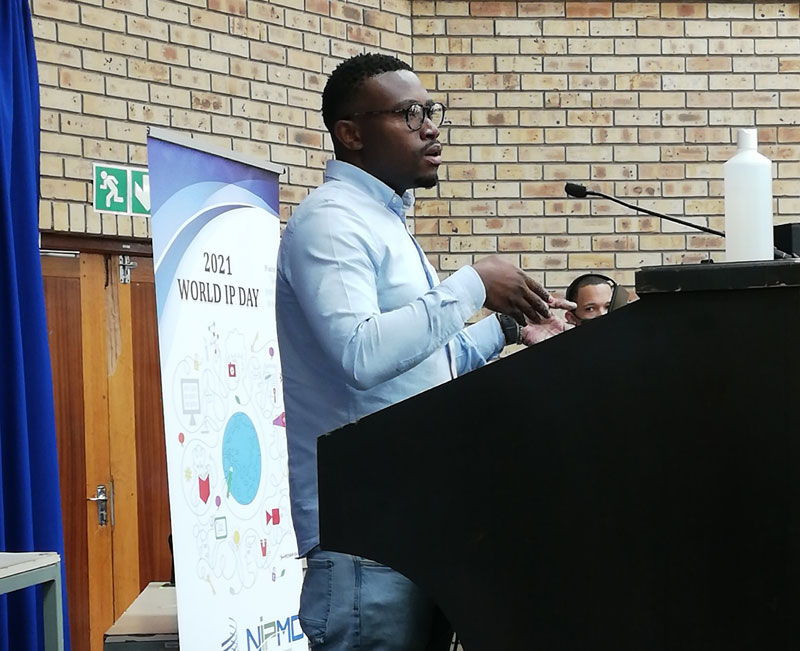 World Intellectual Property (IP) Day is an annual event celebrated on 26 April. This year the Central University of Technology, Free State (CUT) celebrated the day on 23 April 2021 for the first time at Welkom Campus under the theme SMEs & IP: Taking your ideas to market.
The day is meant to highlight the key role IP rights play in helping SMEs build stronger, more competitive and resilient businesses. The Grade 12 learners from Unitas secondary school and Welkom High were invited to get an insight on IP rights and how to protect their ideas and inventions. IP rights can turn an idea into a business opportunity, generate value, and enrich the choice of products available to consumers. It is thus important to use IP rights to safeguard business ideas in order to create value from individual business assets.
In his welcoming remarks, Prof. Solomon Makola, CUT Welkom Campus Director, said "always beware of an idea whose time has come, as ideas are more powerful than the voltage of electricity. If you just sit and look around you, everything started as an idea - the chair, desk, and electricity we use all started as an idea. Always remember that individual ideas of today transform into universal values of tomorrow. There are two things that are killers of ideas in this world- boredom and apathy. Boredom is nothing else but lack of interest or ignorance, while apathy is nothing but an inability to push yourself to take initiatives."
Guest speaker, Advocate Thapelo Montong an experienced patent attorney at Adams & Adams with a background in metallurgy and materials (engineering) gave a brief presentation on IP, trademark, copyright, trade secret or know-how, patent and industrial design. He said that Ideas are as good as how much you reduce them into material form to create something that can work at the end of the day. "One can regard Intellectual Property (IP) as an intangible creation of the human mind which tends to attain economic value once reduced into material form. The law generally recognises different types of intellectual property rights including trademarks, patents, industrial designs, copyrights, trade secret and industrial design. In general, IP rights can form powerful statutory monopolies that allow the owner to exclusively commercialise a certain invention, design or copyright-protected work for a limited period of time, and the exclusive right to use a certain trademark indefinitely."
He spoke about the different types of IP rights, a trademark as a brand name, a slogan or a logo amongst others, that identifies the services or goods of one person and distinguishes it from the goods or services of another. "When a trademark has been registered, nobody can use it without your consent as it is illegal."
He said that copyright is an exclusive right granted by the law to the authors of the original work, examples of work are literary work, artistic works, musical works, computer programmes, cinematography films, sound recordings, published editions, broadcasts and programme carrying signals.
When explaining a patent and industrial design he said that a patent is an exclusive right granted for an invention, which is a product or a process that provides a new way of doing something. "To get a patent, technical information about the invention must be disclosed to the public in a patent application. Industrial designs are applied to a wide variety of products of industry and handcraft items from packages and containers to furnishing and household goods from lighting equipment to jewellery and from electronic devices to textiles. Types of industrial design are aesthetic and functional designs."
He advised learners to always be unique and involve their TTO or IP lawyer in all stages of their IP lifecycle. "Always communicate that your work is proprietary and keep IP secret until you obtain some advice from a qualified IP lawyer or your TTO. Decide early on marketing strategy and align IP with marketing strategy. Couple products protected by patents and designs with other forms of IP."
Uploaded: 04 May 2021