CUT celebrates women in the workplace at alumnae breakfast
CUT News Alumni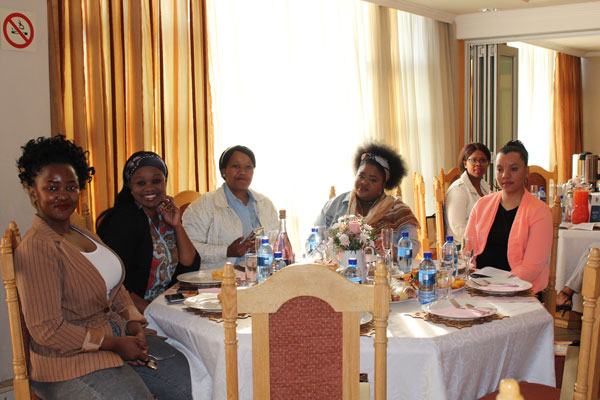 The Central University of Technology alumnae ended Women's Month on a high note by celebrating women empowerment and their achievements at a business breakfast hosted by the Alumni Office. The networking breakfast served as an opportunity for women who studied at CUT and those who work at the university to get together and discuss the strides they are making as 'women in the workplace'.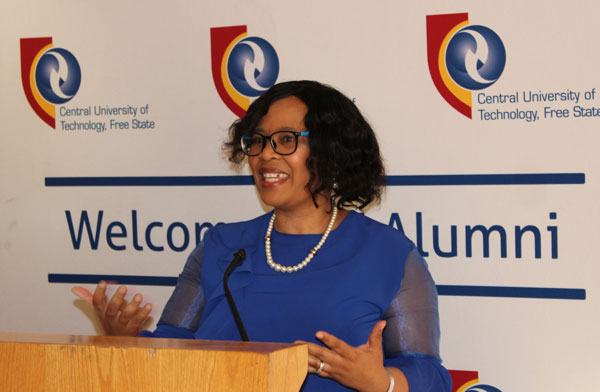 Dr Sally Dzingwa, CUT Institutional Registrar, said that women in the workforce should not take their advances for granted, and they should embrace the many roles that come with being a woman in the workplace. "When we see other women flourishing, we get motivated. We are motivated when we see women taking on positions that we would never have thought women would occupy. Women leadership is a different type of leadership, it has got empathy, ethical conduct, and I'm not suggesting that the other gender is not ethical, but I'm telling you, women have that innate ability to be good, to do well, and that is why we are the nurtures. So let that ability take you a step further and not limit you to how society has crafted us," said Dr Dzingwa.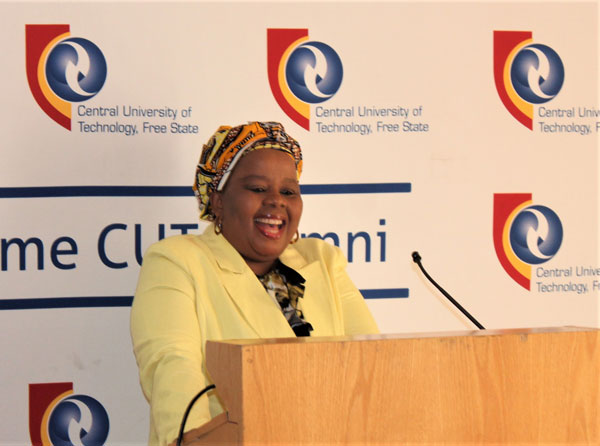 Ms Matshidiso Mfanta, CUTis Chairperson, businesswoman and author, reminded the women that women empowerment is not only about climbing the career ladder but financial independence. "Financial success is not a function of your income. Some people, when they are about to get a thirteenth cheque, they already have plans for that money before it even arrives, and those plans usually entail spending. We need to get to a place of treasuring and respecting ourselves enough to understand that there are certain decisions that we have got to make, which may not necessarily be comfortable for now but set us up for a good future. Some people only have their pension fund to fund their retirement, and only because their employer forces them to contribute to one. How will you augment your income if you don't start to build an asset base that will yield you a return that will ensure you can maintain the quality of life that you are used to once you have retired? Create a portfolio of assets, find alternative income streams, not for consumption but for investing," advised Ms Mfanta.
Women entrepreneurs were also offered the chance to learn more about opportunities to enhance their skills and businesses through the CUT Idea Generator (i-GYM) Unit. Dr Izabeth Conradie, Manager of the i-GYM added that the unit offers a developmental hub where students, staff as well as the public, with the assistance of experts and lecturers, develop their innovative ideas, projects and products into products that can be commercialised.
We should make a mind shift, if we could start businesses, we can begin to employ people, we can promote women's entrepreneurship and provide training, and as women, we do train differently as we are more accommodating, and I think this is because we are accustomed to wearing so many different hats. I always say I can multitask, but I'm better when I'm doing one task. My word of advice is if you are working on a project, focus on that. Tell those around you, especially the men in your life that achieving a specific goal is your main focus at that moment, and don't shy away from asking for help when you need it," said Dr Conradie.
Caption
1: CUT alumnae and staff celebrating women empowerment and achievements.
2 and 3: Dr Sally Dzingwa, CUT Institutional Registrar, and Ms Matshidiso Mfanta, CUTis Chairperson.
Uploaded: 01 September 2022