CRPM at CUT restores the quality of life through 3D printing technology
CUT News CRPM
3D printing better known as Additive Manufacturing (AM) is impacting the medical industry improving the daily work of professionals, bringing hope to the hopeless and restoring the quality of life of people with severe facial disfigurements caused by cancerous tumors or injury.
The AM technologies open the possibility to go directly from Computer-Aided Design (CAD) to a physical prototype or model. This technology helps to make custom products, which can be tailored for each patient's need, outside and inside their bodies.
Through this innovative technology, the Central University of Technology's Centre for Rapid Prototyping and Manufacturing (CRPM) together with Prof. Cules Van den Heever- a Maxillofacial Prosthetics, have managed to assist numerous patients saving and improving lives in ways never imagined.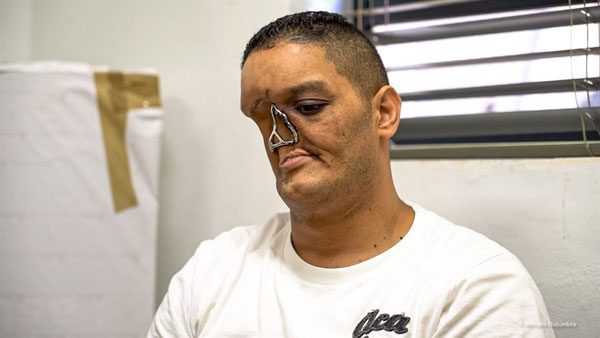 Mr Luan Adam is one of many cancer survivors who are fortunate to have benefited from this technology. Adam received a custom-made facial prosthetic implant after losing half of his face due to sinus cancer. He suffered many complications and infections due to tissue transplants which prolonged his journey to get a facial prosthesis that will make him socially presentable and regain his confidence.
The improvements in technology, processes and materials finally made it possible for Adams to get a prosthetic face that was designed and created by Prof. Cules with the help of CRPM, specializing in 3D printed prostheses for medical implants and other devices. "We took a CT scan and through CRPM we printed a planning model, and created a facial prosthetic made of silicone for Adams. CRPM 3D printed the titanium frame implant which is used to hold the prosthetic in place," said Prof. Cules.
Prof. Cules got involved in 3D printing and CUT about 10 years ago. Being the link between clinicians, hospitals and CRPM, he met up with Mr Adams to assess how best they can assist him. "Adams had cancer of the upper jaw of the sinuses, so half his face had to be removed due to cancer. The first operation was just to open his airway so that he could breathe, and the second part was to give him a decent mouth opening and teeth so that he can be able to chew. We made him a facial prosthesis out of silicon to make him socially acceptable. We then used the normal side of the face and mirrored it on the computer to the affected side to give us an indication of where we want to go with it. That prosthesis was magnetically attached to the frame and the implant was manufactured. We still need to work on his mouth and bring forward his upper lip and correct that, so it is a very difficult and costly process," he explained.
Prof. Cules and CRPM have been working on donations to treat patients with defects and facial disfigurements to restore their confidence and integrate them back into their communities.
He mentioned that CRPM is a unique Centre in the world and probably one of the best and biggest where remarkable work is being done to help treat patients. "We have the patient pool here in South Africa but, because of fear of the unknown, lack of government resources and socio-economic circumstances, a lot of patients are being left out. We have a unique situation where people are diagnosed very late, we see these huge extensive tumors which you don't see anywhere else in the world so, in a sense, this is a world leader, and it is sad that this work is done and there is no recognition."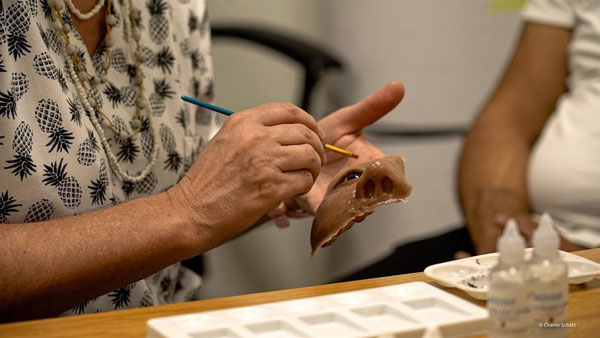 The Centre does ground-breaking work in the design, development and manufacturing of medical devices using 3D printing. It received ISO 13485 certification for 3D printing of medical devices making it the first Centre in South Africa and Africa to receive this prestigious certification for an Additive Manufacturing Centre. They also have The South African Health Products Authority (SAHPRA) license for the manufacturing of medical devices. The MedAdd Project was successfully implemented as the quality management approach was followed to ensure that quality is not comprised through the manufacturing process of medical devices.
Captions
1: Luan Adams with his new facial prosthetic that will help make him socially presentable and regain his confidence.
2: CRPM 3D printed titanium frame implant to hold the prosthetic in place.
3: The facial prosthetic made of silicone for Adams.
Uploaded: 19 November 2021