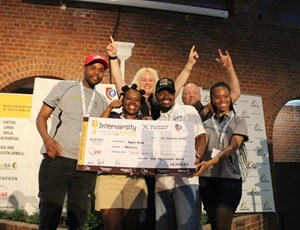 CUT scoops three awards at the 2023 Intervarsity Brewing challenge
Health and Environmental Sciences
CUT News
CAFSaB
CUT brewing team won the Best Sour Beer, third Best Summer Beer and Best Aged Beer at the 16th annual...
There are currently no events
Research & Innovation Portal
Try out our new Research and Innovation portal to find the latest published articles and information.
The Faculty of Health and Environmental Sciences consists of four departments, the Department of Agriculture, the Department of Clinical Sciences, the Department of Health Sciences, and the Department of Life Sciences.
The faculty offers tuition in Environmental Health, Agricultural Management, and various health-related disciplines, including Clinical Technology, Radiography, Biomedical Technology, Dental Assisting, and Somatology, with specialist fields at an undergraduate and postgraduate level in most of these disciplines.
National diploma programmes extend over a three-year period. After students have obtained their national diploma qualification, they may continue with a fourth year of study to obtain the Baccalaureus Technologiae (BTech) degree, or Advanced Diploma: Agricultural Extension (for Agricultural-related disciplines). Students can then also consider enrolling for a Magister Technologiae (MTech) degree, and thereafter a Doctor Technologiae (DTech) degree. The department of Health Sciences offers a Master of Health Sciences and a Doctor of Health Sciences in Biomedical Technology, Clinical Technology and Somatology. Although students will be encouraged to register for their postgraduate studies on a full-time basis after obtaining the BTech degree, such studies can be undertaken on a part-time basis in selected fields of study.
The faculty offers attractive opportunities to students to become involved in research programmes at postgraduate level. The Centre for Health Sciences, Unit for Drug Discovery Research, the Unit for Food Safety and Technology, as well as research programmes in Agriculture and Environmental Sciences, conduct interesting research projects and render important services to the community. The faculty is involved in a variety of community projects.
National Diplomas: Extended Curriculum Programmes
Prospective students applying for admission to a National Diploma in the Faculty of Health and Environmental Sciences might be referred to an Extended Curriculum Programme (ECP) instead of the mainstream programme. Prospective students may not apply directly for admission to the ECP, but must first apply for admission to the mainstream programme. In the case of a student following the ECP, the duration of the diploma programme will be extended by one year of full-time study.
Mashele Samson
Mbijekana Wonga

Tel: +27 (0)51 507 4048

wmbijekana@cut.ac.za