CUT women celebrate their power as women in the workplace
CUT News Community Engagement Support Services Teaching and Learning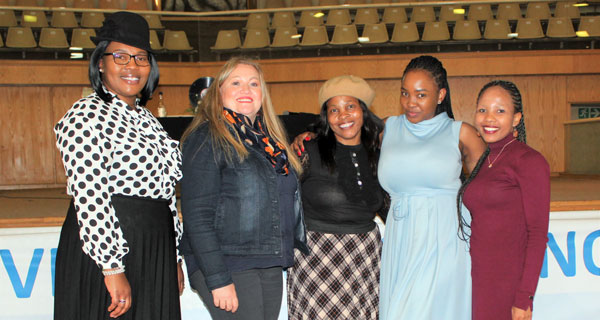 The women of the Central University of Technology recently celebrated being women in the workplace, taking advantage of the opportunity to socialise and interact with one another and consider the issues affecting women at CUT. Themed: Honouring the power of women in the workplace; the celebration saw women from both the Bloemfontein and Welkom campuses come together to celebrate how far they have come in achieving their goals; not only as women working in the higher education sector, but as vital pillars in society.
Dr Sally Dzigwa, the Registrar, led the discussion by encouraging CUT women to actively partake in shaping their future as women in the workplace. "I would like us as women to come out of these panel discussions and deliberations with a plan. What is our plan, how are we going to change the narrative? How are we going to support each other to make sure that our growth will suit the way we want the future to be?" asked Dr Dzingwa.
Facilitated by Dr Mantoa Molete and Ms Zelda Ramanduse, the programme included a panel discussion touching on various topics, including the significance of the contributions women have made in the workplace, the importance of mentorships and embracing femininity while still maintaining your strength.
The panel included Dr Laurika Van Straaten; CUT Manager Language Services, Ms Refiloe Khabo; CUT HR Consultant, Ms Mpho Mbeo; CUT Faculty of Engineering, Built Environment and IT Officer, Ms Ntokozo Mchunu; CUT Senior Campus Planner, Facilities and Ms Ruth Mothae Supervisor, Residences.
"We have a lot of celebrations as women, but I think we need an Imbizo for women, where we can truly let our hair down and unpack things, we need a space as women to be free to share, vent without fear or judgement. Knowing that the space that I share is the same space where I am surrounded by powerful women like myself who understand my plight. I can inspire, I can be inspired by someone else, and I can take motivation from someone else; but ultimately, we each can learn from each other, and we should be supporting one another. Transformation is never achieved instantly, but at least if you've got a vision of the change that you want to see, then you are able to work towards that," added Dr Dzingwa.
Caption
The panel of CUT women who shared their experiences with their colleagues. From left, Ms Mpho Mbeo, Dr Laurika Van Straaten, Ms Ruth Mothae, Ms Ntokozo Mchunu and Ms Refiloe Khabo.
Uploaded: 24 August 2022