CUT bids farewell to Registrar Mrwetyana
CUT News Leadership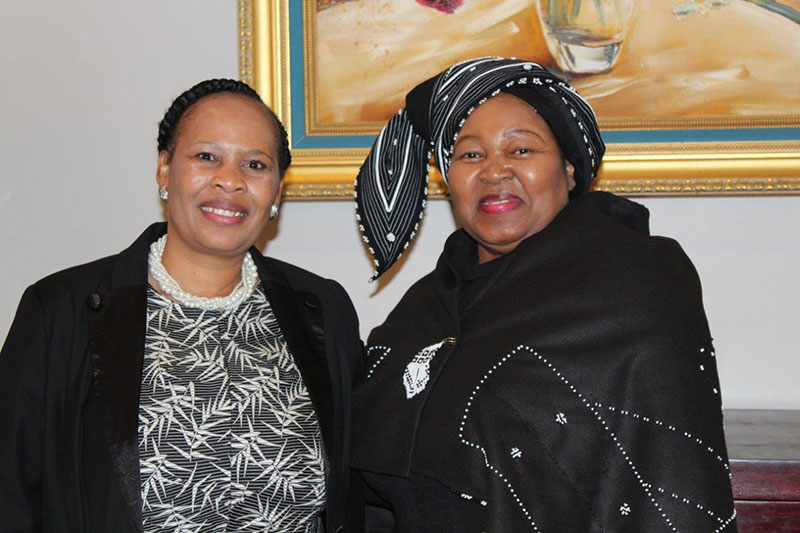 The Central University of Technology bids farewell to Dr Nothemba Pinky Mrwetyana to bring to an end forty years of her illustrious career in the higher education section. Dr Mrwetyana who joined CUT in 2013, has spent the last month inducting the new registrar, Dr Sally Dzingwa, who joined the university on 1 July 2021.
Dr Mrwetyana has been lauded as a passionate and resilient leader, who always encouraged her team to reach for greater achievements, especially the women who have worked with her. Although many misjudged her when she first arrived the University, as she looked too sweet, she cemented herself in her position and has proven to be a force to be reckoned with for her remarkable contributions in matters of student and university governance oversight roles.
Dr Mrwetyana has 40 years' experience in the higher education in South Africa, of which she served two 5-year periods as registrar at the University of Fort Hare, before assuming her duties as the Registrar of the Central University of Technology, Free Sate (CUT) on 01 September 2013. "Higher education is my life, I'm very passionate about it, and to realise that I'm retiring from higher education is not easy."
During her interview process for the registrar post, she was posed with the question: Why must we appoint you as your counterparts have similar competencies to which she answered: "Other than my competencies, I am a very resilient person, I don't quit, never. If I'm set on doing something I will remain on course until the mission is accomplished. It's a proud day for me because I did just that at CUT".
She holds a BA (History and Anthropology majors); UED (English and History Methods); BEd; and MEd (Instructional Technology) from the University of Fort Hare; an MEd (Curriculum Studies: History) from Rhodes University; and a PhD (Technology in Education) from the University of Natal. She is currently completing modules towards the Master's Degree in Business Leadership at the University of South Africa (UNISA).
She has served on several bodies, including the National Registrar's Forum, and has won several awards, including a grant by the Association of Commonwealth Universities to participate in seminars for African university leaders on "Leadership and Strategic Change in Higher Education"; the Bram Fischer Oxford South Africa Award; a grant by DEVTECH for the Tertiary Linkages Project; and the SABUFSEP Fellowship by the African American Institute in New York.
Prof. David Ngidi, Deputy Vice-Chancellor: Teaching and Learning lauded her for lending her wisdom to help steer the University's ship. "She's a storm calmer, especially when the temperature would flare up during meetings, she would say: "colleagues calm down" and we would listen. She has been motherly, always offering many of us a shoulder to cry on. We will miss her wisdom and deep knowledge and understanding of the higher education sector, which she has used so intelligently to guide us," said Prof Ngidi.
"You've been a family to me, and all is well that ends well. I believe that everything that I have been able to accomplish through my 40 years of higher education has been through the help of God. I'm wishing you all the best as an institution and as individuals," concluded Dr Mrwetyana.
Caption
CUT's newly appointed Registrar, Dr Sally Dzingwa, with the retiring registrar, Dr Nothembu Pinky Mrwetyana.
Uploaded: 02 August 2021