The International Building and Construction research community recognises CUT's Prof. Fidelis Emuze for outstanding service and international leadership
Engineering, Built Environment and Information Technology Built Environment CUT News Research and Innovation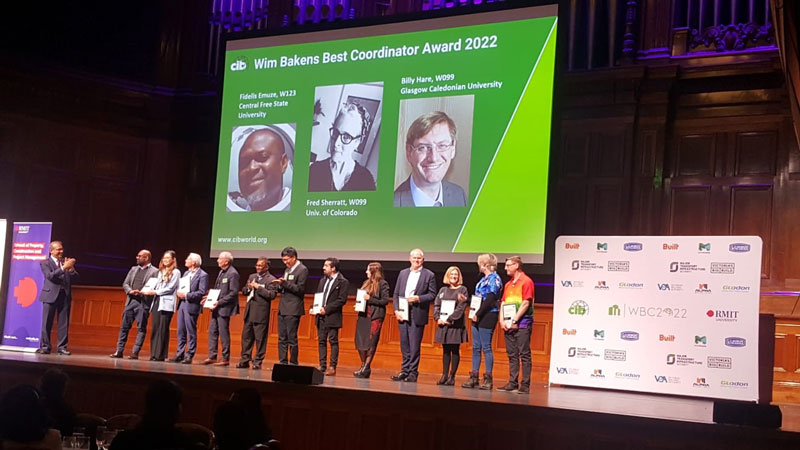 CUT's Professor Fidelis Emuze, who heads the Department of Built Environment has been an active member of the International Council for Research and Innovation in Building and Construction (CIB) for many years.
The CIB was established in 1953 with United Nations' assistance and holds special UN consultative status. A CIB Commission is a worldwide network of experts in a defined scientific area who meet regularly, collaborate on international projects and exchange information voluntarily. It has close to 50 entities, either a Task Group (TG) with a limited lifetime, scope and objectives or a Working Commission (W) with a longer-term 'permanent' status and a broader programme, scope, and purpose. The worldwide network of building and construction experts aims to improve society through international cooperation and information exchange with peers.
Prof. Emuze is the coordinator of a working commission on "People in Construction" (W123) with global membership in several countries. On 29 June 2022, the Dr Wim Bakens Best Coordinator Award was bestowed in recognition of his outstanding service and international leadership of a commission from 2019 to 2022. Prof. Emuze shares the award with Profs. Fred Sherratt and Billy Hare from the University of Colorado and Glasgow Caledonian University, respectively. The award recognises the team as the best coordinators - considering there are about fifty task groups and working commissions, it is indeed an honour.
Dean of the Faculty of Engineering, Built Environment and Information Technology, Prof. Herman Vermaak congratulates the award-winning CUT scholar for yet another magnificent achievement. He said, "This reward to Prof. Emuze is another confirmation of his excellent work. His leadership is also visible in the time and effort he invests in colleagues to assist them in developing. We are honoured to have Prof. Emuze as part of the faculty".
About the award, Prof. Emuze comments, "It is an honour to be of service to the construction community and by extension, humanity. I appreciate the support of CUT on this front and other similar endeavours".
Uploaded: 22 July 2022