CUT and University West solidify existing relations at the MoU signing
CUT News Leadership Research and Innovation International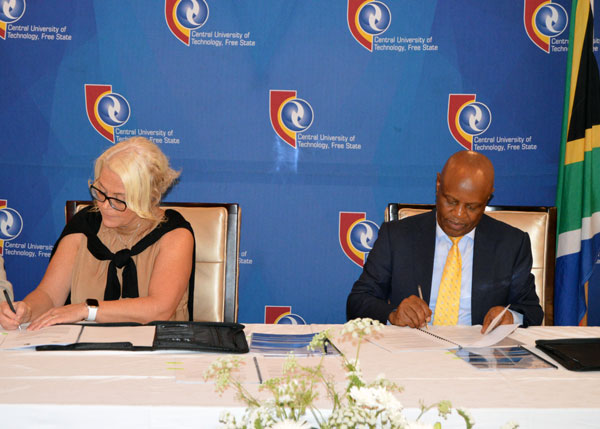 CUT and the University West (UW) have solidified their long-standing ties at the recent MoU signing. Apart from further collaboration opportunities, the signing included an updated agreement for PhD studies with University West and to develop a common Work Integrated Learning (WIL) profile internationally.
This partnership is already bearing fruits and making great strides in relation to some of the two parties' commitments to research collaborations, student-staff mobility, and expansion of masters' courses and PhD programmes since the initial signing in February 2020.
"We see this visit and many others to come as an important outlet for both two universities to strengthen the existing bonds of friendship and, most importantly, to reflect from time to time on the progress we are making in pursuit of the university's global engagement agenda," said Prof. Alfred Ngowi.
Caption
From left: Prof. Ulrika Lundh-Snis, Deputy Vice-Chancellor: University West and Prof. Alfred Ngowi, acting Vice-Chancellor and Principal, sealing the partnership agreement.
News Archive
CUT expands its collaborations with Sweden's University West | 25 March 2022
CUT and University West partnership make strides amid COVID-19 challenges | 08 February 2022
Uploaded: 10 November 2022