Eskom and CUT forge regional collaboration to promote excellence among young scientists
CUT News Research and Innovation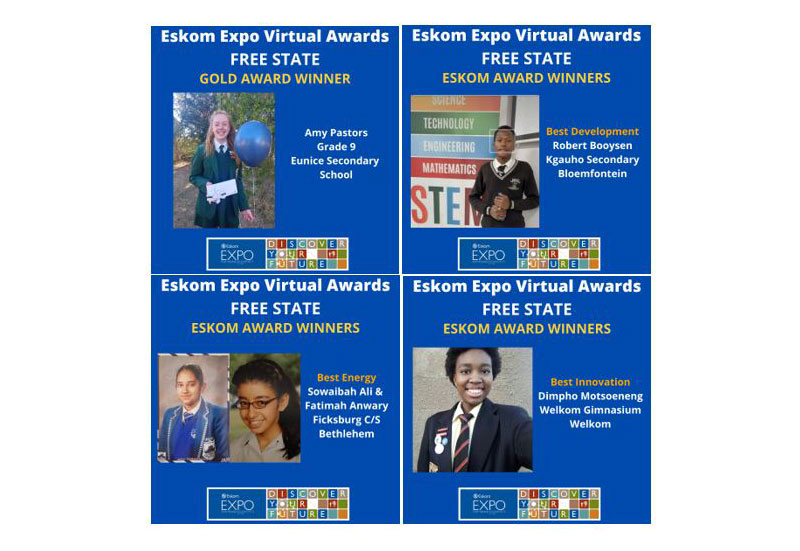 The Central University of Technology in collaboration with Eskom Expo for Young Scientists, hosted a virtual award ceremony on 26 August 2021 to acknowledge and honour young scientists for their innovative research projects.
The projects were assessed by a panel of experienced judges who are also experts in the field. Selected learners will be chosen to represent the region at the Eskom Expo Science International Science Fair (ISF) in October, where students stand a chance to win further awards. At the annual prestigious Eskom Expo for Young Scientists, selected students from 35 Expo Regions in South Africa will compete against the best young scientists from around the country and the world.
The prizes awarded were sponsored by the CUT STEM Academy, to the value of R163 500.00. Learners received bronze, silver and gold trophies, and certificates.
Mr Parthy Chatty, Executive Director of Eskom Expo for Young Scientists congratulated all learners who participated in the expo research project or an engineering project because it is a huge achievement. "Your ability to complete your science project under these challenging circumstances is proof that you are self-motivated and above average. We will acknowledge learners who have attained marks that fall under the categories of bronze, silver and gold certificates. I hope you all achieve the best assessment you can for your hard work and continue to pursue your careers in the sciences. I look forward to seeing many of you at the ISF 2021 finals and the rest of you all again in 2022."
In his keynote address, Prof. Alfred Ngowi, Deputy Vice-Chancellor: Research Innovation and Engagement, mentioned that South Africa and Africa as a whole, did not participate in the three Industrial revolutions and should not miss the opportunity to take part in the 4th Industrial Revolution. "Now we are in the 4th Industrial Revolution, this unlike the first three, is not based on a single technology, it is multiple technologies which are most physical, cyber and biological and the ability to combine these different types of technologies give people an advantage."
"There are things that will be done by machines much better than humans and there are those skills and work that cannot be done by machines. So, what we are talking about here while we give you knowledge about the technologies like Internet of Things (IoT), Artificial Intelligence (AI) and 3D printing, is for you to understand how machines are going to work so that you work with them effectively. We are also going to give you the skills of the things which machines cannot do and two of those things are innovation and entrepreneurship. Innovation is a human activity which requires human creativity and entrepreneurship is for everybody. Entrepreneurship and innovation are key things and through this competition, you will be equipped with the key skills in innovation," he concluded.
Watch: Eskom Expo for Young Scientists 2021 Provincial Virtual Awards Ceremony for the Free State
Brief background of CUT's participation in the Expo of Young Scientists
In 2018, CUT and the Expo for Young Scientists entered a partnership to encourage participation of young inquisitive minds in Science, Technology, Engineering and Mathematics Innovation ("STEMI") activities within the province. The partnership is in line with CUT's vision of engaging with the communities it serves in order to improve their quality of life.
The university also launched the STEM Academy envisioned to be a training and developmental hub for professional teachers and lecturers to improve content knowledge of Science, Technology, Engineering and Mathematics in schools, colleges and universities, which will ultimately promote throughput pass rates in the STEM subjects in line with goals of the national development plan.
Caption
The deserving students who received awards at the Eskom Expo Young Scientists ceremony.
Uploaded: 03 September 2021