CUT's safe and accessible environment sees Galeboe Thabiso obtain his second qualification at the 2022 Autumn Graduations
Management Sciences CUT News Teaching and Learning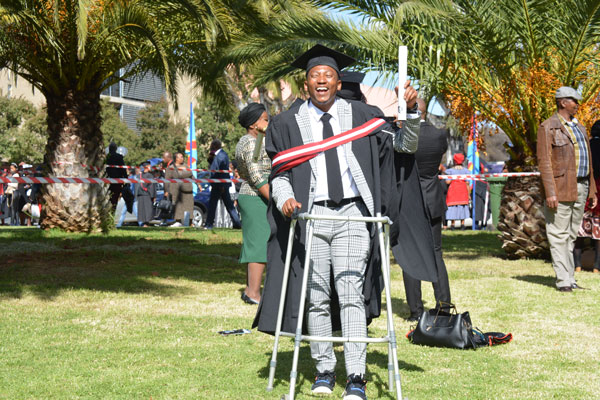 The Central University of Technology is always eager to create a safe and accessible environment for all students on campus, including those who are differently-abled. Every student is equally important and must be treated with the respect and dignity they deserve.
"You are not limited because of your condition. If you have a dream chase it and do not be afraid of what society will say. Remember, you are on this earth for a purpose," those are inspirational words from Galeboe Thabiso, a CUT graduate living with a condition called cerebral palsy.
On 09 May 2022, this 32-year-old gentleman from Boshof proudly walked the CUT Boet Troskie stage to collect his Advanced Diploma in Applied Management certificate. "I am very happy that I managed to make it to the finishing line! I must say that walking onto that stage made me feel like nothing is impossible. This is my second qualification, and I am proud of myself."
Thabiso mentioned that his condition is a congenital disorder of movement, muscle tone, or posture due to abnormal brain development, often before birth. "I was not born like this, unfortunately, when I was a baby, I fell and had a mini-brain stroke that affected my left-hand side at the age of 2," he said.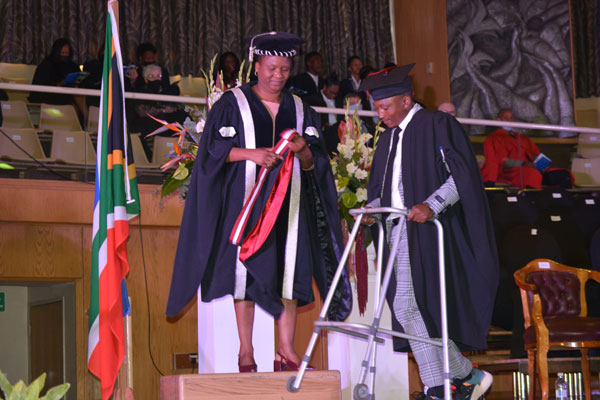 When sharing his academic journey, he said that as a person with a disability, he found the institution to be very supportive and easily accessible. He never had any struggles moving around campus, even during exams. "I am very pleased to say that I never had any challenges accessing any facilities around campus. Because of my condition, I am a bit slow and during exams, I would be given extra time and at times, do oral examinations. The institution catered for my needs, and today I stand proud as a graduate!"
Galeboe also mentioned that they had to attend classes online during the lockdown, which he was sceptical about but turned to enjoying in the end. "When we were informed that classes will be online, I was a bit sceptical, but like the rest of the world, we had to adjust. I enjoyed the online learning more than I expected. It was fun, I must say. I never experienced any challenges; our lecturers were easily accessible. My overall experience at CUT has been nothing but awesome!"
Caption
Galeboe Thabiso is proud CUT graduate. He received his second qualification: Advanced Diploma in Applied Management certificate.
Uploaded: 13 May 2022