CUT hosts the Engaging the World Through the African Perspective Conference
CUT News Research and Innovation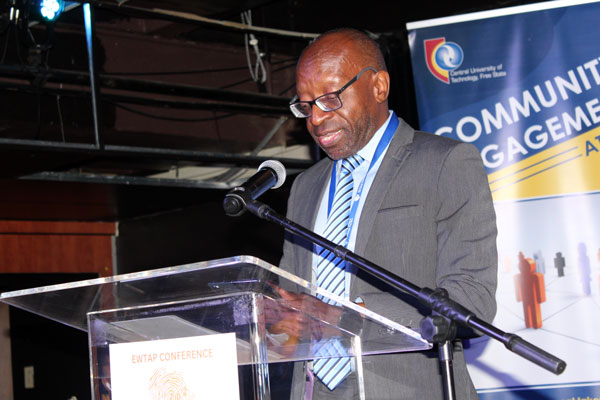 The Central University of Technology hosted the Engaging the World Through the African Perspective (EWTAP) Conference from 06 to 09 December 2022 at Sand du Plessis Theatre in Bloemfontein.
The conference's purpose was to build a network of collaboration and partnership with all relevant local, provincial, national, continental and worldwide communities. At all the conference sites, the focus is on documenting and preserving local history, recovering lost history and reflecting on the importance of restoration. The conference also focused on transforming and enhancing ways of doing research and contributing to the redefinition of community engagement with the higher education sector.
Prof. Samson Mashele, acting Deputy Vice-Chancellor: Research Innovation and Engagement, talked about community engagement projects and community intervention activities that often target Black Africans but lack a humanistic approach. "To be human is to follow a learning curve, this conference is a humanising project that faces challenges of social, cognitive, cultural and economic injustices," said Prof. Mashele.
History runs in our blood and without education, we are lost, it is important we learn about our past." So many things have come from Africa, the plants and drugs products show that Africa has something to share with the rest of the world," said Prof. Mashele. Many students are focusing on learning English and forgetting their mother tongue, Universities should introduce African languages so that we don't lose our African languages.
EWTAP is humanising in its goals and ways of working. "This is the kind of conference where community members, students, academics and all partners are involved in seeking new ways of setting up collaborations, exploring research methodologies and engaging with research and community engagement research interventions," said Prof. Mashele.
Caption
Prof. Samson Mashele, acting Deputy Vice-Chancellor: Research Innovation and Engagement, addressing delegates at the EWTAP Conference.
Uploaded: 15 December 2022