CUT employees from humble beginnings towards greatness
CUT News Teaching and Learning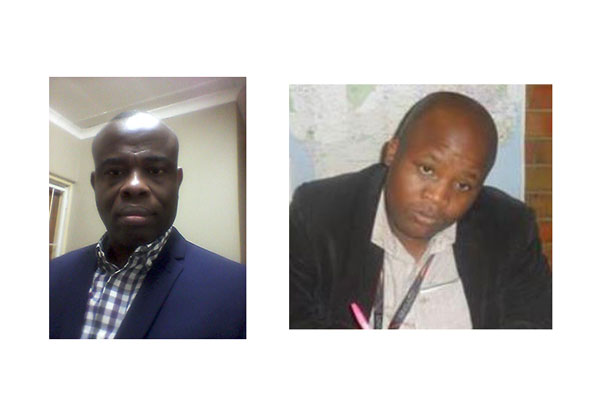 The journey to celebrate greatness continues with Dr Prosper Hoeyi and Dr Bernard Moeketsi Hlalele being the stars of the week.
Dr Prosper Kweku Hoeyi joined the Central University of Technology in January 2011 as a part-time lecturer while pursuing his doctoral studies with CUT. In September 2013, he became a full-time lecturer and was later promoted to the rank of senior lecturer in July 2021. "It was a challenging but exciting experience to be a student and a lecturer at the same time. I decided to become a lecturer because I enjoy teaching, and I believe it comes to me naturally. Sharing knowledge, whether through teaching a class or supervising a research student or a research article, gives me fulfilment."
He explained lecturing as a demanding but fulfilling career. He said what makes it demanding is the fact that it is a labour-intensive job. "There is not much that you can pass off to a machine as is the case in manufacturing firms, for example. Teaching, reading, and writing constituting a large component of the lecturing job, requires the personal involvement of the lecturer even in this era of information and communication technology (ICT) gadgets. Therefore, a certain amount of commitment and discipline is required for one to succeed as a lecturer."
His research specialisation is in business social responsibility, SMMES, supply chain management and finance. He indicated that SMMEs are the dominant feature of most economies around the world. They contribute significantly to the economic development of national economies and tend to serve as nurseries for innovative or entrepreneurial ideas that often grow into big businesses. He also focuses his research on supply chain management and business finance. "I expect a lot more to have been done on SMME social responsibility in the next five years, but I still expect a considerable gap in the area with respect to the African context. With respect to supply chain management, I expect the discipline to have started achieving a clear demarcation between the principles and applied aspects in five years' time."
Dr Hoeyi also mentioned that attaining his current position gives him hope to aspire to progress further which indicates that career progression is possible at CUT. "CUT empowers employees and gives them the opportunity to grow. This is because CUT is an organisation that constantly provides training opportunities for its staff. With the academic staff in particular- CUT has done its best to get as many of them as possible to attain their doctoral qualifications so that they can acquire advanced research skills."
Talking about his challenges he said that having to resign from his previous job to pursue his doctorate qualification was a big challenge because he had to give up a regular source of income for a part-time income. "This put a lot of financial and psychological strain on me, but the determination to become an academic kept me going. Another challenge was the fact that I had to leave my family back home to chase after my dream here in South Africa."
Dr Bernard Moeketsi Hlalele joined CUT as a Services SETA project coordinator and part-time lecturer in 2018 and since then he received excellent support from his superiors. Later, he officially joined CUT as a full-time lecturer where support increased even further. His research initiatives were highly received and supported. "CUT is like my second home, where one's abilities, hard work and dedication are nurtured. CUT is on top of the game when it comes to employees' empowerment. Well, given an institution that welcomes hard work, I was able to move from a lecturer to a senior lecturer within a short space of time, and that impacted my financials positively hence the better quality of life for my family."
He said that he joined CUT because it is a renowned university that does not harbor even the smallest traces of racism and discrimination against gender, sex and colour. "These attributes attracted me, hence my decision to join CUT."
Originally, Hlalele is from the disaster risk management discipline which he has given a twist from project risk management to support water resources management, Agri-businesses', and projects. "Given the relation of the two fields (disaster risk management and project risk management), and my current lecturing position, I found it imperative to marry the two fields."
"I am a teacher by profession (SACE certificated), therefore being a lecturer is an extension of my teaching passion. I enjoy lectureship, it is a fulfilling job, especially having to see one's impact on students' lives. For it to have a meaning, you must have passion, be dedicated and commitment to your roles and responsibilities," he said.
Asked about his goals and aspirations, Hlalele said that given his long academic journey, which took him through various programmes across various universities, he feels that a full professorship will be bagged within 2 years from now opening more avenues for high-level positions in academia in any African University.
He lives by the motto that says, "If you don't invest in risk management, it doesn't matter what business you are in, it's a risky business".
Caption
From left: Dr Prosper Kweku Hoeyi and Dr Bernard Moeketsi Hlalele superstars of the week.
Uploaded: 24 November 2021