CUT and partner FSPG extends digital skills to the community through the NEMISA CoLab
CUT News Partnerships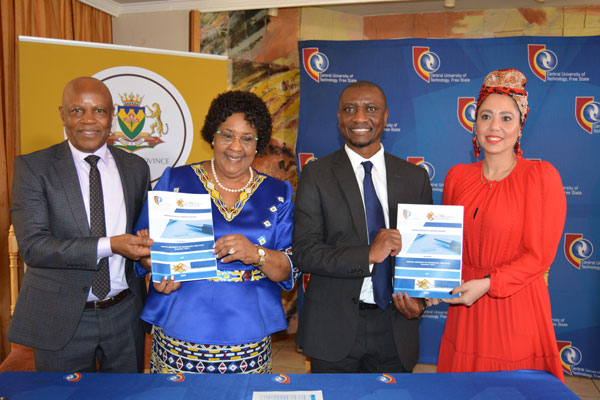 The Central University of Technology, in collaboration with the Free State Provincial Government (FSPG) and the National Electronic Media Institute of South Africa (NEMISA), launched the Free State Nemisa CoLab on Thursday, 24 November 2022. This is in line with the existing MoU with NEMISA, as well as the agreement to run the CoLab with FSPG jointly.
The CoLab focuses on how ICT can be used to positively impact the development of information-poor peri-urban, rural and remote areas and expand the power of ICT to connect these areas with the information society and knowledge economy.
Prof. Alfred Ngowi, Acting Vice-Chancellor and Principal, said that aligning tertiary education with 4IR technologies is accelerating. "The Covid-19 pandemic has accelerated our good intentions beyond any measure. As a result, not only did we realise the importance of technology in transforming our teaching and learning, but also the possibilities it offers. We realise how Artificial Intelligence and SMART campuses are part of the future of tertiary education – not only as a mode of delivery but also as a platform to further research and applications specifically aimed at our local communities. Moreover, being a front-runner in this sphere, we will align ourselves with our global partners to deliver a multi-stakeholder collaboration and digital skills development to our graduates who, in turn, will offer technological innovations and solutions," said Prof Ngowi.
To date, more than 13 000 learners have been trained. They are already exposed to various 4IR-related technologies and investment opportunities that this project brings to the province.
Free State Premier, Sisi Ntombela added that the programme is in line with the growth and development plan of the Free State as well as the national digital skills training for the proper use of technology, to improve the quality of life for all people in South Africa. "We are a mineral-rich province, but our people are living is abject poverty. Our young people are dying a slow death because of alcohol and substance abuse. We welcome this massive empowerment programme that seeks to capacitate our youth and in addition to this we need to bring in the various SITAs to assist in upskilling the current workforce and train many more young people in agriculture as we as mining to accelerate economic growth and to create jobs, particularly for young people," said Premier Ntombela.
Nemisa Chief Operating Officer, Trevor Rammitlwa added that a skilled workforce is fundamental to bringing Foreign Direct Investment into the province as investors look at a variety of factors before making an investment, and one of those is the skills level of the workforce. "We have these programmes in the creative media sector, that we believe can benefit the youth to a great extent because it is a growing industry. Apart from that, we have digital technologies courses, and in these courses, our focus is really on acknowledging that South Africa has come a long way and that we are an unequal society, and we know that many have been left behind. They don't have an email address, while others have to take taxis to town just to scan documents when you can use a phone app to scan. So, to bridge this divide, we realised that we had to introduce a massive programme in digital literacy," added Rammitlwa.
The activities of the co-Lab have also been entrenched with the current efforts of leveraging Fourth Industrial Revolution (4IR) technologies for the growth and development of the Free State Province. This is because the CoLab initiative directly addresses the skills development deficit as enshrined in the 4IR Summit Resolutions – this is coming from recently hosting the 4IR Summit.
Caption
CUT Acting Vice-Chancellor and Principal, Prof. Alfred Ngowi; Free State Premier, Honourable Sisi Ntombela; NEMISA Chief Operating Officer, Mr Trevor Rammitlwa and Free State Finance MEC, Ms Gadija Brown at the Free State NEMISA CoLab Launch, held at the CUT Bloemfontein Campus.
Uploaded: 25 November 2022