CUT and Maccauvlei Learning Academy renew MoU
Management Sciences Business Management CUT News Teaching and Learning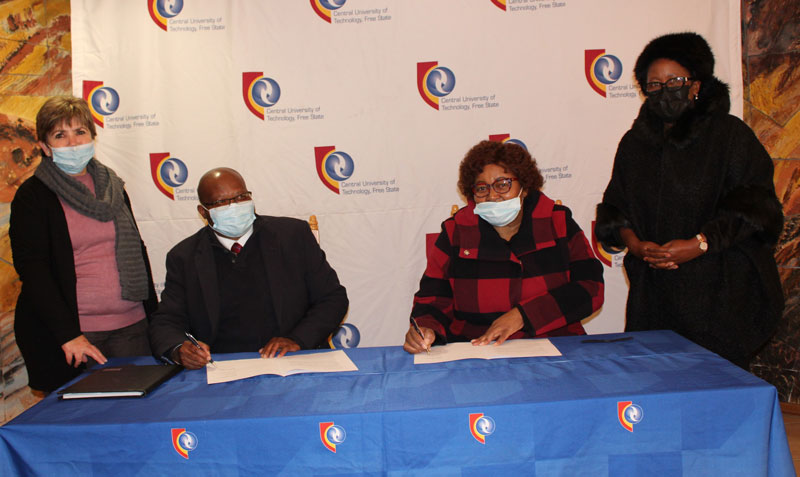 CUT and the Maccauvlei Learning Academy (MLA) have signed a Memorandum of Understanding (MoU) to cement the long-standing relationship that the two institutions have enjoyed since 2012. CUT and MLA are in a partnership to offer CUT's fully accredited Advanced Diploma in Human Resource Management to eligible MLA delegates that are in management positions in both public and private sectors in South Africa and beyond.
MLA Chief Executive Officer, Mr Bob Mataboge said that singing the MoU is a sign that the continuation of the partnership is a move in the right direction. "Today is not only about signing the new MoU, it's about strengthening this partnership for another three years for both organisations. Since the inception of this agreement in 2012, we've had 1017 graduates that have been through this programme, so it is really going well. It benefits the two organisations, but most importantly, it benefits our students. Over the years, the pass rate of students who have been through the programme has been above 95%. This clearly says that the professionalism of CUT staff, from the lecturers to the support staff is outstanding, and at Maccauvlei we value that," said Mataboge.
CUT Registrar, Dr Pinky Mrwetyana, added that this is a valued partnership for the University. "We have been excitedly engaged in this programme as it makes sense for us to be in partnership with other learning academies. It is also a form of outreach for us. In fact, this programme has become a flagship for us as it has resonance with our strategic direction for our Vision 2030 as an institution. We are looking forward to the continuation of this partnership and we believe that it does impact positively on the national imperative of addressing the skills shortage in our country and the region," said Dr Mrwetyana.
Caption
Ms Paula Teigao, MLA Practice Leader; Mr Bob Mataboge, MLA CEO, Dr Pinky Mrwetyana, CUT Registrar and Dr Lineo Dzansi, CUT Project Leader.
Uploaded: 04 June 2021