CRPM wins national Innovation Award
Faculty of Engineering, Built Environment and Information Technology CUT News CRPM Leadership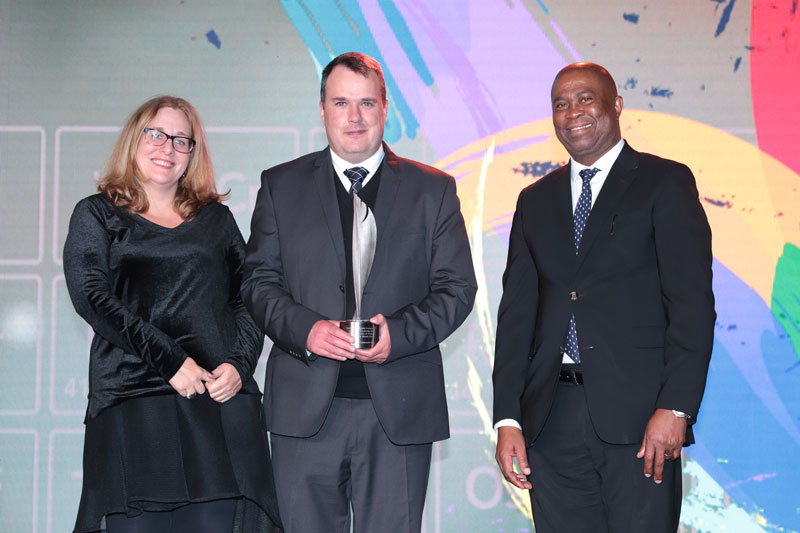 At the gala dinner, Dr Gerrie Booysen, Director: CRPM (centre), received the prestigious award on behalf of his team of engineers.
The Centre for Rapid Prototyping and Manufacturing (CRPM) at the Central University of Technology, Free State (CUT) recently participated in and won the Innovation Award: Corporate Organisation category for innovations and research and/or development at 21st annual National Science and Technology 2018/2019 NSTF-South 32 awards, also known as the 'Science Oscars' of South Africa.
The prestigious event was held on 27 June 2019 at Gauteng. The awards were celebrated along with over 600 guests and more than 50 different organisations from the broader community. The CUT-CRPM team forms part of the cream of the crop of the Science, Engineering and Technology (SET) community.
The university is proud of the CRPM to win the 2018/2019 NSTF Awards. This award is based on many years of investment that CUT has put in CRPM. This Innovation-Corporate Organization Award has been given to CUT in recognition of its pursuit to lead Additive Manufacturing in the higher education sector in Africa and the pivotal role it is currently playing within the medical field. Through that, the university will continue to provide its partners with exceptional tools and solutions to maintain a lead in 3D printing technology and to bring about the social and technological innovations in the country.
The NSTF Awards were established in 1998 as a collaborative effort to recognise outstanding contributions to SET and innovation by SET-related professionals and organisations in South Africa. This includes experienced scientists, engineers, innovators, science communicators, engineering capacity builders, and organisational managers/leaders, as well as data and research managers.
The university is currently hosting the Research Chair in Medical Product Development through Additive Manufacturing (3D printing technology)- an initiative intended to South Africa's research outputs and innovations in areas that are crucial to our national innovation strategy. The research chairs are tenable at universities and research agencies that are deemed to be leaders in selected fields such CUT in additive manufacturing or 3D printing technology. It is a highly competitive initiative amongst all South African universities and research agencies.
Hosting of the Research Chair by CUT is just one more achievement to add to its well-notched belts. Since 2015, the university has created new platforms through Additive Manufacturing (AM); allowing staff and students to open up new ideas that come with this technology.
The CRPM's goal is to create safe environments for medical practitioners to share their ideas and to form a consortium between doctors and CUT's product development centres to drive development.
Uploaded: 04 July 2019