Business Management Department celebrates top achievers
Faculty of Management Sciences Business Management CUT News Students Teaching and Learning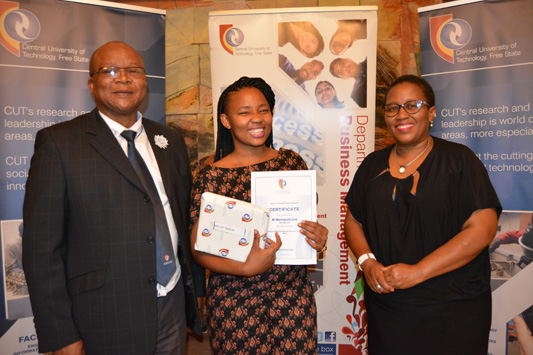 Ms W Nompukane (middle) flaunting her awards received for the best 2nd-year student in Human Resource management with an average of 80%. She is flanked by Prof. Tshedi Naong, Head of Business Management and Dr Lineo Dzansi, Snr Lecturer: HR Management.
On 07 March 2019, the Department of Business Management in the Faculty of Management Sciences held the award ceremony to celebrate and acknowledge excellence among its staff and students. In his congratulatory and motivational message to outshining students, Prof. Tshedi Naong, Head of Business Management said that the department believes in hard work and excellence. "We looked at a special group of students who have achieved an average of over 75%, and as a special group, you have already set standards to live by. On behalf of the department, I would like to say we are proud of you and we appreciate the efforts put together by both you and your lecturers."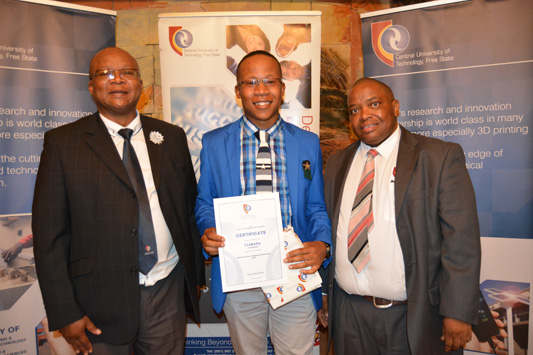 Proud moments: Best 2nd-year Diploma in Marketing achiever with 80% average went to Mr Innocent Lebatla (middle) from Welkom Campus. He is congratulated by Prof. Tshedi Naong, Head of the Department: Business Management (left), and Mr Sefako Ramphoma, Lecturer: Business Management.
Speaking on behalf of the students, Mr Innocent Lebatla, a recipient from Welkom Campus thanked the department for recognising excellence and hard work of its students. Mr Lebatla said that CUT provides a platform for students like him to demonstrate different learning styles and make their dreams a reality. He based his speech on success, the power of silence and real solutions to problems. "Avoid negative people as they are a problem to every solution. Push yourself harder because no one else is going to do it for you. Stop complaining and start doing. Real solutions to challenges start with sharing your knowledge and helping others."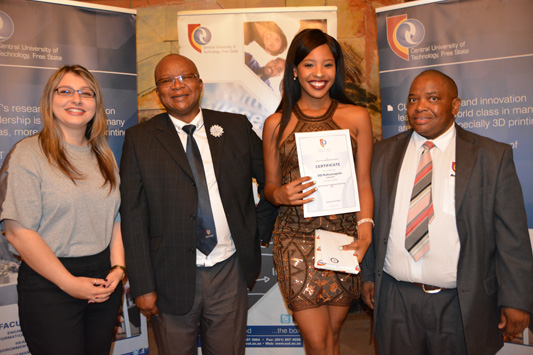 From left: Ms Madeleine Botha from Professional Provident Society Holdings Trust (PPS), Prof. Tshedi Naong, Head of Business Management, and Mr Sefako Ramphoma, Lecturer: Business Management congratulating Ms OD Mahumapelo (2nd from right) for her hard work. Ms Mahumapelo received an award for the best 1st-year student in Diploma Marketing with an average of 76%.
Prof. Albert Strydom, Dean of Management Sciences, said that achieving excellence at a young age is a critical factor that will determine their future success. "Your achievement is a sign that you have the characteristics of what is needed to be successful and amongst them is discipline, determination, endurance, drive and passion. These are all the characteristics that will make you successful in your careers. Surely, in a country like South Africa with a high unemployment rate, you will be entrepreneurs and job creators. When you go out there, demonstrate these characteristics, be true ambassadors and alumni of this institution and make us proud," he said.
Uploaded: 15 March 2019