Events in 2018
Innovation Week Challenges
Dear Innovator, this a final Call for Entries to the 17, 18 and 19 September 2018 Innovation Week Challenges with prizes to win and potential funders to impress, an initiative from the Idea Generator, (i-Gym), CUT, RESEARCH, INNOVATION and ENGAGEMENT (RIE), CUT.
Do you have an innovative idea or project?
How to enter?
If you have partners in the invention (idea /project), you should submit with this entry a signed service agreement by all partners or you will be disqualified!
The completed entry form entered by CUT students and Staff need to be signed off by the relevant Dean / Head of Department / CEO of Unit. Entries from the general public and alumni need to be signed off by the by Idea Generator,
Manager or Deputy Director / CEO of Units such as CUTIS / CRPM / PDTS / RGEMS.
An appointment will be arranged for a training session to prepare a 5 min presentation pitch the in September 2018 via email. This will be a session to help you how to pitch, 17th September if you're a student or 18 September if you are a staff member of member of the public & alumni. At this stage guidance will be provided by CUTIS, TTO office in regards of Intellectual Property protection.
Frequently asked questions
Will all entries be accepted for this challenge?  Please note point 2 above.  Forms need to be correctly completed and service agreements need to be signed and submitted in time. Confirmation will be given via email of approval.
What to expect on the 17- 18 September 2018 and where should you be? The Idea Challenges will be held at the Idea Gym CUT, 08:30 – 12:30. Student will present on the 17 September and staff members on the 18 September. You will pitch your idea to panelists and attendees. You will be asked questions regarding the technical feasibility and commercialization potential.
Complete and submit the entry form (MS Word), 27 August 2018
Funding Opportunities
The Department of Economic, Small Business Development, Tourism and Environmental Affairs is inviting applications from SMMEs and Cooperatives across Free State Province for funding. The funding incentive is targeting already existing secondary production companies that want to expand the business or primary production companies that want to process their own produce.
The closing date for the funding incentive is the 28 of September 2018.  Companies that are interested are urged to submit all the necessary documents listed on the funding incentive document (PDF).
CUT: turning job seekers into job creators
Education in innovation and entrepreneurship has become part of Universities of Technologies (UoTs) with the aim of turning more graduates from job seekers into job creators.
The Idea Generator was officially launched on 31 March 2017, with the intention of introducing a culture of innovation and entrepreneurship among the CUT community.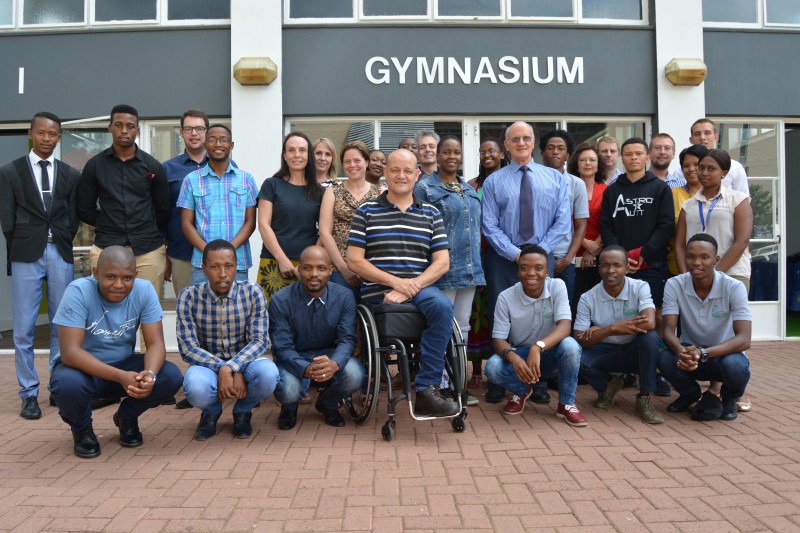 The Idea Generator offers a developmental hub where students, staff as well as the public, with the assistance of experts and lecturers develop their innovative ideas, projects and products into products that can be commercialised.
Innovative Ideas are the pipeline to CUT units such as PDTS, CRPM, RGEMS, CUTis and the Technology Transfer Office, who are leaders in prototyping, research and business development.
Services
One-on-one consultations with the Idea Generator Manager
Presentations from industry professionals
Demonstrations of new technologies
Assistance on the pitching process to possible funders or to take part in competitions
Proposal writing for funding applications
Activities at the IdeaGym
Product creation seminars
Developing entrepreneurial skills via a CUT Management Sciences Department developed game
Lean Iterator sessions to take an idea/project to a business
Art exhibitions
Ping pong Idea Challenges
Problem-solving challenges
"Men in Business" / "Women in business" Events
A bi-annual Innovation and Entrepreneurship competition being hosted by the IdeaGym where entrants have the opportunity to present inventions and ideas to a panel of experts. These ideas are channelled through the IdeaGym and other support or academic units at the CUT if possible.
TheIdeaGym supports Research Unit for Evolvable and Manumation Systems (RGEMS) in their Sasol Solar Challenge. 

South Africa's Entrepreneurial Ecosystem Map
A survey of the support available for entrepreneurs in South Africa was undertaken by the Aspen Network of Development Entrepreneurs (ANDE) South Africa chapter in 2015. This infographic below highlights the updated 2017 version of the key findings with interactive buttons to provide a more detailed overview of the support available.
Download the ANDE 2017 (PDF)
Where are we located?
The Idea Generator is situated at the IdeaGYM on the CUT Bloemfontein campus (Park Road Entrance), Google Maps.
This is an ideal place to exercise your mind and imagination.  A wide variety of services and activities to assist innovators and entrepreneurs are offered.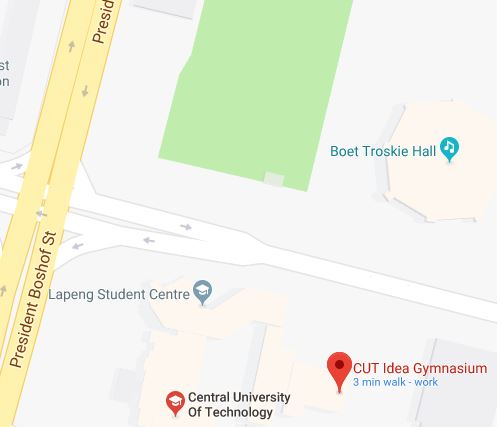 Contact us
E-mail us your ideas: ideagenerator@cut.ac.za
Updated: 27 August 2018