Webinar: Business and Economy beyond the Pandemic
Thursday, August 13, 2020
4:30 PM
Virtual event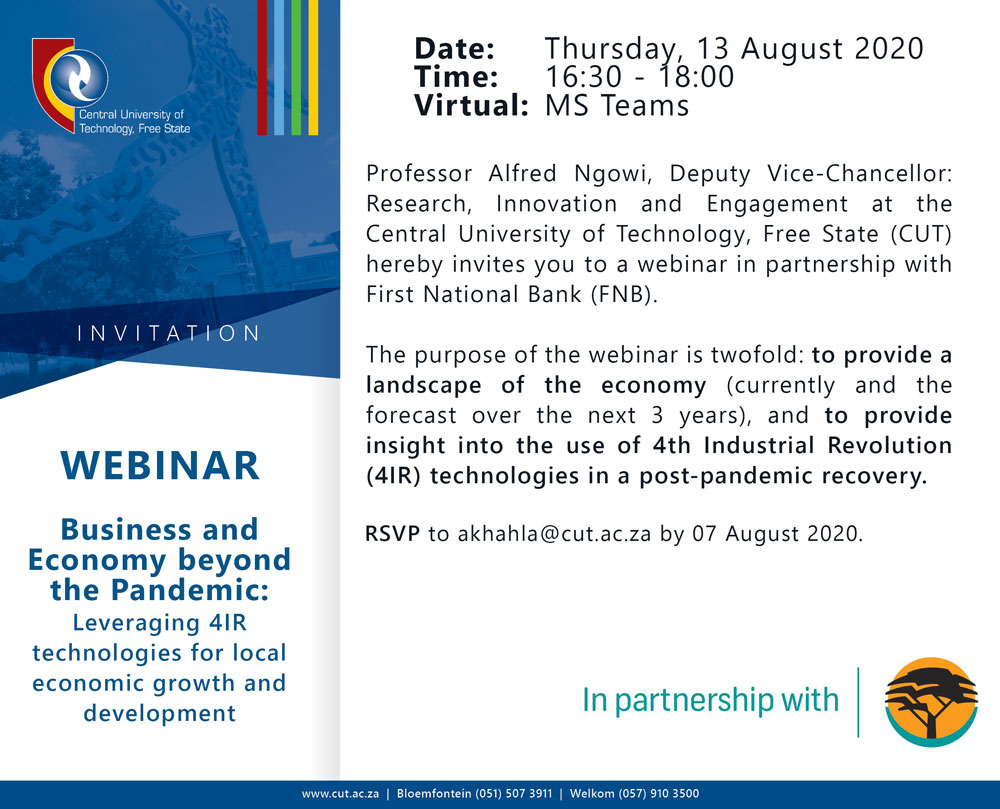 The Speakers
The first speaker is Mr Hugo Pienaar from the Bureau for Economic Research (BER), Stellenbosch University. He is responsible for the BER's macro forecasts and won the Thomson Reuters South Africa Economist of the Year award in 2014.
The second speaker is Mr Mitesh Chotu, a well-established Area Solution Architect at Microsoft, with knowledge spanning several industries and technology domains will provide insight on 4IR technologies.
Contributions to CUT COVID-19 Relief Fund
The effects of the COVID-19 pandemic have, and will continue to create new needs, and intensify existing needs. The economic impact will range from minor discomfort to absolute despair – with the larger part of our population gravitating to despair.
As a university, the CUT established the CUT COVID-19 Relief Fund (CCRF) to lend local support, https://www.cut.ac.za/cut-covid19-relief-fund
Relief will be financial or in-kind, for example, technological devices, medical products, or other inventions, products, and services aimed at assisting vulnerable community members and CUT students.
Contributions can also be made via FNB public recipient list on the banking APP. Search for: CUT Student Account
Reference: 5044/5312
Forward proof of payment to akhahla@cut.ac.za