Students exposed to study opportunities in Holland
Internationalisation is seen as a priority in many universities around the world. Despite the good impact it has on the economy, it is also beneficial for students, as it enables them to see the world beyond their own background from a different perspective and also, learn and apply the newly gained approaches in their teaching and learning.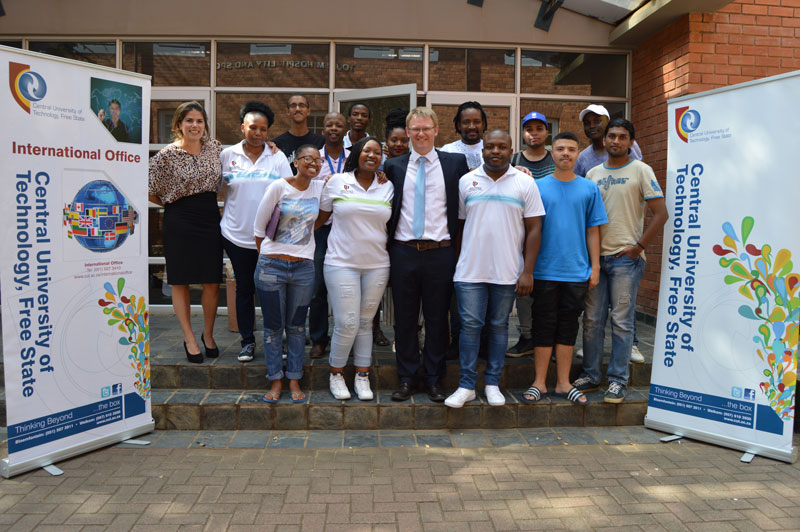 On 06 March 2017, the International Office at CUT held a workshop on the study and scholarship opportunities in Holland. The main objective is to focus on research collaborative projects, scholarships, and fellowship within the European Union funding programmes that are managed by the French Consulate. The one-day colloquium will become an annual event and eventually develop into information sessions for staff and students about funding by Nuffic Neso Dutch Funding Agency.
Nuffic Neso is the Netherlands non-profit organisation for international cooperation in Higher Education that provides support to the Dutch institutions and government on international cooperation.  The focal point of its services lies in the Netherlands, even though its mission extends beyond that. The organisation also cooperates with foreign partners, institutions and governments.
Delegates from Nuffic Neso South Africa, Mr Arne Leeflang and Ms Noor Groenendyk shared information on the study and scholarship opportunities available in Holland and gave an overview of a university life in Netherlands. "Netherlands is an international society and there is a high amount of international students from all over the world who contribute to the society. If you are going to be an international student, it does not mean you are only going to meet Dutch students, but you will also be faced with the opportunity to meet people from all over the world. This is an opportunity for you to network and engage with an international team, share ideas and learn the diverse cultures and backgrounds," said, Mr Arne Leeflang.
The Holland Scholarship is financed in partnership with the Dutch Ministry of Education, Culture and Science and Dutch research and Applied Sciences Universities.
Images
Front row, from left: Ms Refilwe Moleyane, Academic Exchange Coordinator (second from left), Mr Arne Leeflang from Nuffic Neso and Mr Danny Bokaba, International Student Support Services Officer. They are seen here surrounded by students who have shown interest in studying at Holland.
Back row, from left: Ms Noor Groenendyk from Nuffic Neso and Ms Ceecee Sejake, Acting Director: International Office.
Uploaded: 15 March 2017