Maraka wins Enactus SA Faculty Advisor of the year
Ms Maraka Lefera, a part-time lecturer and Enactus-CUT co-faculty advisor, pursuing her MTech in Human Resources Management. She scooped the Enactus South Africa 2016 Junior Alumnus of the year (under 30) award.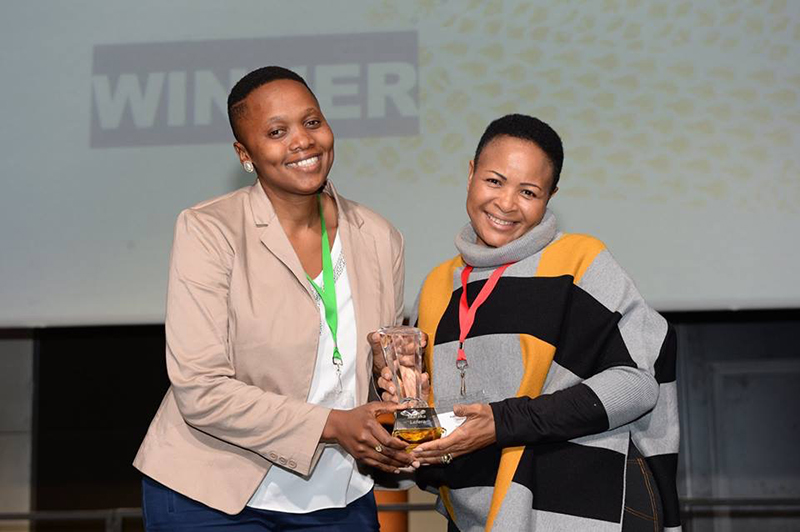 Ms Maraka has been rendering her support to various initiatives on campus through the position that she is holding.  For her to be considered, Ms Lefera has exemplified the Enactus values of integrity, passion and innovation. She has shown support and continued dedication to CUT's community engagement programmes that contribute to the socio-economic development in the region through her entrepreneurial action. In October 2016, she was considered for the inaugural Global Alumni Award.
On 12 July 2018, she was awarded Enactus SA Faculty Advisor of the year. The price includes an all-expense paid trip with the 2018 National Champion team to Silicon Valley, California. She made history when in 2017 she was invited to attend the Global Entrepreneurship Summer School (GESS) which will be hosted for the first time in South Africa this year. Out of 747 applicants from universities around the globe, Maraka is among the top 30 students accepted into the programme.  GESS is the Social Entrepreneurship Academy, organised in collaboration with six leading university-based entrepreneurship centres in Munich (LMU, TUM, MUAS), Mexico City (Tecnologoco de Monterrey) Shanghai (Tongji University) and Cape-Town (LifeCo UnLtd South Africa).
Asked about her achievements and how her global exposure has benefited her studies Maraka said, "I am ecstatic and overjoyed. I consider myself a global citizen and have made the advancement of people my business.  All my travels and encounters with different people from around the globe have shown me how far one could go in life if I am determined to take every encounter as an opportunity. I have grown from where I was and my approach to life has evolved immensely and I am grateful for that. Being in CUT has opened closed doors for me and I have explored the side of my talents that I never knew existed. My plan is to collect all the experience, exposure and information gained and plough it back here at home. I would also like to implement it in my day- to- day activities here at CUT, especially my involvement with Enactus CUT. The sky is the limit!"
Image
At the Enactus National competition, Maraka Lefera is seen here receiving her latest award for Enactus South Africa Faculty Advisor of the year. She is congratulated by Ms Khulisile Mthunzi-Hairwadzi, General Manager (MTN SA Foundation). The price includes an all-expense paid trip with the 2018 National Champion team to Silicon Valley, California.
Uploaded: 18 July 2018