French diplomats visit CUT to explore collaborations
France is an advanced country when it comes to issues of science and technology.
On 08 March 2017, the International Office hosted a French-Day Colloquium where French delegates formed new alliances with the university and exchanged ideas about possible areas of collaborations and development of sustainable partnership projects.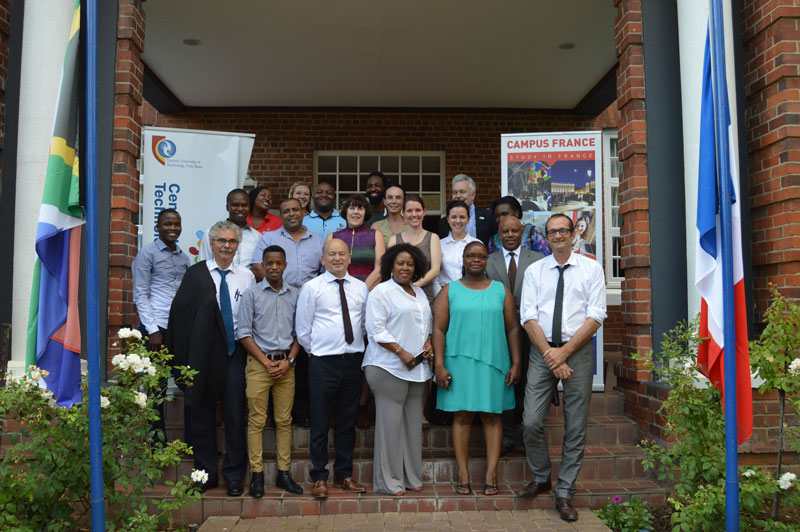 These collaborations will in time be beneficial to both institutions; particularly students in learning new teaching tools, and in increasing students' knowledge and learning different approaches to solving problems.
The first possible area of collaboration is renewable energy systems in which CUT has already developed a well thought-out renewable energies and technologies strategy emanating from its vision.  This will enable research and training opportunities for the majority of CUT students in various fields of sciences and engineering.
CUT's Department of Agriculture has also shown interest to partner with the French South African Agriculture Institute (F'SAGRI) in order to support emerging farming projects in the department.
The other area is innovation entrepreneurship development project where CUT will participate in getting SMMEs to graduate into the mainstream economy where their impact will be much greater.
In his presentation, Mr Jean Paul Attaché for Science and Technology at the French Embassy in Pretoria gave the overview of the French-South Africa in the field of research and innovation within higher education.
He said the French-South Africa cooperation is based on research, capacity building, innovation and academic exchanges in areas of post-graduate study programmes, collaborative research projects, long-term secondment of French researcher from research institutions and French South African centre for research and training. The main field of cooperation is in the field of life science and agronomy, humanities, health, physics and mathematics and engineering. He also mentioned the major role players from both French and South Africa side.
"Regarding research and training, we have developed a very specific concept in South Africa which is the concept of the French- South African training centre. We have an imperative collaboration with our South African partners and have since developed centres for research and training which are: The French South African Institute of Technology (F'SATI- the first and oldest centre), Product Lifecycle Management Competency Center (PLMCC), South African Agriculture Institute (F'SAGRI) and International Centre for Education, Marine and Atmospheric Sciences over Africa (ICEMASA). It is important that these centres have a good visibility in South Africa at a higher level," he concluded.
Images
1: CUT staff meet French delegates to explore new areas of collaborations that will benefit both CUT staff and students.
Uploaded: 14 March 2017