CUT Gymnos guys get motivated by sports stars
Recently, the Gymnos residence gentlemen received some words of encouragement, advice and motivational talk from CUT sports stars that are doing well in the industry.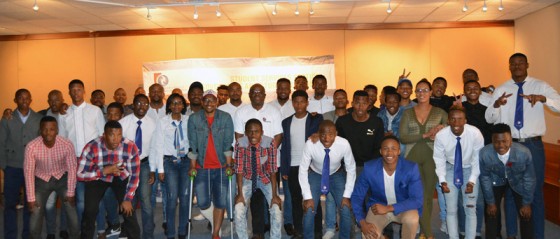 The purpose of the event was to share experience in the professional sports arena in the hopes of motivating and inspiring the players to be great at their sport and also excel in their chosen academic programme – despite the challenges of juggling the two. CUT's Gymnos residence has a proud history of housing students focused on soccer, rugby or athletics as a possible career.  Some of them have played in the big leagues with big contracts which is an achievement that takes them into successful careers and gives them the opportunity to make the most of their lives. The residence provides a supportive environment for the university athletes, who may join sport teams for the province or South Africa.
In his address, Mr Ali Mgijima who is studying towards his diploma in Marketing and a Cheetahs Rugby player said as a sports person one needs to set attainable goals and stays focused and disciplined. "There are many influences in life that tend to deviate teenagers from achieving their goals. For me, I live by five factors that help me focus and find myself through losing myself in the service of others which include effort, integrity, accountability, standards and discipline. It is not easy to study and play sports, but when you are disciplined and focused you can achieve great things." In conclusion, he said that the act of motivating is to give an incentive for action not taking action and that it is up to the person being motivated to grab the message and act upon it.
Mr Patrick Malokase from humble beginnings in the streets of Thaba Nchu spoke about his journey as a soccer player which led him to where he is today. He is a CUT alumnus who completed his degree in Office Management and Technology, former Bloemfontein Celtics, Free State Stars, Platinum Stars, Orlando Pirates player and currently a business man. He advised players to always stay humble and never let fame change them. "During my student life, I was always focused and knew that I wanted to become a professional soccer player. I always thought beyond my student life. Do not limit yourself to now always dream big and think beyond your current situation. Remember that professional sport players may have a very short career; you must always have something to fall back on. Education is important and nobody can take your qualification away from you, it will be yours until you die. Stay in school, stay focused and never give up," he said.
"We look at our role as nurturing talents of our athletes while developing their life skills to ensure they receive the best possible foundation in life. Over the years, we have been a breeding ground for legends, and are immensely proud of their achievements in various sporting codes.  Some of you today will become great stars the university has ever produced," said Dr Paks Tondi, Deputy Registrar: Student Services.
Image
With the Gymnos gents is Ms Beauty Nelani, Secretary to the Deputy Registrar: Student Service (4th from left second row), Mr Patrick Malokase, soccer star and business man, Dr Paks Tondi, Deputy Registrar: Student Services and Ms Rethabile Mosala, Step Student: office of the Deputy Registrar: Student Services (3rd from right second row).
Uploaded: 03 August 2017