The Schools Advancement Academy is a unit at CUT under the auspices of Community Engagement. This unit strives to lend a helping hand to schools, teachers, learners, the Free State Department of Education (FSDoE) and the district structures to attain the highest possible outcomes for quality education.
It contributes to the supply of quality Science, Engineering and Technology enrolments thus increasing the number of matriculants eligible to further their studies in Science, Engineering and Technology. This is achieved through the implementation of projects such as the Winter School, Spring School, Saturday School Technology Project and the Educator Mentorship and Development Project.
Projects
Saturday School Technology Project
Educator Mentorship Development Project (EMDP)
Our Partners
Tshehetso ya Thuto Project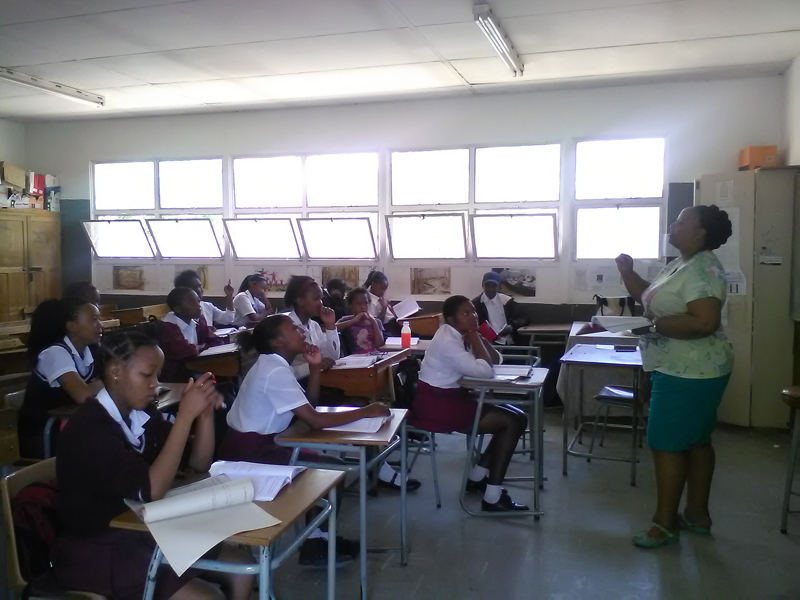 Some of the grade 9 learners of Dr Blok Secondary School attending an English class
The Tshehetso ya Thuto Project (TYTP) is an intervention that was conceptualised by CUT in 2016, with the aim to improve teaching and learning as well as to support the drive towards quality education. Accordingly, the TYTP model seeks to adopt a multi-pronged approach- a comprehensive strategy that addresses education challenges from early childhood through to high school level. The importance of laying a solid foundation and inspiring learners' interest for Science, Technology, Engineering and Mathematics ( STEM) at an early age cannot be overemphasised. It is widely reported that learners who are exposed to STEM concepts from primary school tend to enjoy and gravitate towards these subjects in high school and tertiary. Accordingly, through the TYTP, CUT endeavours to improve the performance and attainment of learners by providing extra tuition to grades 8 -11 learners. This project, currently in its second year, is run on Saturdays at Dr Blok Secondary School in partnership with the Free State Department of Education. Plans are underway to expand the project to more schools in 2018.
Contact us
Ms S Mapiyeye
Manager: Schools Advancement Academy
Tel: +27 (0)51 507 3796 | Fax: +27 (0)51 507 3585 | E-mail: smapiyeye@cut.ac.za
Ms L Saliti
Administrator: Schools Advancement Academy
Tel: +27 (0)51 507 3006 | Fax: +27 (0)51 507 3585 | E-mail: lsaliti@cut.ac.za
Updated: 18 August 2017