CUT Water Resource Experts Offer Solutions
Water Resource Experts Offer Solutions to South Africa's Dwindling Water Supply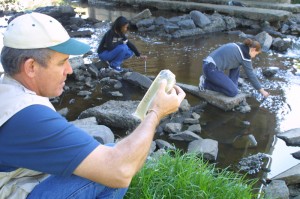 CUT's water resource expert, Professor Woyessa, offers valuable insight in how best to optimise South Africa's water supply and use in a more sustainable way. South Africa receives half the average global rainfall annually and with global warming a major concern to the future of the country's water supply, industry leaders and academics are constantly being challenged  to further their research and  to develop adequate water conservation techniques.
CUT's water resource expert from the Sustainable Water Resources and Environment Research Group in the Department of Civil Engineering, Professor Yali Woyessa and his team believe the answer to solving the country's dwindling water supply lies in the understanding of the soico-hydrological dynamics and extreme hydrological events, such as flood and drought which have become more frequent in  recent years.
Commenting on the research, Woyessa says, "In trying to understand the human-environment dynamics and its impact on water resources, a conceptual model that integrates the socio-economic and biophysical environment is being developed by the research group . Research in this area is still in its infancy but  some encouraging progress has already been made. The main aim of this modeling task is to understand the human – environment dynamics and its impacts on water resources and to be able to provide the local government departments with the necessary information for better decision-making.
Regarding the hydrological event, a software, developed by CUT lecturer Mr OJ Gericke, is found to be a very useful tool for design flood estimation by the hydrological practitioners in consulting industries for designing hydraulic structures. Mr Gericke has been invited to several workshops at the Universities of Stellenbosch and Pretoria to demonstrate the use of this software, which is found to be very user friendly and provides multitude of choice of methods for specific applications.
Commenting on the future direction, Woyessa says "As part of the strategic focus of the research group to grow its capacity and its role in finding solution to the ever present water shortage issue an Adjunct Processor has been appointed  in the Department of Civil Engineering for a period of two years to assist in the enhancement of the outcomes and make a positive impact in the socio-economic development of the central region of South Africa". Moreover  Woyessa adds "establishment of a Centre for Water and Environment is at an advanced stage in order to create a platform for the researchers in networking and interacting with relevant stakeholders and peer institutions".