Inaugural Address re-examines entrepreneurship
On 15 February 2018, the CUT hosted a professorial inaugural lecture in honour of one of our distinguished scholars, Professor Dennis Dzansi, Head of Business Support Studies and Research Unit for Enterprise Studies, in the Faculty of Management Sciences.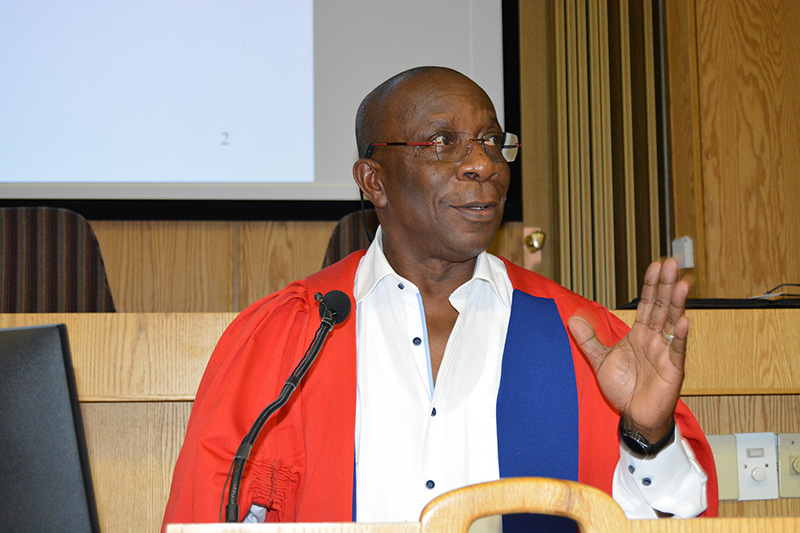 "This inaugural professorial lecture constitutes an important date in the calendar of the university. It is a full sitting of the Senate and is regarded as a pinnacle of academic hierarchy and scholarship. CUT awards these to academics who are highly accomplished and widely recognised among their peers," said Prof. Henk de Jager, Vice-Chancellor and Principal.
His presentation titled: "Becoming a truly Entrepreneurial University: Implications for CUT", focused on an entrepreneurial university as an institution that has embedded the entrepreneurial spirit in its DNA. "For me, the entrepreneurial spirit refers to passion, positivity, leadership, ambition and adaptability in turning every challenge into a viable business opportunity. It is also dominated by individuals with an entrepreneurial mindset."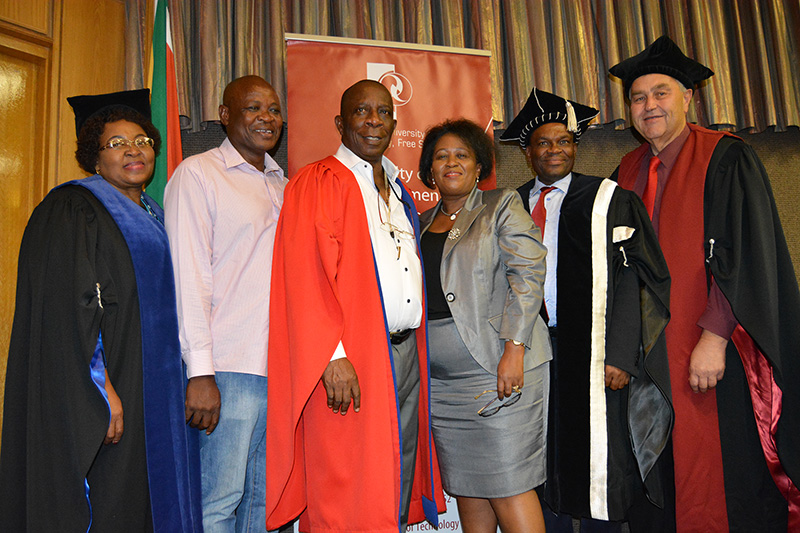 His lecture offered an opportunity for universities to re-examine their roles in relation to the desire for change. "The purpose of universities has evolved, from a single purpose where the idea was just to educate people to become professionals like nurses and teachers, to the latest generation; focusing on education, research and entrepreneurship. By becoming entrepreneurial, universities can have an impact in their immediate societies. As universities around the world are embarking on entrepreneurship as a recognised tool that should be embedded in their DNA which is the measure of a truly entrepreneurial university." he said.
The lecture drew interest from CUT partners in business and industry, government and academics from other universities. It was dedicated to Mr Daniel and Mrs Josephine Dzansi, the late parents of Prof. Dennis Dzansi.
Images
1: Full professorship was awarded to Dennis Yao Dzansi, who professed on his research career thus far, and the future possibilities he sees for entrepreneurship at the CUT.
2: From left: Dr Pinky Mrwetyana, Registrar; Dr John Dzimba, Director General: Lesotho Institute of Public Administration and Management (LIPAM). Prof. Dennis Dzansi, Head of Department of Business Support Studies, and the Research Unit for Enterprise studies in the Faculty of Management Sciences; Dr Lineo Dzansi. Snr Lecturer: HR Management, supporting her husband; Prof. David Ngidi, Deputy Vice-Chancellor: Teaching and Learning; and Prof. Albert Strydom, Dean of the Faculty of Management Sciences.
Uploaded: 19 February 2018