FameLab: confidence boost for young scientists
FameLab is one of the biggest science communication competitions in the world where young scientists get the opportunity to present scientific concepts to the general audience in three minutes. In South Africa, the competition is led by the British Council, South African Agency for Science and Technology Advancement (SAASTA) and Jive Media Africa.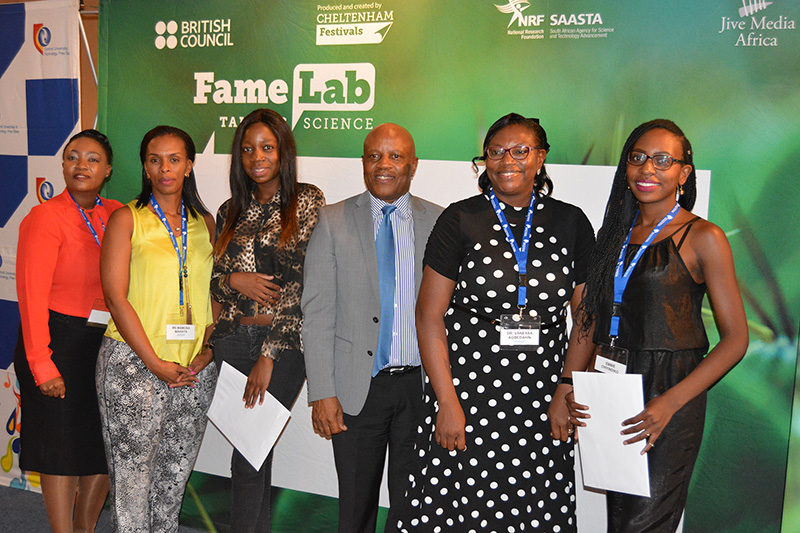 On 20 and 21 February 2018, the Central University of Technology, Free State (CUT) in collaboration with the University of Free State held the FameLab to engage students in talks about their research and tell stories about their scientific experiments and how they impact societies.
Students from both CUT and UFS competed against each other and were judged on content, simplicity and charisma. Of the 18 contestants, Sylvia Mokuoane from CUT and Emmie Chiyindiko from UFS came out top of others and will log horns again at the semi-finals in April 2018. The win also afforded them an opportunity to attend a science communication masterclass which will be presented by an international FameLab accredited trainer.
As semi-finalists, they will be awarded book vouchers to the value of R500 and stand a chance to win R5000 or R2500 if they become runner ups at the national level. The overall winner will receive an all-expenses trip paid to participate in the international Famelab competition in June 2018.
By participating in the competition, young scientists and researchers do not only get the opportunity to develop their communications and presentations skills, but also gain confidence in their work and become role models and inspiration to the next generation of scientists and engineers. The exposure is also a gateway to meet and network with peers and experts in the field.
Ms Joanne Riley: science editor in the science communication unit at SAASTA, said that the competition has several impacts on both universities, staff and students. "The impact of this competition on universities is that it enhances research, teaching and learning; it assists universities to demonstrate accountability, strengthens, brand visibility and identity. It also sensitises students to social and ethical issues while it motivates them to engage with the wider public, and augments their experiences and confidence level.
Prof. Alfred Ngowi, Deputy Vice-Chancellor: Research Innovation and Engagement congratulated the winners and said that the issue is not about winning the competition, but instilling the culture of innovating and commercialising their products. "Unemployment is our major challenge and it is your responsibility to start creating jobs through your ideas," he concluded.
Image
From left: Ms Refilwe Moleyane, Academic Exchange Coordinator: International Office (judge); Ms Mamosa Makaya, Deputy Director: Communications at UFS (judge); Ms Sylvia Mokuoane from CUT (winner), Prof. Alfred Ngowi, Deputy Vice-Chancellor: Research Innovation and Engagement; Dr Vanessa Agbedahin from UFS: Centre for Research on Higher Education and Development panellist (UFS), and Ms Emmie Chiyindiko from UFS (winner).
Uploaded: 02 March 2018