CUT hosts 5th annual conference on teaching and learning
The Centre for Innovation in Learning and Teaching held a seminar on 14-15 June 2018 focusing on learning communities through innovation and quality teaching. The theme is aligned with CUT's  2018 mandate of  'Reimagining the university as a transformative institution and 'model' University of Technology in Africa, impacting on the socio-economic development of the Central region of South Africa and beyond.' Academics and upcoming researchers shared their different approaches towards improving teaching and learning within their institutions.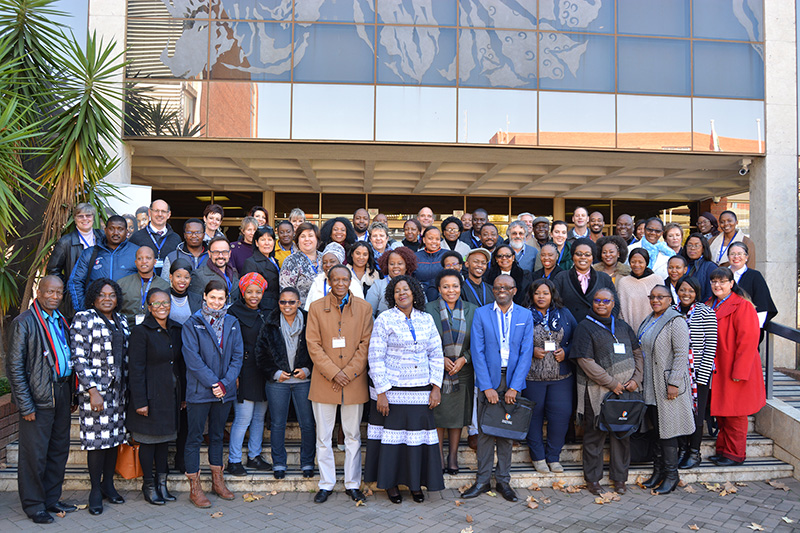 The keynote speaker, Dr Cecilia Jacobs from the Centre for Health Professions Education at the University of Stellenbosch, presented on 'Placing knowledge at the centre of how to understand good enough teaching'. She said that the extent to which someone is considered a good teacher is intricately linked to creating conditions for excellent learning. She based her presentation on the individualised and social understanding as two sets of teaching and learning.
In her overall view, teaching should take both the social and individual views into account and not one at the expense of the other. "I am arguing for teaching and learning that has a social and individual dimension, the two are relational and interact with each other. We need to focus on our students and have a clear understanding of who they are, where they come from and what their needs are in order to be excellent teachers. We also need a clear understanding of how the disciplinary knowledge in classrooms is constructed and what norms and values underpins such. We also need to acknowledge the socially constructed nature of universities and interrogate the practices within them. Understand how CUT works to include or exclude students to access knowledge. We can't just focus on students because it fails to examine the role of all the other aspects in the context that plays out in the realm of teaching and learning. We need to teach in a way that builds on the knowledge that students bring with them to classes."
Prof. Jo Badenhorst was one of the presenters at the conference. She is an Associate Professor in Education Studies at CUT Welkom Campus. She spoke about ethics in teaching and learning and said that there was a need to revisit committed teaching and learning. Her decision to focus on the topic was based on an interview conducted with a group of students about their experiences of lecturers and their teaching styles.
She said that ethics in academia could broadly be understood as a mode of principles related to the university tripod as a duty of teaching, research and community service. "However, what comprises everyday ethical academic conduct is not a clear-cut for everyone, and we as academics may not concur on which values we should prioritise."
Prof. Badenhorst also tapped into the core concerns in teaching and learning in higher education and where they fit in the bigger picture of the university. The core concerns include corporate models of governance, governance management and leadership that have engulfed the traditional system of decision making and devotion to the core academic values. She also touched on academic integrity and personal ethics and how they translate into teaching practices.
"Ethical conduct on both institutional and individual level is compounded by the current context. Making decisions based on moral principles is becoming increasingly challenging, and the temptation to compromise or disregard ethical principles in the classrooms is becoming increasingly endemic. We need to ask ourselves what role universities play, what our purpose is as academics, and what our priorities are?".
She further mentioned that research and teaching are not two competing endeavours but, interdependent on one another. "Teaching and learning as the original mission of academic institutions should constantly be revisited. We need to know what is happening in our lecture rooms, focus on teaching and re-invent the wheel all over again. We should go back to the basics as a large part of the problem lies with the lack of academic integrity, and there are many principles of integrity that we can follow when we are teaching."
In conclusion, she emphasised the importance of reinforcing integrity and higher academic standards where students can thrive. "We must affirm the importance of academic integrity for our students and lectures. We need to develop relevant and fair forms of assessment as we have a primary responsibility of designing and cultivating the educational environment."
Image
Academics from various institutions attended the seminar to share their different views and approaches on how to improve teaching and learning.
Uploaded: 22 June 2018