Supreme Court bench for CUT Chancellor
The Central University of Technology, Free State (CUT) wishes to congratulate its Chancellor, Madam Justice Mahube Molemela, on her appointment to the Supreme Court of Appeal by President Cyril Ramaphosa, based on the recommendation of the commission. Her responsibilities as Judge of the Supreme Court of Appeal will be to adjudicate on matters outlined in Chapter 8, Section 168(3)(b) of the Constitution of South Africa.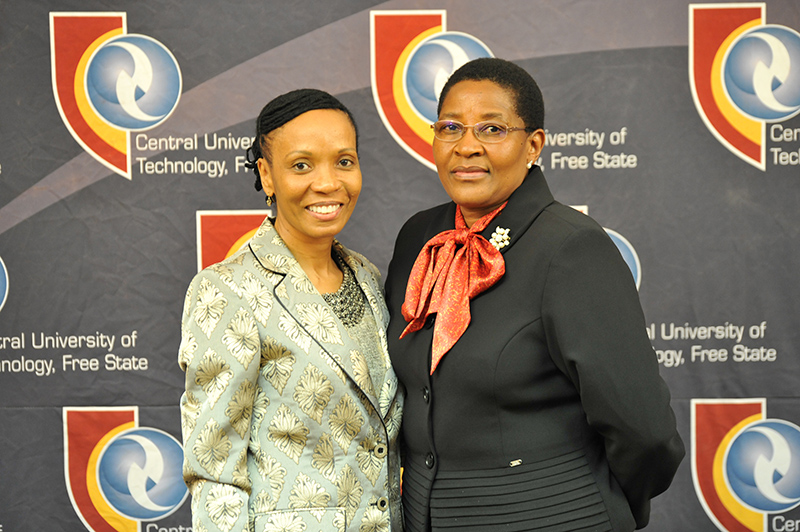 Madam Justice Molemela made history when she was appointed as the first female Judge President in the Free State High Court.
The university is indeed proud to be associated with Madam Molemela, and is privileged to have her as our Chancellor. Born and raised in Bloemfontein, Madam Molemela has always been a proud Free Stater.  She has a good record of personal support to worthy causes in our communities, and continues to render such support through the position she holds in society. As such, she is the right person to facilitate the advancement of our university.  Furthermore, her previous experience as a CUT Council member has stood her in good stead, as she is privy to the challenges that the university is facing, and is aware of our aspirations, and our commitment to our vision.
We look forward to her contribution to the expeditious administration of justice in our country.
Image
Madam Justice Molemela (left) at her inauguration as CUT Chancellor in June 2016 with honoured guest, Justice Bess Nkabinde, who has since retired (2017) from the Constitutional Court.
Uploaded: 15 June 2018