Mr Loate first to receive Chancellor Excellence award
Mr Teboho Loate was nominated as the inaugural recipient of the Chancellor's Excellence award in the category of leadership and community involvement, for his proven capacity to guide and motivate others to excellence, and his commitment to improving and serving the regional community. On 30 March 2017, he became the first candidate ever to be bestowed the award at CUT.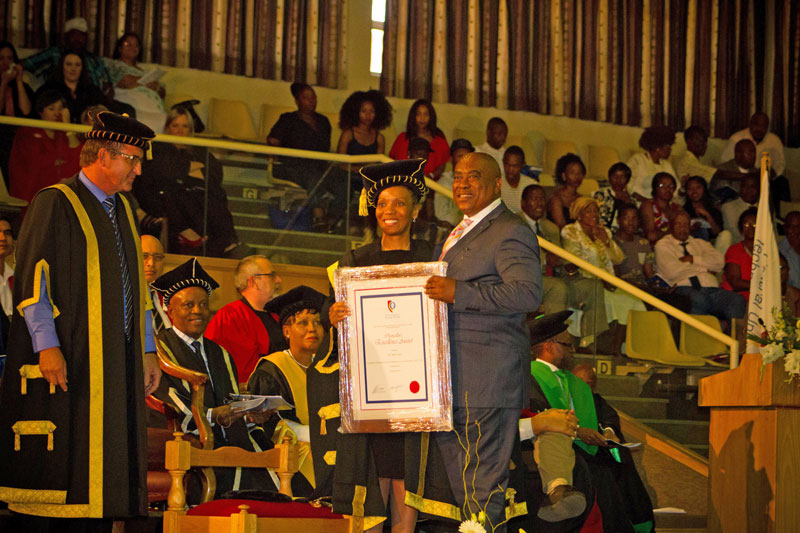 Mr Loate has always been part of the CUT family and played a role in CUT and its developments. In 1999 he was appointed by the late Prof. Kadar Asmal as Ministerial Appointee on the CUT Council. He served as the chairperson of Council from 2000 to 2010 and was later reappointed by Minister Naledi Pando as CUT Council member until 2014. During his tenure as a Council member, Mr Loate made important contributions as a member of various standing committees of Council. He served as Deputy Chairperson of Council, and as Chairperson of the Remuneration Committee, Human Resources Committee and Finance Committee.
In his address, he accepted and dedicated the award to his fellow councillors who at that time shared their professional lives, valuable family times and the knowledge they possessed with CUT. "I dedicate this award to councillors who were guided by values of principles and qualities, who supported each other on every moral matter at hand and genuinely celebrated each other's successes and competencies. A group of people who never translated their services for money, who wanted the best out of the worst situation." He also highlighted that during his time as council member they took charge of things, set sound policies and influenced the maintenance of order while allowing management space and freedom necessary to be efficient and effective in their work.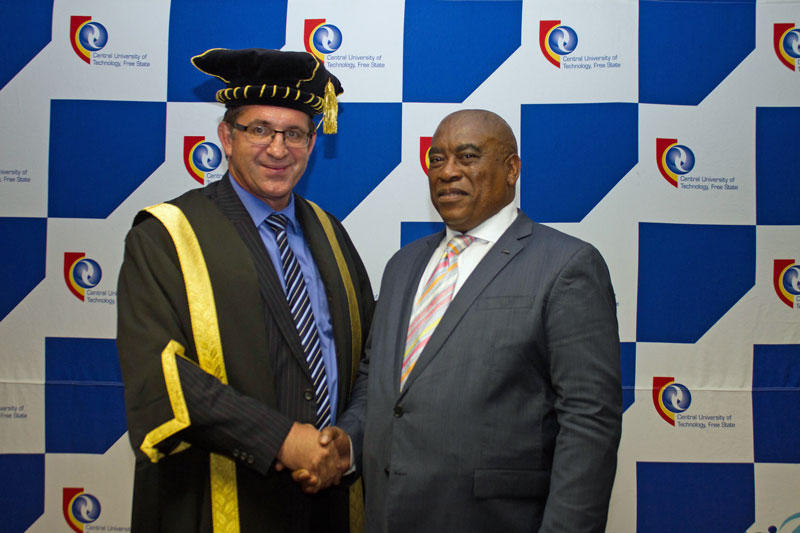 In conclusion, he thanked them for the contributions and sacrifices they made and always ensuring that they steer the institution in the right direction. "This award is not mine alone but a collective piece of work put in by man and woman who did not count their contributions but provided their services selflessly. I must in foremost point to the efforts and dedication of these men and women, who today may seem like unsung heroes and heroines. I salute all of them as we today witness the fruits of their labour."
Images
1: During the graduation ceremony on 30 March 2017, CUT Chancellor Madam Justice Mahube Molemela hands over the Chancellor's Excellence Award to Mr Teboho Loate in the presence of Acting Vice-Chancellor and Principal, Prof. Henk de Jager.
2: Behind the scene at the graduation ceremony, Prof. de Jager congratulates Mr Loate.
Uploaded: 05 April 2017