Investiture of CUT's Vice-Chancellor and Principal
The past Friday became a remarkable and memorable day for the Central University of Technology, Free State (CUT) community and Prof. Henk "Motsumi" de Jager when he was officially inaugurated into office as the newly appointed Vice-Chancellor and Principal for the next five years.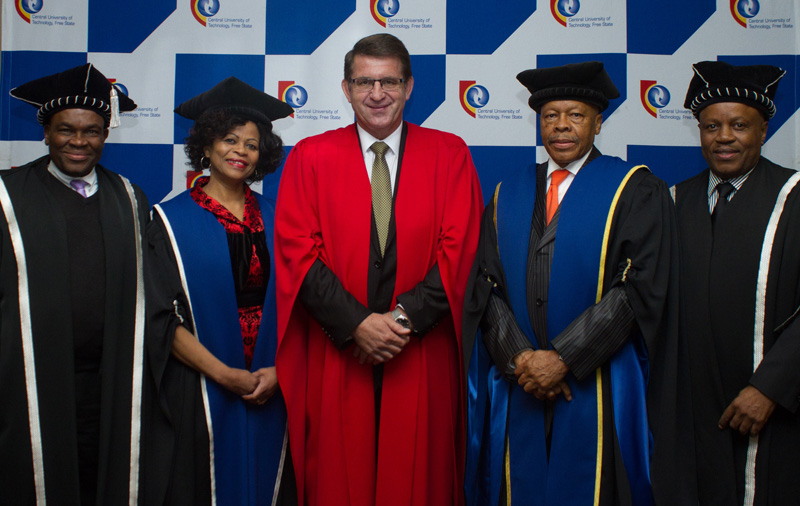 Friends, family, stakeholders and colleagues in high places from far and wide came in numbers to witness and rejoice this day with him as he made a swift step into his new role. Congratulatory messages were uttered and all the dignitary speakers and institutional bodies spoke with enthusiasm and confidence as they put their trust in Prof. de Jager's leadership capabilities and vision to lead CUT into CUT'S vision 2020 and beyond.
According to Chairperson of Council, Mr Mike Mohohlo, their search process for the suitable Vice-Chancellor and Principal was an intensive and exhaustive one. "CUT is an important instrument of development and transformation for the central region and therefore, our Vice-Chancellor and Principal ought to personify this believe of council". Mr Mohlolo further elaborated that the Council was looking for a suitable candidate with demonstrable qualities of leadership, innovation, strategic vision and knowledge of the higher education sector specifically of the universities of technology, the one who has research credentials and other indicators of vice chancellor and principal trades. "I believe that you will set CUT in the right direction and lead it to a wholesome path of development and transformation", said the Chairperson, standing next to Prof. Henk de Jager.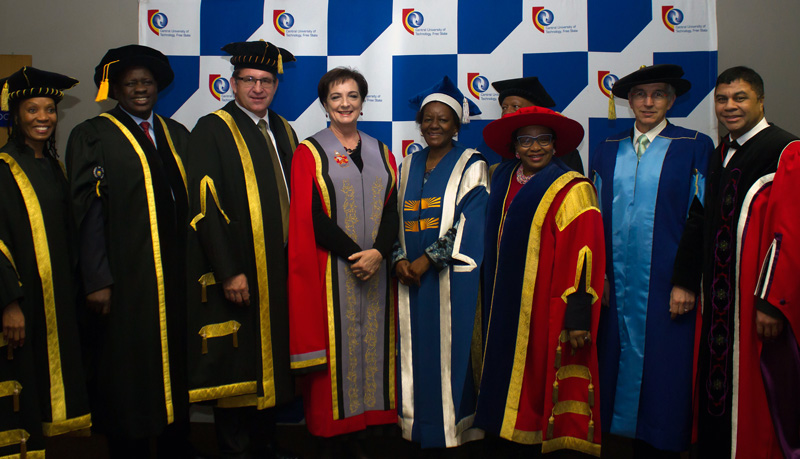 Cheers and ululations filed the Boet Troskie hall as Prof. Henk advanced the podium to share his plans and vision for CUT with the rest of the attendees.
In his inaugural address, Prof. de Jager spoke about reimagining CUT as a university and "model" university of technology (UoT) in Africa, influencing the socio-economic development of the Central region of South Africa and beyond. He also mentioned that his energies and efforts will be focused on impacting on the lives of the people of the Central region. "I would like to ensure that, whatever we are doing as a university, all our efforts and activities impact on the lives of the people of the Central region. I want us to fulfill a prominent role in upliftment and job creation through entrepreneurship in areas such as Botshabelo and Thaba 'Nchu in Mangaung, and Thabong in Welkom. I want us to give hope to the hopeless, so that they can indeed be truly happy and enjoy a quality life. Therefore, we must strengthen our innovation ecosystem, including our entrepreneurship education and the recently established CUT Idea Generator; enhance our incubators at both the Bloemfontein and Welkom campuses; and, through partnerships, establish Innovation Parks in Mangaung and Matjhabeng that will assist small, medium and micro-sized enterprises (SMMEs) in the region.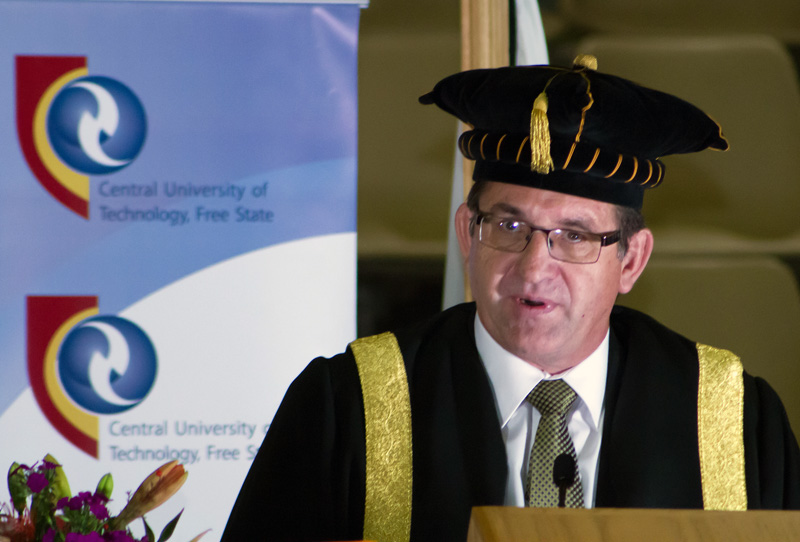 The VC also committed himself to serve, listen and engage with all stakeholders through constructive engagements, producing more leaders than followers with high ethical standards, and a strong value system, who will embrace one race- the human race. He also promised to enhance and strengthen partnerships academic institutions in the region and schools through the CUT Science, Technology, Engineering and Mathematics (STEM) Academy, which is supported by the Free State Provincial Government. "We will continue to grow our international student complement, and enhance our active agreements with international universities, in order to be a truly diverse university," he concluded.
In delivering his congratulatory message, the Vice-Chancellor and Principal of Sol Plaatjie University and representative of Universities of South Africa, Prof. Yunus Ballim said that being a Vice-Chancellor is not an easy task and the role requires them to serve and believe in their hearts that the values of universities are valuable and worthy of being defended. "Our task is to defend the institution and to deliver on the promises that are made to the society, which is to provide good, quality, forward-looking engaged and proper education for the students. It is the nature of a university to have contestation because it is the duty of the university to be engaged. Our unity as a region will somehow have an impact on other universities. The waters are not easy and they will change, sail well and make a contribution to this country," he concluded.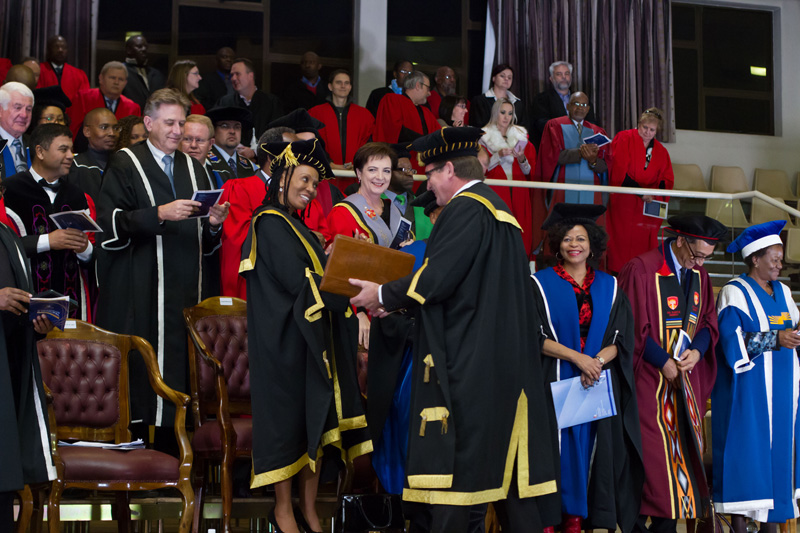 Prof. Thoko Mayekiso, Vice- Chancellor of the University of Mpumalanga welcomed Prof. de Jager to the club of 26 Vice-Chancellors in the country. "Welcome to the club and bring your voice so that we can move forward as higher education notwithstanding what may seem like intractable challenges. Do not hesitate to seek help; we are just a phone call away. The most important wings of a plane are those on the uniform of pilots, whom in turbulent times have the responsibility to ensure that hundreds of passengers reach their destination safely. Henk, you have many kilometers of leading under your belt, good luck and congratulations," she said.
Watch the Inauguration video
CUT live streamed the event, here is the video Prof. Henk de Jager, Inauguration as Vice-Chancellor and Principal of CUT.
Images
1: Before the commencement of the proceedings Prof. Henk de Jager (middle), Council members and the two Deputy Vice-Chancellors. From left: Prof. David Ngidi, Deputy Vice-Chancellor: Teaching and Learning; Cllr Dilotsotlhe, Deputy Chairperson of Council; Mr Mohohlo, Chairperson of Council; and Prof. Alfred Ngowi, acting Deputy Vice-Chancellor: Research, Innovation and Engagement.
2: Universities from across South Africa show their support with their attendance at the official investiture. From left: Judge Molemela, CUT Chancellor; Prof. Mike Somniso, the University of Fort Hare; Prof. Henk de Jager, Vice-Chancellor and Principal of CUT; Prof. Stephanie Burton, Vice-Principal: Research and Postgraduate Education at the University of Pretoria; Prof. Thoko Mayekiso, Vice- Chancellor of the University of Mpumalanga  ; behind-Mr Mike Mohohlo, Chairperson of CUT Council; Prof. Irene Moutlana, Vice-Chancellor and Principal of the Vaal University of Technology; Dr Max Price, Vice-Chancellor and Principal of the University of Cape Town; and Prof. Francis Petersen, Rector and Vice-Chancellor of the University of the Free State.
3: Prof. de Jager during his keynote address.
4: A congratulatory handshake from the Chancellor, Judge Molemela after Prof. de Jager delivered his inaugural address.
Created: 03 July 2017