CUT Welkom congratulate the newly appointed VC in style
The Central University of Technology, Free State (CUT) finally appointed the new Vice-Chancellor and Principal Prof. Henk de Jager on 01 June 2017. In celebrating the milestone, CUT Welkom campus hosted a congratulatory event on 20 June 2017.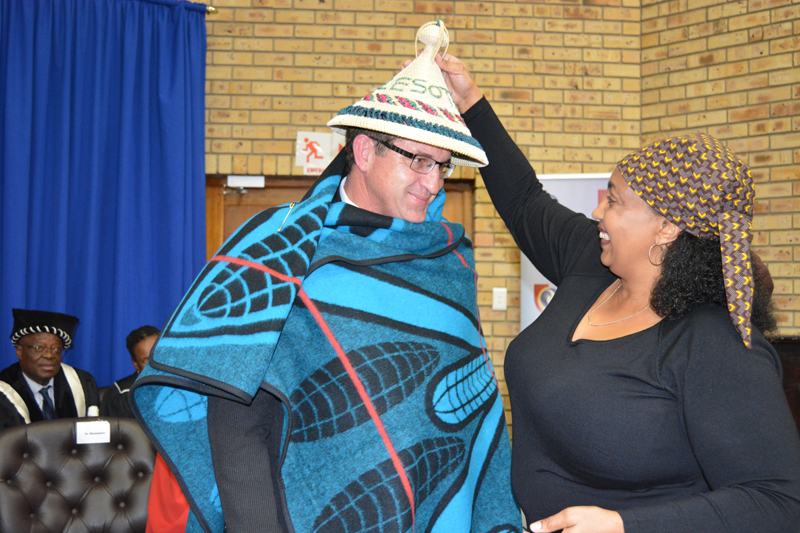 "This is indeed an honour and privilege to be afforded an opportunity to lead CUT to greater heights. I am committing myself to serve, listen, enhance constructive engagements with all stakeholders to ensure that the CUT community lives up to its values (customer service, integrity, diversity, innovation and excellence), these were the words of Prof. Henk de Jager at the congratulatory event.
When sharing his vision, Prof. Henk mentioned that he sees his new role as an opportunity to reimagine CUT through the five focal areas namely:
to advance the academic project in terms of quality, research and innovation outputs;
to enhance the transformation drive to the level of transformation maturity,
to promote the human project to create a sense of belonging,
to strengthen partnerships and internationalisation and enhance the financial sustainability of the university through academic and operational excellence.
He further said that his dream is to see Welkom campus as a fully-fledged university that will impact on the socio-economic development of the region and make a difference in surrounding communities.
"I would like to challenge you to adopt a school and make an immediate difference because those schools are providing our future learners. I would also like to see the establishment of strong and close partnerships with the local and provincial government, TVET colleges and the industry."
The different leadership structures within the university also reiterated messages of support and encouragement to the newly appointed Vice-Chancellor and Principal.
"The Senate's decision to endorse and recommend you were informed by various initiatives that you have taken, including the processes and systems that have been established since your appointment in 2012.  You are passionate about CUT and are in the active leading role in reimagining CUT's vision 2020 and beyond. On behalf of Senate, I would like to assure you that we are looking forward to supporting and working to realise this dream," Prof. David Ngidi, Deputy Vice-Chancellor: Teaching and Learning and Deputy Chairperson of Senate
"There is no doubt in our minds as council that you will carry out your duties with diligence and precision and excel in what you are doing. We were grateful when you joined us as the Deputy Vice Chancellor and today, it is soothing to see that you have become part of the fabric of the CUT community," The Deputy Chairperson of Council, Cllr Kelebogile Dilotsothle said
Mr Marcus Mandries, SRC president at Welkom campus said, "We are confident that you will effectively and efficiently carry out your responsibilities during your term of office and also wish to see your dream for Welkom campus being realised. We also hope to see this year's theme- human project, being translated into tangible programmes and outcomes with UNITE being the driving force to achieve greater thing for our campus."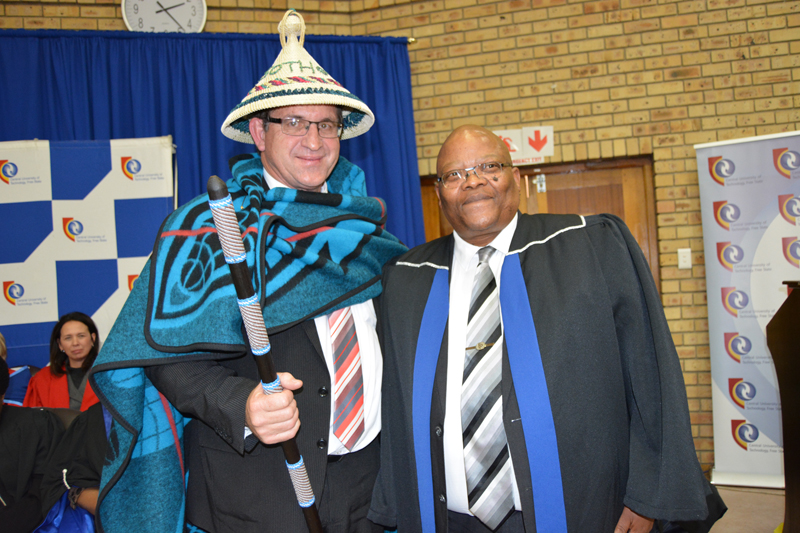 Images
1: It was a warm welcome at Welkom campus when Ms Maggie Henson-Teisi, Student Development Officer dressed Prof. Henk into the Basotho traditional gear- Seanamarena (the blanket) and Mokorotlo (the straw-hat) The Basotho traditional gear dates back to the 1800's, when its replica was presented to King Moshoeshoe by Mr Howel. Today, the gear is considered as the royal crown jewel. In the CUT context, it symbolises unity as prescribed by the 2017 CUT Theme of the Human Project under the able stewardship of the UNITE.
2: Dr Dicks Nkonoane, Deputy Campus Director at Welkom Campus (right) presented Prof. Henk with a stick and said "Like Moses, as you traverse that extra mile for CUT to lead all of us to a prosperous growth trajectory, we shall follow you to the Promised Land of Vision 2020 and beyond."
Created: 23 June 2017