CUT welcomes two senior leaders
CUT officially introduced two of its newly appointed senior leaders to the CUT community and public on 23 April 2018. The University appointed Dr Gary William Paul as Deputy Vice-Chancellor: Resources and Operations (DVC: ResOps), with effect from 16 April 2018 and Mr Gcobane Quvile as the new CEO of CUT Innovation Services (CUTis), with effect from 9 April 2018.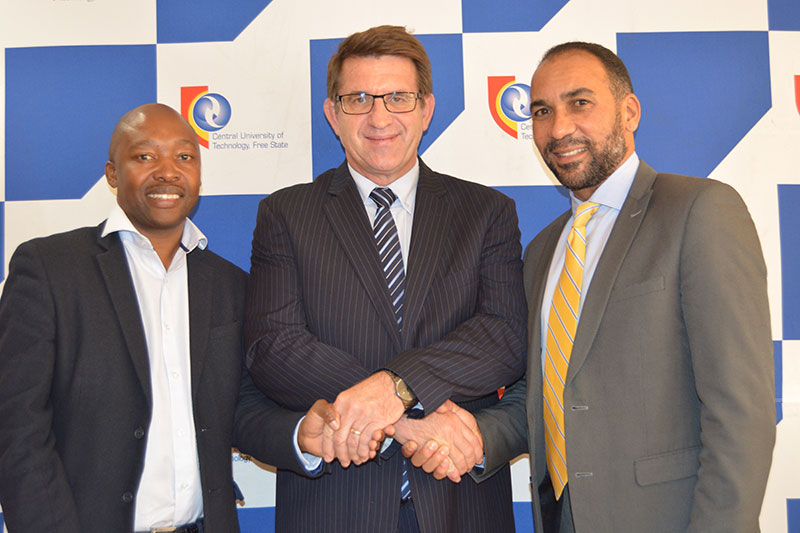 Vice-Chancellor and Principal, Prof. Henk de Jager warmly welcomed the two leaders and wished them the best in their new portfolios. "CUT is a university with unique characteristics and challenges. Our mandate is to serve the community and make a difference in the lives of the people. We have been doing fantastic in both portfolios but there are still many challenges, and we know you will succeed. We wish you all of the best in your new portfolios. I am convinced that you will add tremendous value and assist to take the university to greater heights. My request to the CUT community is to provide support to the two incumbents to strengthen them in ensuring they achieve success in their various portfolios."
Dr Gary William Paul, DVC: ResOps said that it is great to be part of an institution that has the kind of vision that CUT has.  Its vision is about building partnerships and producing social and technological innovations for the development of the region.
"This is a bold strategic intention at an institutional level, and I think CUT has the potential and is ideally positioned to be the catalyst that this region requires." He referred to his portfolio as being the catalytic agent making sure that the university's strategic intentions are achieved. "Our role as ResOps is to be that strategic catalyst to ensure that this university achieves its end goal which is to be an engaged university and a powerful force in socio-economic development in the region. We must make optimal use of the resources we have at our disposal and embrace the notion of leaders at all levels; this simply means that regardless of our position we should own the problem and solution."
Mr Gcobane Quvile, CEO of CUTis said that he was not new in terms of the challenges faced by research institutions which include fiscal constraints in generating third stream income.
"There is a need for research institutions to look at ways to generate income and leverage their resources. A daunting task it is, but with challenges comes opportunities. Universities are the most resourced organisations regarding knowledge, IP and infrastructure. We can leverage the resources by exploiting the IP to generate income for the university and use centres of excellence to draw income in terms of contract research as well as consulting. The base is there all we need is to align those resources we have to the requirements of the market."
My role at CUTis is to ensure that we work together to be able to generate much needed income for the university. I am also aware of the role we need to play in the region particularly regarding the socio-economic development. There is now an inclination for us to consider township economies for inclusive growth and innovation, we need to focus on socio-economic development and incubate small enterprises in a way that will enable growth and prosperity to achieve the impact that government so much intends to do. I am looking forward to this challenge and working with you," he concluded.
Images
Prof. Henk de Jager, Vice-Chancellor and Principal (middle) congratulating and welcoming the two senior leaders Mr Gcobane Quvile, CEO: CUTis (left) and Dr Gary William Paul, DVC: ResOps (right) to CUT.
Uploaded: 24 April 2018