CUT and the University of Botswana forge collaboration
The advent of the Fourth Industrial Revolution is presenting opportunities for CUT to commit itself to new alliances of strategic importance in the SADC region where there are mutual socio-economic development interests as well as committed resources.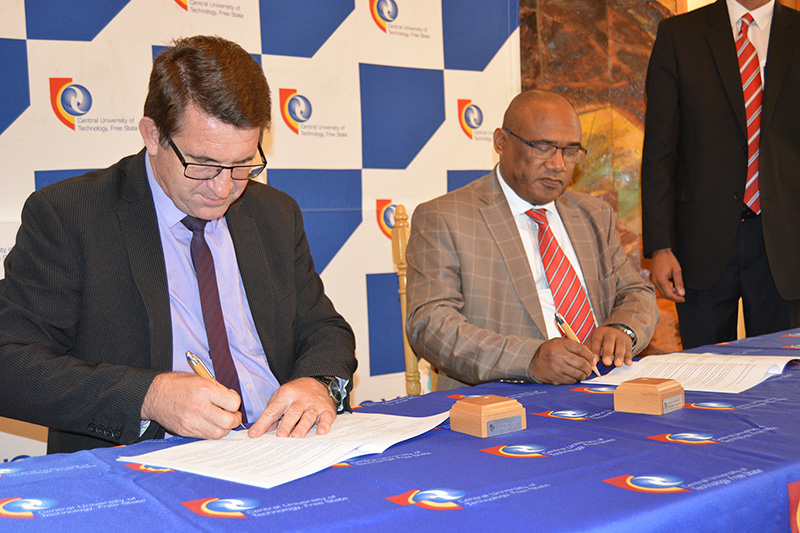 CUT hosted a high-powered delegation from the University of Botswana on 16 April 2018 with the purpose of showcasing the cutting-edge work in 3D printing that is being carried out and designed at CUT. The visit also highlighted the university's capacity within the additive manufacturing arena that could be explored for possible partnership.
Both parties signed a Memorandum of Understanding (MoU) for the development of collaborative research projects specifically in medical science and 3D printing, joint academic and scientific activities including courses, conferences, seminars, symposia and lectures; the exchange of research and teaching personnel and students to name a few. The delegation was later taken on a tour of CUT facilities; especially the Centre for Rapid Prototyping and Manufacturing.
Prof. David Norris, Vice-Chancellor at the University of Botswana(UB) said that the purpose of their visit was mainly to forge research collaborations in medical science and 3D printing and manufacturing. "There are a number of areas identified and one of them is 3D printing and manufacturing. We also want to go beyond our limits and tap into the medical sciences where we can collaborate especially in manufacturing some medical tools. I want to believe that there are other areas that we can explore and complement each other and collaborate on research." He also said collaborating with CUT can teach them a lot as a university especially in the areas of technology transfer, commercialising of products and service emanating from research. "It is very critical for universities to be able to commercialize and generate income instead of depending solely on government," he concluded.
In his comments, Prof. Henk de Jager, Vice-Chancellor and Principal said that CUT recognises the importance of forging and advancing strategic partnerships with other universities to achieve its vision. "Our commitment is to strengthen relations with universities from neighbouring countries. It is a privilege for us as a University of Technology with very specific characteristics to cement this collaboration with a comprehensive university like UB. We have seen that there are many areas of collaboration that we can gain from each other through this partnership and I am confident that it will be a very productive partnership for us. I am particularly impressed with Botswana and I think that as Africans, we can learn a lot from this country."
Image
From left: The two Vice-Chancellors: Prof. Henk de Jager, Vice-Chancellor and Principal with Prof. David Norris, Vice-Chancellor of the University of Botswana (UB) authorising their relationship at the signing ceremony held at CUT.
Uploaded: 17 April 2018