CUT strengthens its partnership with FSGLTA
"We are proudly making great strides in fostering partnerships with our provincial government, and I believe that this MoU with the authority presents major potential to change the role of tourism, and drive that change towards the advancement of our province.  "I am confident that our partnership will allow us to examine ways in which we, together, can tackle the growing demands for universal access to this sector and ensure meaningful contributions from all role players in the sector," these were the welcoming comments of Prof. Henk de Jager, Vice-Chancellor and Principal at the MoU signing that took place on 18 June 2018 between the University and the Free State Gambling, Liquor and Tourism Authority (FSGLTA).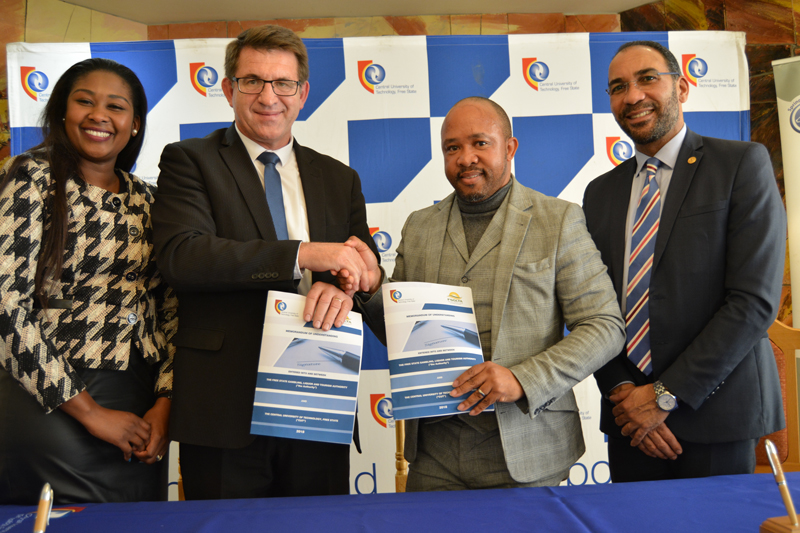 Over the past 25 years, the tourism industry in South Africa has produced great results, confirming growth despite the economic challenges faced, and the partnership is envisaged to improve and expand domestic tourism within the Free State province. The parties are keen to form strategic alliance and co-operative framework for the implementation of research collaborations.
Prof. Henk de Jager, Vice-Chancellor and Principal said that tourism is one of the major contributors to the Gross Domestic Product and Free State is not excluded from this growth. "We have sufficient tourism opportunities and expertise within the tourism department in this university. This initiative will focus on developing the province as a growing tourism industry that will promote wider cooperation within the sector, and I am confident that this growth will increase through this partnership."
Prof. de Jager further mentioned that cities and regions across the globe consider university communities, business and industry as important partners in innovation, entrepreneurship, skills development and city planning as they offer fresh perspectives on global trends, which are practised by successful regions in the world. "As we begin to plan together and collaboratively invest resources, we can learn how our province can achieve this concept of regional success."
He highlighted of some of the specific initiatives to be pursued through this agreement includes, but are not limited to. Developing the province as a growing tourism industry; promoting a wider co-operation in the sector through research collaboration; exploiting our respective organisational strengths towards socio-economic development to advance the province and sectors; enhance marketing of the province as a destination of choice, improve customer experience and access to the province.
"A classic example of how collaboration can help bring about development in our region, is the Regional Innovation Forum, Free State (RIFFS), which was established in co-operation with the Department of Science and Technology (DST).  Our training and skills development efforts for the youth, with great potential to transform this university as a robust agent of innovation and socio-economic development in the region, is another inspiring illustration of this."
Mr Kenny Dichabe, CEO: Free State Gambling, Liquor and Tourism Authority (FSGLTA) said that they are honoured to enter into an agreement with CUT. "We are humbled to enter into an agreement with an institution of this calibre. We look at this day as a start of greater things to come. The focus of this MoU is directed at how FSGLTA contributes to domestic tourism growth in the country. In addressing the challenges posed by the National Domestic Tourism Growth Strategy (NDTGS), we hope to tap into CUT's pool of expertise to conduct studies that will explore and augment these strategies designed to attract tourists and increase average spend. We also aim to utilise our relationship to conduct researches that will assist private sector and guide future tourism development path."
Mr Dichabe also mentioned that the research to be conducted would also include impact analysis on events and conferences hosted by the province and accurate statistics that will aid in positioning the province to lobby for bigger events and conferences. "We are indeed excited about this validation, and we believe that it will derive significant benefits, he said."
Image
From left: Ms Sharon Mohale, General Manager: Corporate Services, Prof. Henk de Jager, Vice-Chancellor and Principal, Mr Kenny Dichabe, CEO: FSGLTA and Dr Gary Paul, Deputy Vice-Chancellor: Resources and Operations.
Uploaded: 21 June 2018