CUT hosts NRF Excellence Awards
On 14 September 2017, the Central University of Technology, Free State (CUT) hosted 250 great South African minds under one roof at the 2017 National Research Foundation (NRF) Awards. The ceremony, themed "Sustainable Development through Knowledge Creation", brought together a sterling line-up of renowned experts in various fields to celebrate research excellence, including Prof. Brian O'Connell, retired Rector of University of the Western Cape (UWC), who received the Lifetime Achievement Award, and distinguished scholars who, together, won nine special awards, and obtained two P-ratings and sixteen A-ratings.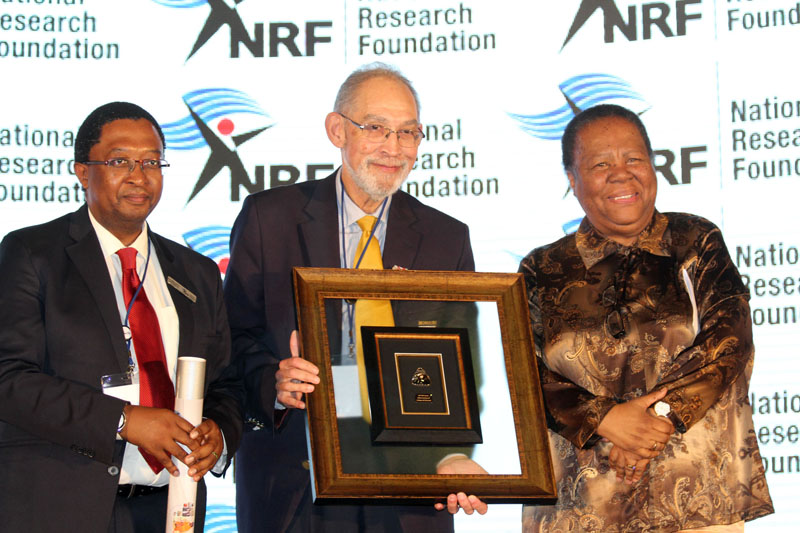 Regarded as the benchmark for research excellence, the 2017 NRF Awards purposely places the spotlight on the role of knowledge creation in supporting and enabling sustainable development in South Africa, as envisaged in the National Development Plan (NDP).
Hosting these awards at CUT was not by accident, but followed after the NRF acknowledged the University for being the most improved institution in terms of its research performance and output in 2015. For CUT, this accolade attests to the hard work that the University invested in its research and development, and Vision 2020.  The University has seen an increase in the number of master's and doctoral degrees that are awarded, as well as an increase in the number of NRF-rated researchers amongst its staff.  Amongst others, Prof. Ryk Lues from the Faculty of Health and Environmental Sciences, and Prof. Kanzumba Kusakana from the Faculty of Engineering and Information Technology (IT) added their names to these "Oscars of Academia" in 2016.
In addition, there was an 82% increase in research outputs from articles published in scientific journals, whilst the proportion of permanently appointed academic staff holding doctorates increased to 33% – a relatively high percentage in the university of technology (UoT) sector. Furthermore, in 2015, approximately 50% of the University's research outputs were published in international scientific journals.
CUT continues to align the academic project, and research and innovation programmes with its Vision 2020, which focuses on producing quality social and technological innovations in socio-economic developments, primarily in the Central region of South Africa.
"We are privileged and honoured to be considered by the NRF to host these prestigious awards as a partner in 2017. We are proud that two of the four Deans we have at CUT are NRF-rated researchers in their own rights", said Prof. Henk de Hager, CUT Vice-Chancellor and Principal.
In her keynote address, the Minister of Science and Technology, Honourable Naledi Pandor, spoke of the value of the knowledge enterprise in meeting South Africa's developmental challenges and sustainable growth. She emphasised the importance of the transformation agenda to the ongoing sustainability of the national system of innovation, and the important role that a representative cohort of senior researchers has to play in transforming South Africa into a knowledge-intensive economy.
"The NRF has played a critical role in enabling South Africa's research environment, driving not only excellent scientific research, but also continuing the transformation of the cohort of researchers. The publication of over 6 800 research articles in peer-reviewed journals; the development of an antibody that neutralises HIV-1; the development of a point-of-care rapid diagnostic test for tuberculosis (TB); support for 14 173 postgraduate students through bursaries and scholarships; the increase in the number of both male and female Black NRF-funded researchers from 866 to 970, and female researchers from 1 054 to 1 176, are only a few of the successes that have been made possible by the work of the NRF. Through these NRF awards, we are celebrating leading researchers whose work has played critical roles in some of these successes, and those who are helping us make strides in building a fully inclusive scientific community", said Dr Molapo Qhobela, Chief Executive Officer (CEO) of the NRF.
South Africa currently boasts 3 392 NRF-rated researchers. From 2013 to 2017, the number of Black researchers in the country increased by more than 70%, whilst the number of female researchers increased by more than 51%.
Images
Dr Molapo Qhobela, Chief Executive Officer: NRF, Prof Brian O'Connell from the University of the Western Cape receiving the Lifetime Achievement award and Minister of Science and Technology, Naledi Mandisa Pandor.
Uploaded: 20 September 2017