Applied science and technology for Science Week
National Science Week (NSW) is an initiative of the Department of Science and Technology and a countrywide celebration of science, technology, mathematics, engineering and innovation involving various stakeholders and role players conducting science-based activities during the week. It is being run in all nine provinces simultaneously at multiple sites per province and CUT Bloemfontein Campus is one such site.
On 5 August 2017 the Central University of Technology, Free State (CUT), in collaboration with the Department of Education, Free State, the Department of Science and Technology (DST) and the South African Agency for Science and Technology Advancement (SAASTA) co-hosted the National Science Week (NSW) to promote, encourage and raise awareness of science and technology through tourism within communities. The science week was officially unveiled by MEC for Education, Honourable Tate Makgoe under the theme 'Advancing science tourism'.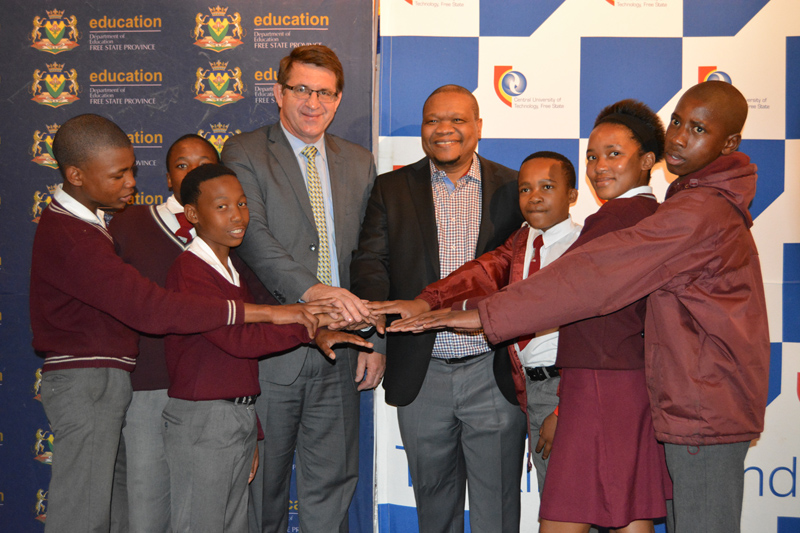 MEC Tate Makgoe said that the myth and thinking that Universities of Technology are not good enough must be demystified.   "We need to go out there and send a message to kids, teachers and parents to consider universities of technology because they are the future and have a lot to offer. Universities of technology are the resource to turn around the socio economic conditions.
MEC was impressed with almost 50 percent of student enrolment at CUT in areas of the STEM. He urged the university to work together with schools to promote engineering and ensure that more and more schools come to view the national science week.
"We live, dress, and see because of science all that we do is science and we need to support the kids on that platform. Children naturally love science and technology they have an enquiring mind and it's our responsibility to enhance their curiosity and not kill it," MEC said.
He mentioned that during the policy conference the Minister of Science and Technology Naledi Pandor spoke about the amount of research and innovation happening in South Africa and mentioned that CUT among the best universities in South Africa leading in terms of innovation.
"I was proud and happy to hear such because during my visit at CUT I also saw great technology and innovations happening in the Centre for Rapid Prototyping and Manufacturing (CRPM), Product Development Technology Station (PDTS) and Idea generator. CUT is an asset we must use it and not shy away from it."
He encouraged all the learners to not only be math's and science engineers but also math's and science teachers because without good teachers the country won't achieve what needs to be achieved. "We need to ensure that we produce good teachers of math's science and technology as there is a need for them."
He encouraged the kids to aim high and not be afraid of STEM subjects and their challenges. "My children when I look at you I see future doctors, engineers, scientists, politicians and leaders of the society. Learn as much as possible and never again be afraid of mathematics and science, they might require discipline, perseverance, and hard work but all those three characters are the ones that will make you succeed in life. Never aim too low, aim to be the best and leave a legacy, so that by the time you die people will continue to talk about you for many years to come. Aim to own private jets not cars, this is your time don't look back don't complain push on you will be able to succeed," he concluded.
When welcoming the guests CUT's Vice-Chancellor and Principal, Prof. Henk de Jager said that CUT is proud to have almost 50 percent of students who are in the STEM field. He also said that in collaboration with the Department of Education, CUT is in the process of reprioritizing the Schools Advancement Academy (SAA) to push professional development, training and support in science, technology, engineering and mathematics (STEM) fields.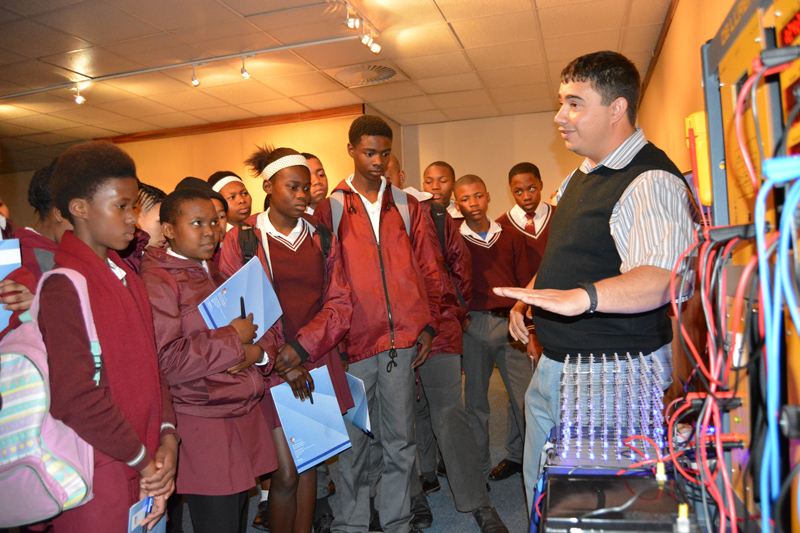 "Through the commitment of the MEC, CUT has established the STEM Academy, joining hands with the department of education in the Free State in promoting STEM education even further than the work being done in the School's Advancement Academy."
During his recent visit to Asia, he realized that mathematics, science and technology are the lifeblood of successful economies such as Japan and South Korean. Currently, South Korea is the fourth most innovative country in the world with Japan being the fourth largest economy in the world; primarily driven by its research and innovation in technology, science and mathematics.
Images
1: Joining hands to promote science and technology in the middle from left, Prof. Henk de Jager, Vice-Chancellor and Principal; Honourable Tate Makgoe, MEC for Education: Free State Province and grade 8 learners from Dr Block High School.
2: Jacobus Faber, an electrical engineer BTech student showcasing some of their faculty's equipment and how they apply science and technology to the Dr Block learners.
Uploaded: 08 August 2017