Date: Saturday, 13 May 2017
Time: 09:00 to 15:00
Venue: Bloemfontein Campus, 1 Park Road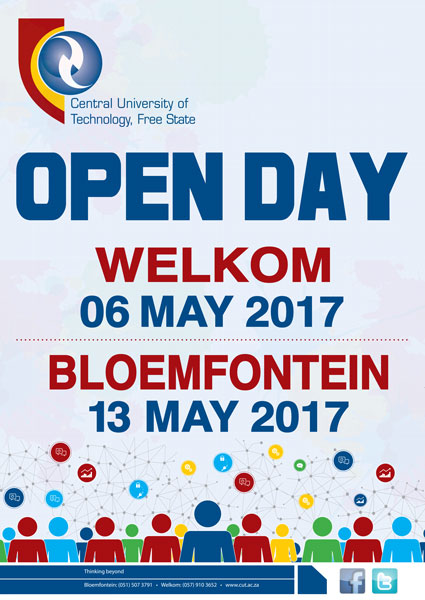 CUT will host Open Day at Bloemfontein Campus in May
The purpose is to showcase the University's programmes and facilities over one day at each campus; to create a unique learner experience about higher education and to educate prospective students and parents about what set CUT apart from other universities. The open days are structured in such a way to provide a sense of receptive and engaging atmosphere; thereby allowing more interaction with prospective students, teachers, and parents with faculties and staff members.
In the Central Region, CUT remains the only university that offers a wide range of career-oriented diploma and degree programmes in Health Sciences, Humanities, Management Sciences and, Engineering and Information Technology with much emphasis on Science, Technology, Engineering and Mathematics (STEM).   In order to help teachers, parents and learners make informed career choices, CUT will host these events and share valuable information relating to career choices and study opportunities at CUT.
What should you bring to Open Day
1. Grade 11 results or Grade 12 results (if you are post-matric). Based on this we can offer you an assessment of your prospects to study at CUT – where you should improve or keep up the good work, subjects you need for the chosen programme, or which programme is the best fit for you.
Apply on the Day
1. Valid ID document
2. Application fee: R230
3. Forms will be available on campus
We look forward to seeing you on our campus.
Created: 20 April 2017