The formal academic programmes offered at CUT is one part of the student experience. In order to be a well-rounded healthy individual taking part in extracurricular activities – which falls outside the normal curricula – can be of  great importance to development. Getting involved is a fun way to try new things, and meet people.
Student Life
International Cultural Interests
Student Governance
Students' Representative Council
Student Organisations
What is a student organisation and what are the requirements?
All student groupings that wish to function effectively and are recognised on campus. In order to exercise the privileges accorded to the registered student groupings, such groups must register with the SRC as prescribed in the policy on the registration of student organisations, associations and societies.
Structure of a Student organisation
Staff Advisors / Patrons: An advisor is a person who offers advice, counsel, caution and information, with this person having actual or supposed knowledge, experience and resources available to those he/she advises.  Each organisation must report to its advisor.
Composition and Authority of Organisations: In an organisation, active membership is limited to students registered at CUT.  All student groupings must follow the registration procedure stated in the applicable registration policy.  The organisation may not suggest that it is acting with the authority of, or as an agent of CUT.
Eligibility of Students: The committee of each student organisation may issue its own constitution that will also be approved by Student Services.  In this constitution, provision is made for regulations governing the eligibility of students to participate in this specific group's organised activities.
Disciplinary Action: Any student organisation is subject to disciplinary action when it is found guilty of furnishing false information, when it is found guilty of violating an ordinance or written policy or regulation, or when it is found guilty of the misuse or illegal use of any CUT property.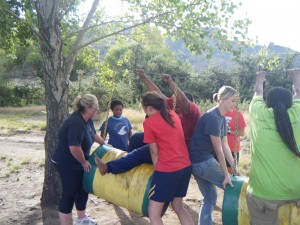 Current Organisations
Academic
The focus of these organisations is on socio-academic aspects in respect of students, within specific fields of study.  Some organisations are deeply involved in community service as part of the service learning programme.
| | |
| --- | --- |
| BELEZA | EDASO, Hotel School Association |
| CUT Marketing Association | Tourism Student Committee |
| CUTESA | Sports Administration and Marketing Committee |
| Internal Auditing Association | Human Resources Society |
| LAPA | Library Association |
| PUMAS(Public Management Ass) | IT Organisation |
| CUT Engineering Students | OMATA (Office Management Technology) |
| SIFE  (Students in Free Enterprise) | NSB (National Society of Black Engineers) |
| CUT SCINFO Outreach Club | |
Political
These organisations have been affiliated to be more politically active on campus and to enhance political and ideological diversity.
| | |
| --- | --- |
| ANCYL | PAYCO |
| AZASCO | RSL |
| PASMA | IMBELEKO |
| SASCO | AFLO |
| YCL | AYC |
| AYO | ASC |
| SACP | BW |
Denominations
CUT residence church
Established to create an environment where all registered campus and city residence students can bridge social, cultural, spiritual and academic divides, complemented by an environment where students can maximise their God-given talents and gifts.  Meet with other students every Sunday and join in the Christian worship.
Student Christian Organisation (SCO)
Do you believe in Christian values, moral standards and a spiritually fulfilling lifestyle? Then join the SCO on campus today.  All students from all denominations are welcome. This is a multi-denominational structure.
 Other organisations
Association of Catholic Tertiary Students (ACTS)
Seventh Day Adventist Student Movement
Twelve Apostles Students' Association (TASA)
St Angenas Zion Christian Church
Zion Christian Church Student Fellowship
Jesus Dominan International
Bhakti Yoga Society
Cultural Interests
Chess
People of all ages and from all walks of life study and participate in the strategic game of chess.  So to strengthen your character, improve your thinking processes and pass an enjoyable hour or two, join CUT's Chess Club.
Choir
With many local and national awards, our choir offers its members more than just the sharing and enjoyment of great voices and music.
Gospel Mass Choir
This choir has been established to share spiritual fellowship of gospel music among themselves and with the university as well as the community.
Debate/Public speaking
CUT's Debating Society has recently joined other tertiary institutions in the British parliamentary style of debating.  It will teach you to think on your feet, to argue logically, and to speak confidently in front of an audience.
Drama
Your acting and choreographic talent can be developed to the full by joining by CUT Drama Society.
Dance Factory Association
This group of students promotes different codes of dance on campus, which includes hip-hop, pantsula dance, acrobatic dance, and local dances.
Dance Club
Join the sport that is one of the fastest growing and which has received Olympic recognition. Ballroom dancing is one of the best and most enjoyable ways to exercise and socialise.  Do it the traditional ballroom or the Latin-American way.
Poetry Association
BMF (Black Management Forum)
The BMF Student Chapter is continually modelling itself as an ideal home for young aspirant business managers and leaders who genuinely engage in socio-economic issues challenging South African youth. It is a non-racial organisation that welcomes all interested parties, even though their primary target is black students at higher learning institutions in South Africa.  Their programmes include campus work, community outreach, and corporate, public and international work.  For more information visit their website:  www.bmfonline.co.za.
Lenaka Media Club
Established to further the social, cultural and sporting interests of CUT students and to market and uphold the good name of the university.
Mountain Club
Wall-climbing is a very popular activity amongst the students on campus. The aim is to further the interests of all facets of mountaineering. Join us on Facebook
Recreational Sport
Do you have enough "drop-in time" and are you interested in activities in which you can have fun and enjoy yourself without serious competition?  The following facilities are available: Beach volleyball, a climbing-wall, a soccer field and a netball field. Everyone is welcome!
SPECULUM (Student newspaper)
Speculum was established by students in 1996. Today the editorial staff strives to make a contribution to the campus life of CUT and to keep students informed regarding campus events.  The editorial office is situated at the Lapeng Student Centre.  You are welcome to visit the office or to pass on any information to the newspaper via mailboxes are available on campus in which letters or information can be deposited.  Speculum constantly strives to remain objective, fearless and responsible at all times.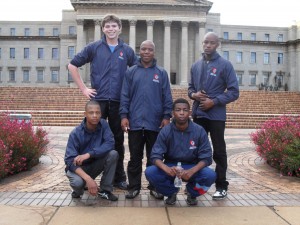 Wellness Workers
The aim of this club is to talk to students who are experiencing broad social problems and to try to encourage a positive attitude towards themselves and others.  This group joins forces with, and refers students to, the Centre for Counselling.
International Cultural Interests
Lesotho Student Association (LESA)
This student organisation covers broad issues affecting students from Lesotho who are registered at CUT.
Botswana Student Association (BOSA)
This group has been established to create a student-friendly learning environment for students from Botswana, in conjunction with academic, social, cultural and financial issues.
Mpumalanga Education Student Association (MESA)
Code of Conduct for Students
The SRC and all registered students endorse the principles of the freedom of individuals, as contained in the constitution and other legislation of the Republic of South Africa.
Notwithstanding the right of each person to participate in gatherings, to argue/contend and submit petitions together with others, peacefully and unarmed, persons who are guilty of improper conduct on CUT property expose themselves to disciplinary action.
Contact us
Mr Peter "China" Kokoana
Manager: Governance and Student Life Unit
Tel: +27 (0)51 507 3702 | Fax: +27(0)51 507 3745
First Floor, Room 109, Lapeng Student Centre
Updated: 18 January 2017