South African tertiary students from all disciplines are invited to participate in the 2018 African Organization for Standardization (ARSO) Essay Competition. The competition, which closes on 16 March 2018, could see the first prize winner walk away with USD 1000.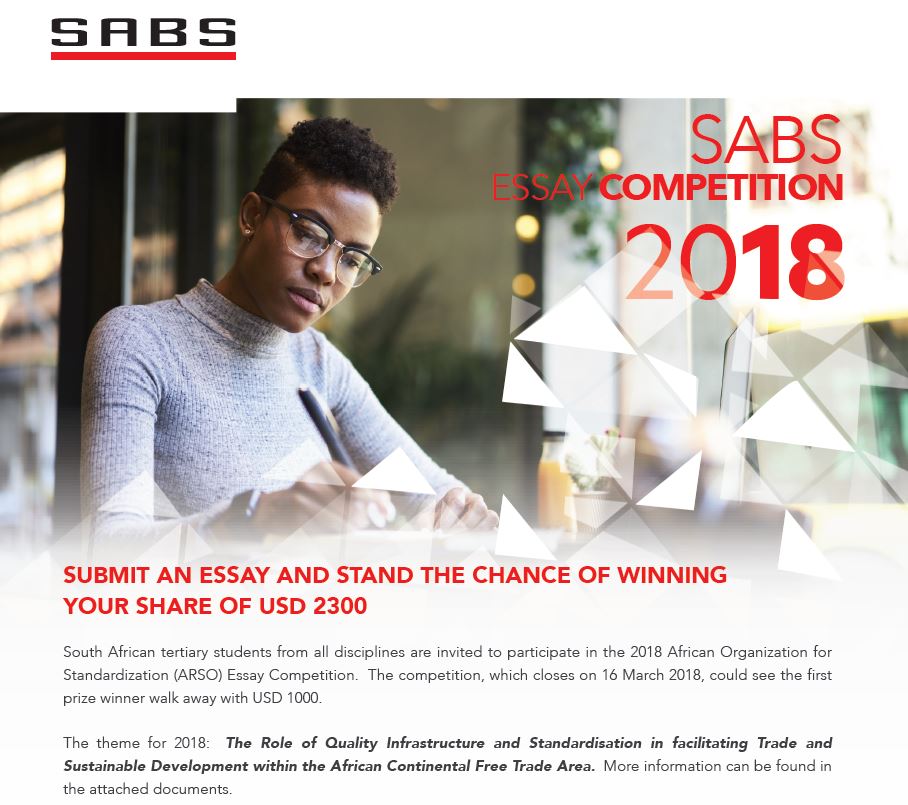 The theme for 2018
The Role of Quality Infrastructure and Standardisation in facilitating Trade and Sustainable Development within the African Continental Free Trade Area.
Shortlisted national essays will be submitted by the SABS for continental competition. This is the 5th such essay competition, which encourages students to participate in the discourse around standards and standardisation.
More information can be found in the documents below.
Entry Requirements
In order to be eligible to compete on an intercontinental level, participants must submit their essays to the South African Bureau of Standards (SABS). SABS, as a National Standards Body (NSB), and a member of ARSO will facilitate South African students' participation in this essay competition.
This competition is open to all students currently registered at any institution of higher learning in South Africa, as recognised by the relevant authorities.
Students must be 35 years old or younger.
All essay entries, including the completed documents required available below, must be submitted to: ESSAYCOMPETITION@sabs.co.za by 16 March 2018 and must be written in English.
Essays that are well-written, demonstrate creativity and innovation, as well as an understanding of the theme will be shortlisted and submitted to ARSO to compete with participants from the rest of the continent.
Complete information and rules of participating in the competition are included in the documents below.
Relevant documents
Criteria for the judges (PDF)
Registration form (PDF)
Created: 09 February 2018