About the LaunchLab
The Nedbank Stellenbosch University LaunchLab encourages innovators from all walks of life to put forward their innovative ideas and concepts in our breakthrough Innovation challenges below. Specifically we are working with Mercedes-Benz (world leading mobility company) looking at improving their operations and marketing in South Africa, Santam (short term insurance) on improving safety in South Africa and ATTACQ (commercial property developer) on smart city technology that they can use in their developments, including the new Waterfall City in Gauteng.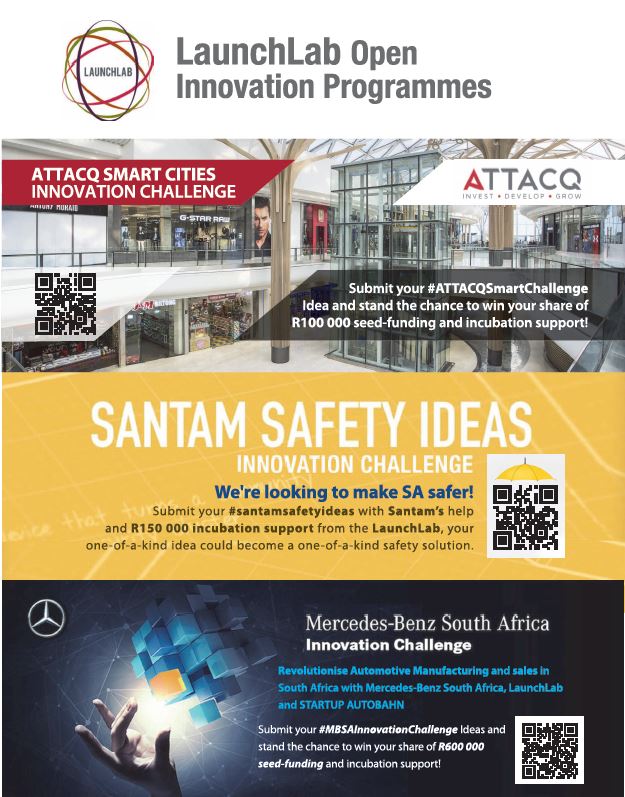 Win your share of R150 000 ATTACQ seed-funding in our Smart Cities Innovation Challenge!
The world of retail is changing, and ATTACQ has decided to take it up another level, by bringing technologies into ATTACQ's properties, including Waterfall City, to make it the premier location in Gauteng to live, work and play. We are looking for entrepreneurs with solutions that address opportunities in:
Location technologies
Transportation
Security
"Black screen" technology
Loyalty
Technology to improve experiences in spaces where people live, work and play.
So don't miss this opportunity to make your business idea become a reality – book your pitching slot today to stand a chance to become the innovative driver of smart urban development in Africa!
Throughout the challenge, progress and news will be shared online and on social media platforms, utilizing the hashtag #ATTACQSmartChallenge.
Visit www.launchlab.co.za/attacq for more information.
Where will the LaunchLab be recording pitches?
The LaunchLab breakthrough Innovation Pitching Platform will kick-start on participating campuses around the country:
Stellenbosch University (SU) – 11 & 28 September
The Cape Peninsula University of Technology (CPUT) – 14 September
The University of Johannesburg (UJ) – 19 September
WITS University – 21 September
 The University of Pretoria – 20 September
Central University of Technology Free State – 27 September,  Science park Boardroom.
Practice run on the 26 September 2017 at CUT
Practice makes perfect! Sign-up at IDEA GYM for practice sessions on 26 September 2017.
Who is eligible to enter these innovation challenges?
The contest is open to all aspiring entrepreneurs, from student and non-student communities, ranging from concept to an existing business, running until the 29th of September. It is a platform that provides a great opportunity for aspiring and emerging entrepreneurs to pitch their business ideas in the different innovation challenges and stand a chance to win their share of seed funding for direct business needs and LaunchLab incubation support to the value of R150 000.
How to enter
Participants can enter their business ideas by doing an informal 3-minute video pitch – recorded at the various campuses mentioned above or can be submitted online at the following links provided under each challenge. Entrants may pitch more than one idea, but only one idea can win! Each of the brand representatives, experienced entrepreneurs, academics and representatives from the local investor community have been selected as judges and will determine the winning ideas at the final events. In each section below is a brief overview of what each innovation challenge requires from the interested party.
Mercedes-Benz South Africa Innovation Challenge
The Mercedes-Benz South Africa Innovation Challenge will target two streams. It will ask interested students and professionals (as a first stream) and existing startups (as a second stream) to pitch their innovative ideas around a set of challenges, tailor-made to advanced manufacturing and benchmark sales and marketing topics, as identified by Mercedes-Benz South Africa.
The challenge spans various topics – ranging from:
big data and machine learning for manufacturing,
the digitisation of logistics and production,
app-based solutions for the evaluation of the condition of pre-owned vehicles,
chatbot solutions for manufacturing learning and many more.
All interested parties can register for their pitching slot at: www.https://launchlab.co.za/mbsainnovationchallenge/
Throughout the challenge, progress and news will be shared online and on social media platforms, utilizing the hashtag #MBSAInnovationChallenge
A shortlist of candidates/teams in both streams will then be notified and enter the second phase of the process where the ideas will be polished and benefit from access to Mercedes-Benz South Africa, Daimler AG and STARTUP AUTOBAHN expert role-players.
Created: 13 September 2017